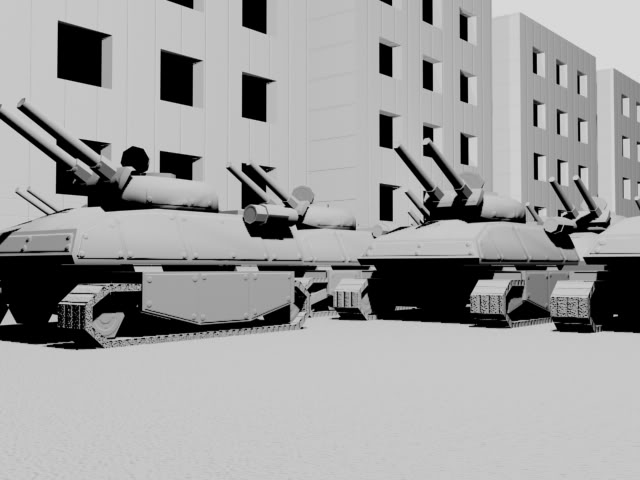 Soviet "Anvil" Heavy Tank
Now, it's been mentioned in a few other places already, but an important aspect of Paradox and the story behind it is that it takes place after the beginning of Red Alert 3 (original). Basically, imagine if every campaign hit around the halfway point at around the same time. Canonically for Paradox, the 3 factions reached a bloody stalemate (ie Japan failed to gain a foothold in America, the Allies retook Europe up to the Berlin Wall, and so on) but the damage was already done. The remaining forces of each faction oversee a nervous ceasefire – enough time has passed and enough has happened that the main leaders have retired, given up or died at some point.
The Soviets have been hit very hard, of course, with their usual "rush the guns" policy during the war. Heavy casualties, heavy losses in equipment and a failure to gain a significant amount of resources or land mean that they were perhaps hit harder than most by the effects of war. To put it simply: they don't have enough of their army left and they can't build fast enough to replace everything. To this end, they had to dig into the one place they never would expected… the museums.
Metaphorically, of course.
The Anvil Heavy Tank is… er, WAS… a masterpiece. It was the strongest tank on the field, crushing everything in its path. As time and technology pressed ever onward, however, the Anvil was sadly mothballed. The Hammer Tank, its successor, was more suitable for fighting against the quick and numerous Allied tanks than the monstrous, clunky Anvil. The Anvil itself isn't THAT outdated – it was ahead of its time already, and thus was the ideal choice for a vehicle to round out the gaps in the Soviet military. It no longer serves as main battle tank material, however.
The Anvil is very slow but very powerful. It has more raw health than the Hammer tank, but its armour isn't as thick and it is thus more vulnerable to anti-tank weapons. The main cannons don't shoot as much as lob shells at its opponents, allowing speedy units to get the heck out of the way, but the shells do immense damage when they connect. This quality makes the Anvil ideal for base assaults, as buildings and turrets don't tend to be very adept at dodging.
One last note: the Anvil, while fairly slow, is still faster than infantry. The "outward" design of the treads almost seems designed to be used as places for a trooper to sit. As such, the Anvil can carry a limited number of infantry who can also shoot in a limited arc (similar to the Sickle's guns) or, in the Engineer's case, heal the tank itself gradually. The secondary ability of the Anvil is to evacuate the infantry, where they can be more directly effective in combat.