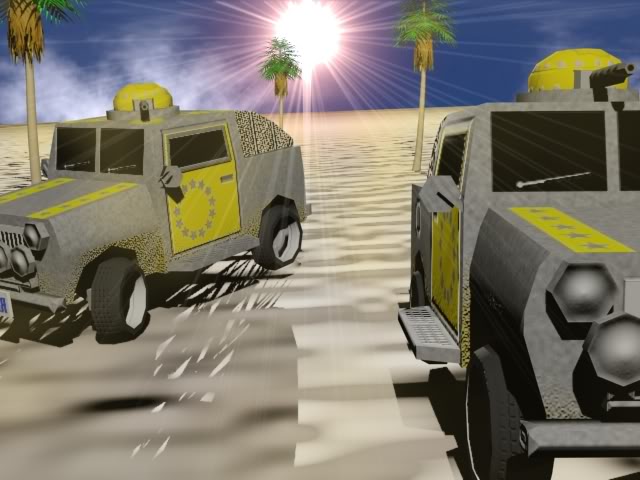 Hmm... a jeep with a machine gun on top... seems a little familiar, doesn't it? Nah, I'm probably thinking of something else. In any case, the Ranger Scout Car hasn't seen much use in ages. It was quite widely used back in the day by the Americans, but this was way back when they only had to worry about the Soviets. Of course, it was as effective a scout vehicle back then as it is now, which meant that it was among the first of the outdated vehicles the Rebs picked up for their fight against tyranny.
For a guerilla force like the Confederates, knowing what's going on is of highest importance. Their greatest (and, in some cases, only) asset is that they know where the enemy is and the opposite doesn't apply. Thus, the Ranger Scout Car, with its low built cost, high speed and great sight range, sees a lot of use when the Rebs come to town. Naturally, it's not a front-line vehicle, as it only comes equipped with an anti-infantry machine gun, and its armour is so weak that even a single Conscript's rifle could pose a serious threat if left ignored - the threat posed to the Ranger by anti-tank weaponry needs no explanation. But if you are using the Ranger offensively, you are DOING IT WRONG.
The Ranger's true purpose is to scout, and even on its own it would do it quite effectively. But the Ranger has seen updates since the Confederate forces got their creative little hands on it, and it is now designed to dispense Scanner Mines. Scanner Mines function in two very different modes: the first, default mode, reveals the Fog of War in a wide radius around the mine. It is completely visible and vulnerable in this mode. The second mode, however, removes the mine from sight and arms it for its offensive ability. In this secondary mode the Scanner mine will set off massive tremors whenever enemy units move nearby, leaving infantry stunned and dealing damage to tanks within the attack radius. Once the tremors are activated, the mine can be attacked as normal.
While I have your attention, I would also like to announce that the first mod release will be mostly focused on the Confederate and Allied forces. I apologize to fans of the Soviet and Rising Sun factions, as well as those who are looking forward to finding out about Atomic China and the Electrical Protectorate, but the good news about this is that the first mod release will be sooner rather than later. I mean, imagine if we had to design and balance 6 whole factions before a single release! That would be silly. So no, two factions at first, more later on. No release date yet either because we still don't know when the SDK will be here. But I ate a fortune cookie today and it said "Good things come to those who wait." True story, AND words to live by. Be patient, the mod will come soon.