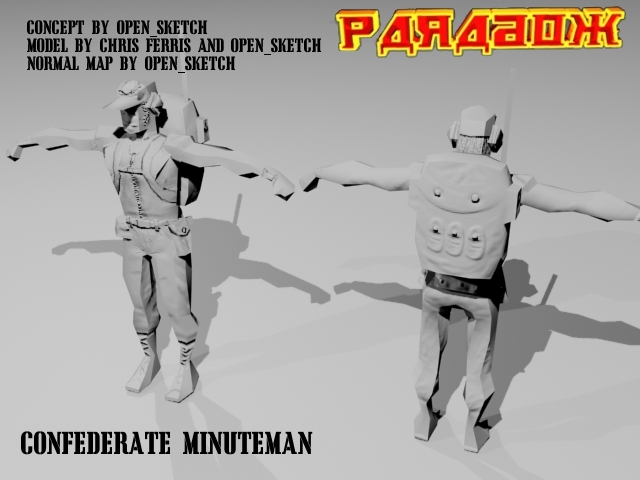 Confederate "Minuteman" Infantry
So, the secret protocols are out - now it's obvious that the Rebs are designed to hold out until they can upgrade their vehicles enough to stand up to enemy forces. But if it's only the vehicles that are upgraded, that means their other forces are left in the dust, right? Wrong! Their tanks may not be great from the get-go, but the Confederates know that there's no substitute for training, and the units that don't have top-of-the-line equipment have their own ways of making up ground.
"Minuteman" is the catch-all name for the Rebel infantry that spend their time on the front lines. They're a fairly diverse group, mostly made up of grizzled war veterans, patriots, and sometimes just plain-old gun nuts. These are the people who (in our time) would have built underground shelters stocked with soup and water supplies for just in case the Commies attacked... but in this timeline, the Commies actually DID attack, which means that this kind of person is a lot more numerous. They have a passion for freedom, and they will give their lives to defend their country... but they spend a good chunk of their time practicing and learning techniques that will help them take as many enemies with them as possible.
The Minuteman is the most expensive basic infantry unit in the game, but it's entirely worth the price. While not as heavily armoured as, say, the Allied Peacekeepers, a Minuteman is quick compared to other infantry (they travel light) and they carry enough weaponry to make almost any opponent think twice. Their assault rifles are on par with the Peacekeeper riot gun, while their secondary Rocket Launchers (which they can toggle between) will wipe the floor with helicopters, light vehicles, and even the occasional tank. Of course, heavier tanks will just charge right through, and faster aircraft will be quite adept at avoiding the anti-aircraft fire, but in the early game, the Minuteman is the mainstay of Rebel forces. He performs his job with pride, and knows he is damn good at it.
Secret Protocols for the Confederate Revolutionaries are now up! Click on the logo (the circle with stars) and click the link within to see!
As usual, this space is also used to mention that the first release of Paradox will focus on the Allied and Confederate forces. This is not because we hate the other teams - it is so that we can get the product out to you guys earlier for feedback and fixes, and it is those teams specifically because they were the first that we went over in the development process. No release date yet, and we won't have one until sometime after the SDK comes out.