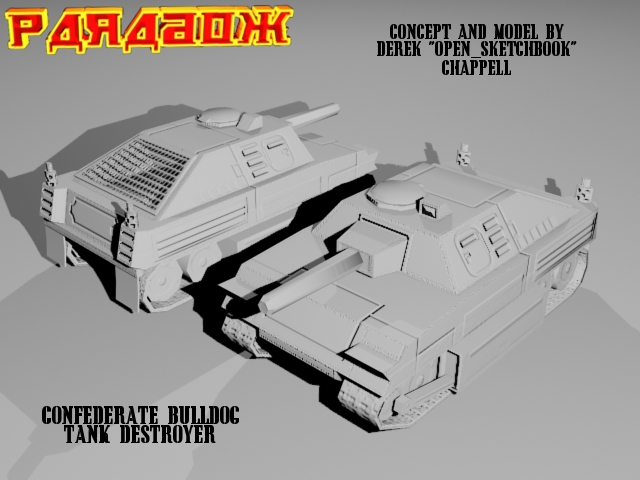 Confederate "Bulldog" Tank Destroyer
It's fun to act as if the 4th wall isn't made out of cardboard, but unfortunately it's hard to talk about a "classic unit" ever since Red Alert 2 un-happened. Remember the Tank Destroyer exclusive to the Germans in RA2? A slow, lightly armoured monster that did marginally more damage than the main battle tank and almost no damage at all to infantry? It wasn't worth the money or the time to build it. But the Rebs need every unit they can get, and if it isn't up to par, they will MAKE it up to par.
The Bulldog is not a very effective Tank Hunter on it's own - it has low speed and low durability, though when it DOES hit it will devastate the vehicle or tank that it hits... assuming it hits first. In an even fight, it will generally edge out a single enemy tank, but it will be a close battle and the Bulldog won't be happy afterward.
Naturally, the Rebs won't look a gift horse in the mouth, and all the warehouses full of unused Bulldogs just asking to be taken were quite tempting... so rather than just hope for good luck, they decided to take advantage of its low profile and convert it to be as effective at hiding as possible. By putting the right doodads on in the right places - and maybe with a bit of the Allies' camo technology - the Bulldog becomes nearly invisible to anyone watching (Camouflage - instant ability), allowing it to reliably get the first hit on its target... and if the crew is patient and allows the target to expose its rear armour, the Bulldog will generally get the last hit soon after.
While I have your attention, I would also like to announce that the first mod release will be mostly focused on the Confederate and Allied forces. I apologize to fans of the Soviet and Rising Sun factions, as well as those who are looking forward to finding out about Atomic China and the Electrical Protectorate, but the good news about this is that the first mod release will be sooner rather than later. I mean, imagine if we had to design and balance 6 whole factions before a single release! That would be silly. So no, two factions at first, more later on. No release date yet either because we still don't know when the SDK will be here. Be patient, the mod will come soon.