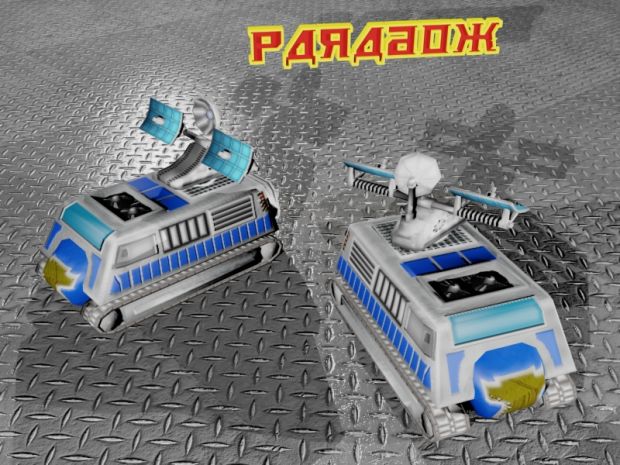 Allied Microwave Tank
While the invention of the electric oven has not had a massive impact on the western lifestyle, there's still a chance you may have heard of these monstrosities; these massive contraptions that emit tiny waves - "Microwaves," they are called - to heat your food have not quite entered everyday life due to prohibitive cost from the device itself and the amount of energy required to cool it. However, that same technology has been adapted for military use by the geniuses at FutureTech. The Barkhausen Projector, aka the Microwave Tank, uses microwaves to heat the air itself to scalding levels, roasting enemy pilots in their seats!
The Microwave Tank is in the Allied experimental tier. It is an extremely expensive unit with weak armour, but it provides the massive advantage of area-of-effect anti-aircraft fire. By turning an area of the airspace almost literally into a field of fire, it provides an excellent deterrent to enemy aerial attacks, especially from smaller units like the Mecha Tengu and Twinblade Chopper. Of course, the Microwave Tank generates a lot of heat, so it must periodically shut down to cool itself, which gives the enemy a chance to react - one of the many "bugs" associated with the Experimental tier. The tank's crew may, if they choose, Override (toggle ability) the cooling measures to continue firing, but it will negatively impact the tank's health as its crew compartment becomes similar to... well, a microwave oven.
While I have your attention, I would also like to announce that the first mod release will be mostly focused on the Confederate and Allied forces. I apologize to fans of the Soviet and Rising Sun factions, as well as those who are looking forward to finding out about Atomic China and the Electrical Protectorate, but the good news about this is that the first mod release will be sooner rather than later. I mean, imagine if we had to design and balance 6 whole factions before a single release! That would be silly. So no, two factions at first, more later on. No release date yet either because we still don't know when the SDK will be here. Be patient, the mod will come soon.