Rise Of The Dragon!
It's here; after much toiling away on my part, New Horizons Version 8.B is now Live.
2nd New Playable Country: China
The Main focus of this release has been the work put into adding the 2nd playable country, that of the People's Republic of China (PRC). This country shares alliance with the Soviet/CSTO factions; in real life the PRC has the largest army in the world by number of troops, and is perhaps the strongest economy in the world (not including nations Heavily in debt by Trillions of dollars), and it sorely deserved a place in the game. It's structures (extra thanks to 'cxtian39' from PPM whom uploaded many building models) and units are fairly unique, although some units are indeed cheaper copies of Soviet/Russian equipment (such as the Type 59 tank, or the J-7, or J-11 jets). Reflecting China's high rate of development, in this game it is the only country to possess a unique way of obtaining funds: all countries in the game can build mining vehicles that can collect ore, and valuable minerals, and some some may build an oil derrick or two to gain funding from extracted oil. China has the unique ability to construct a giant Heavy Mining Facility, which (at a moderate rate) spews out ore in it's immediate area; it may not be in gargantuan quantities, but in the long run on maps where resources are hard-fought-for, this can be a crucial long-term source of funding... And China can build Two of these.
PRC Base (I have actually made a beautiful PRC flag, but forgot to build it and include it while I made this screenshot!!), and this is not all;
Unit Overhauls, New Units
In the previous release I focused on overhauling some units, such as the Allied/NATO 'Grizzly' tank being replaced by the real life counterpart so to speak in New Horizons, now existing as the M60A3 Patton: besides the Abrams, this is perhaps the main tank of NATO's armies, and is the main tank in the 2nd largest army of any NATO member state (Turkey). Similarly, I have replaced the original game's Rhino Tank (/improved heavy tank for the Soviet/CSTO faction), with the T-80BVM. In fact, much of the Soviet/CSTO T-series tanks were somewhat done in a temporary fashion, and I have now unified them. The T-series exists in New Horizons as follows; T-64, T-72B, T-80BVM, T-72B3, T-90M, T-14 125mm Armata, and now the T-14 152mm Armata (armed with the 152mm 2A83 Cannon). The Soviet/CSTO faction can now produce what is/was a workhorse of mobile air defence, specifically of the SPAAG class; the ZSU-23-4 'Shilka', which now has it's own unique firing sound. The Shilka presents a far more affordable alternative to the relatively expensive Pantsir systems. Some of these units I made from scratch, others have been downloaded (credits in some files in some cases where appropriate have been saved), and in many downloaded cases they have been Heavily Modified by myself. The Chinese faction can likewise produce it's 'Type' series of tanks, ranging from the Type 59, Type 15 (modern light tank), Type 96B, and their prime Type 99A2. The PRC has it's own selection of air units, naval units, as well as land units. Bear in mind this is the initial release of China as a playable country, so their assets Will be expanded in future releases.
Updated Russian T-Series line up (from top right to bottom left- T-72B, T-80BVM, T-72B3, T-90M, T-14 125mm Armata, and T-14 152mm Armata (hint, the 152mm version differs only by a slightly larger barrel)). There are also a couple of Shilka's in this shot, as my base was getting attacked by planes... Do you KNOW how difficult it can be to line up a picture like this sometimes? Behold;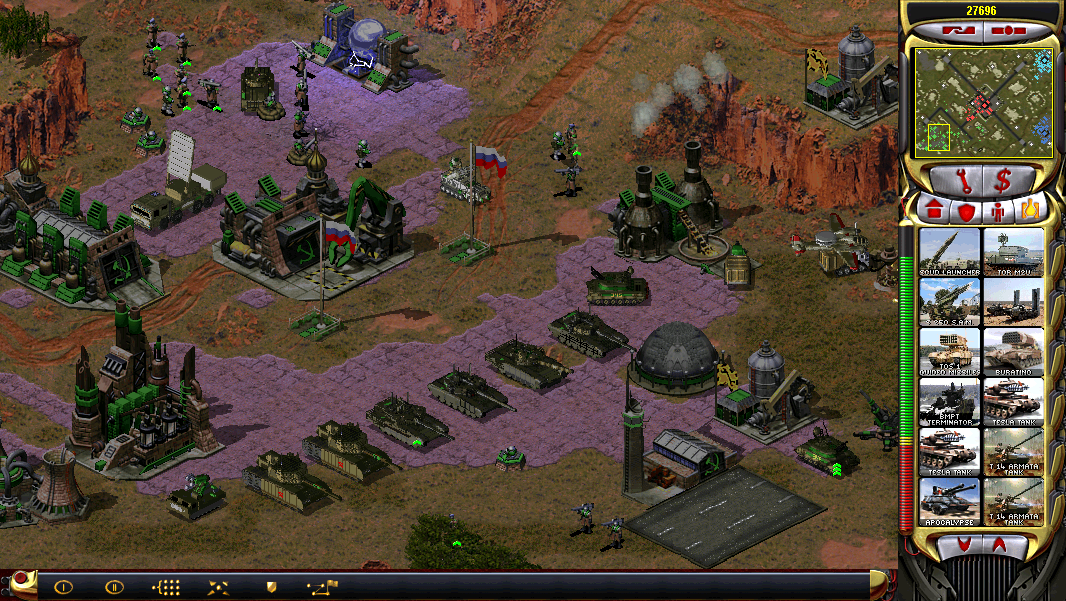 Germany is now also able to produce Pzh-2000 Mobile Artillery, and reflecting it's historic use of Heavy Mortars (for good or for bad), this country can produce a unique Heavy Mortar Hardpoint.
AI
Of course when adding a new country, the AI has had to be worked on, and so the AI has naturally been expanded. This is an initial release of the new country, so further developments on the AI involving China will be included in future releases.
Miscellaneous
There are various tewaks of course, including in the sound and graphics area, and although hardly noticeable, I assure you they do exist! Also as per special request, I have remedied that small issue of a building not being capturable in one of the campaign missions.