Hi ModDB visitors, we just wanted to quickly mention that outside of the regular Torrent download and installation on our website we now offer something else: The Download Assistant. A little application was made to make it easier to get and install PR:BF2. You can find the Download Assistant on in our ModDB download section or on our website.
It will download the installer through Torrent like before but it won't require you to install a additional Torrent program. If you are on Windows 8 or later it will also provide you with a simple button to start the installer. Windows 7 or lower will still need to use something to extract or mount the ISO.
This should make it easier to tell your friends to come and install PR without having to explain Torrent or ISO files. So spread the word !
If you find any issues with it let us know!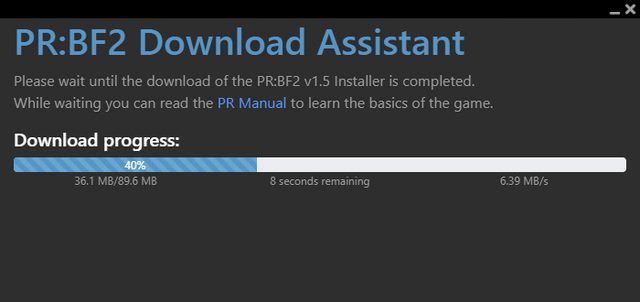 Support Project Reality!
The Project Reality Team develops this modification completely free of charge for its community to download and play. If you would like to show your support, please consider donating to our team. These funds go directly towards website expenses, including bandwidth, hosting, domain registration, and maintenance. We never use donation funds to directly pay team members.


For more information, please feel free to join us on our public forums to discuss this and other news. Also, be sure to connect to Project Reality through social media to stay informed and receive up to the minute updates, the occasional leaked bit of information, and more! See you on the battlefield!