Hey, It is now half way December and the mod is due to release in just a few weeks from now. We still aim that we can release the mod in January, a date is hard to estimate. We are very very pleased with the fact that Rufus wanted to join our mod. He has donated a few maps that really fit in the theme we were aiming for. The few weeks that we have left will be spent on these things: Mapping, modding and testing. I will give a summary of what we have to do down here.
Mapping:
Currently we are working on finishing 3 different maps. Alon is working on a map called laser_playing. (50% done). Andy is working on a map called Hubworld. (10% done). Annemieke is working on a map called meet_virgil. (50% done). We hope to finish the laser_playing and meet_virgil maps this week. After we have finished those there are two maps that needs to be made entirely. This will take an estimated 2 or 3 weeks. So we guess mapping will be finished somewhere around 7 January. To tease you a bit more, here's a screenshot of a brand new level made by Rufus: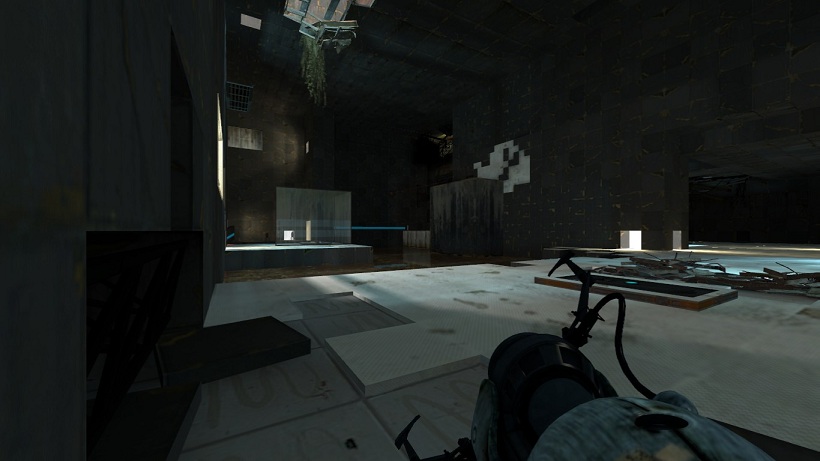 Make sure also to check the images section for more pictures!
Modding:
We are going to release our maps as a mod. This means that there will be a separate launch button for our mod:

The main advantage of this stand alone mod is that we can modify EVERYTHING, without changing anything in your original game. An example of this is our portal gun, which can be seen in the screen-shots under the "images" tab. Before we launch our mod we want to make sure that everything works as is should, that all menu's are working, all custom load screens are working, all chapters unlock properly etcetera.
To give you an example of what we mean: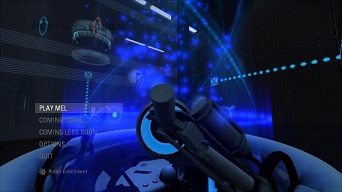 That is our main menu at the moment. You can see "Play Mel" where you can select the chapter you want to play. Coming soon and coming less soon are reserved for the two parts of the mod that will follow later.
Once you selected "Play Mel" you will get into our level selection menu: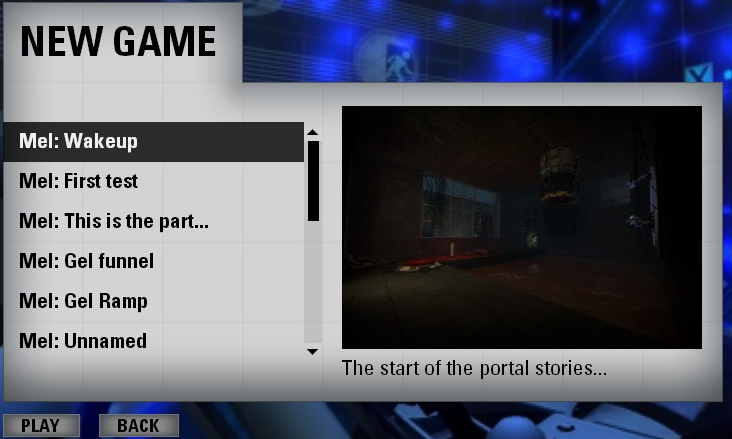 Here you can see the name of the level (Still WIP) and an image of the map. At this point you can select any map, but in the final release we hope to have a chapter system, where you have to unlock each chapter before you can play it. After you have finished all the 15 levels in Portal Stories: Mel you will be able to select any map you want!
Wile all those custom menu things look nice custom in-game stuff is the most fun of course!
So here we have a small preview of something that might seem a bit familiar: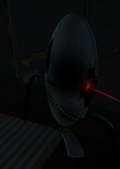 Testing is the final thing we need to do. There are three things we test for:
1) Is the map fun to play, can people actually solve it?
2) Are there any ways to bypass parts of the puzzles?
3) Are the maps going to run on computers with lower specs.
The first thing is one of the easiest things, just grab a real life friend, promise him/her cake and force them to play your map. If the people forget about the cake your map is fun, if not you have to think what went wrong.
Then there is bypassing of puzzles, this is were we play maps made by others and gather feedback. After the initial feedback is used to improve the maps we test them again until we think the maps are by-pass free. After that happened we ask our beta testers to find other ways around. And after a few rounds of final feedback we declare the map mapped.
Now comes the hardest part: getting the maps run on low-spec computers. The process that is used to make sure that can happen is called optimization. This is all technical stuff and most people won't even notice the difference, but this reduces lag, allows higher fps and people can run in on low-spec computers. Most of our maps are currently in this state.
When the maps are done they will get there final checks, custom audio and then they're really done.
We hope that you gained a bit of insight in what we're doing, we will continue to work hard and get that release in time. Until then make sure you check our mod-db page, and if you haven't yet, follow us on mod-db, check our youtube video's and get ready for testing!
- Annemieke