We know it has been quite a while since the last devblog. More than a whole year. So why has it been so long? To start off, it has been a very eventful year for the members of the team. People have been moving, buying a new house, there have been tragedies. Close family members lost. Operations. Busy times at work - so something had to give. And instead of sacrificing our productivity for the actual mod work, we have cut back a little on the public relations side of things. So all in all, this doesn't mean we have been idle, we have simply prioritized not being idle higher than not looking idle.

So what have we been doing for all that time? Well, quite a lot. First off, we finished up E1M8 - the last level of the episode. This involved a wide array of our abilities and pressed us to evolve new ones as well as refine the existing. We had to ensure that the episode ends with a bang. One of our main challenges when building this level was the ever changing progression style from linear to nonlinear.

Next up we decided it was time to remake E1M2. This was, after all, the first level we created since practically rebooting the project in 2009. While there were good ideas and segments in the level, we opted for scrapping it entirely and replace it with something new and much better. Certain parts of the old version was saved and reused for the new. We finished the map in a reasonable amount of time and the subsequent result was much better. One of the problems we had with the old level was that it was too fragmented and didn't portray that part of the martian base in a manner where the player would know exactly where he was and what he was supposed to do. While we like to have a certain level of nonlinearity, we need to have a greater sense of direction in this part of the story.

Lastly, we had to create E1M1, the start level of the game and the last level of the first phase of development. We already had a few pieces of the level ready, so all we had to do was to settle on the style and build the rest of the areas of which were already planned. The first level of Phobos has been planned to have no action. While it's not set in stone yet, we are attempting to create a level that's large and completely open to explore, but you don't have to spend too much time there if you're simply craving to progress to the levels with action. It's a delicate balance to get right, but if we succeed it should be very interesting. For the story seeking player, spending more time in E1M1 will pay off dramatically. We are putting great care into the opening of the game.

And that was it for Phase 1.
Before we head off to Phase 2 in this here devblog, it's worth mentioning that somewhere in between all of this work, the writers finalized the first draft of the entire detailed story with flow, characters and direction. Now, this doesn't mean we waited until now to write the story - far from it - the rough story as it is was completed back in 2005 or 2006 and we have been following this plan ever since. Not much has changed in this regard. What's new is the amount of detail the document goes into with the characters, what scenes the player witnesses and the interconnections between the characters. The document details what each character is doing at any time, what their motivations are, what they let others know and so forth. We would have loved to have had this earlier, but time didn't permit it. So far it has been a tremendously useful tool. We are really excited about it.
And now on to Phase 2. Please note that all illustrative images are work in progress and do not represent the final quality of the areas, but are merely here to show what kind of processes we go through with Phase 2.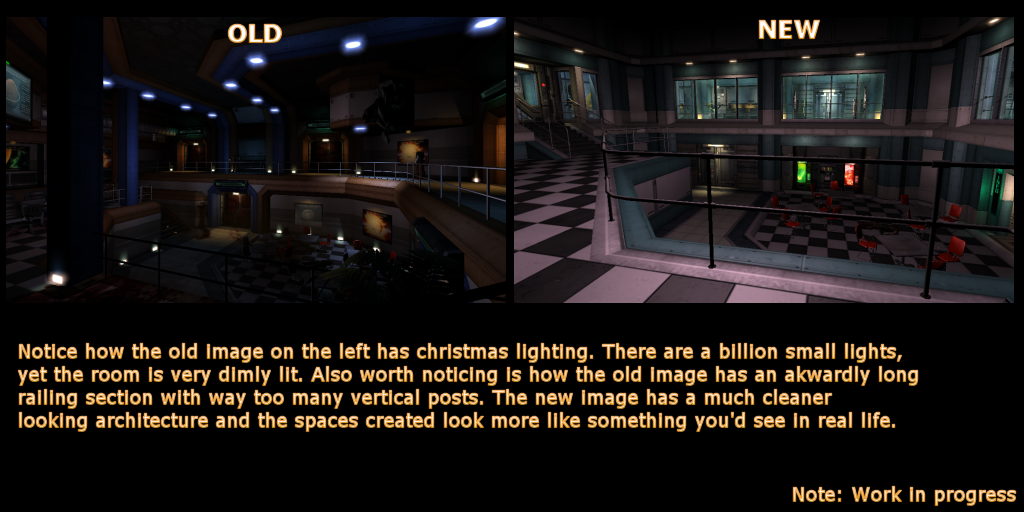 We started by planning out how the workflow would be. This didn't take long as we had been discussing the phase for 4 years at that point. What basically goes in is we have all the levels ready, playable from start to finish - complete with puzzles, monsters, items and weapons. They all look decent and all the shots we have released show that there is a certain level of quality throughout. Now, with these levels in the bank, we go through them one by one, analyse their strengths and weaknesses and then proceed to write a solution document which goes into detail on how we can fix any problems the levels may have. That is not to say we look too much at texture misalignments, less than perfect lighting or anything like that. Phase 2 is a rough pass over the levels, fixing uneven quality, things that are broken, implementing details to reinforce what we're trying to convey with the story and so forth. An example of this is how we in E1M4 completely scrapped an old cargo system in order to replace it with a new, carefully crafted cargo conveyance system. This involved a few new areas and overall the level has been doubled in size.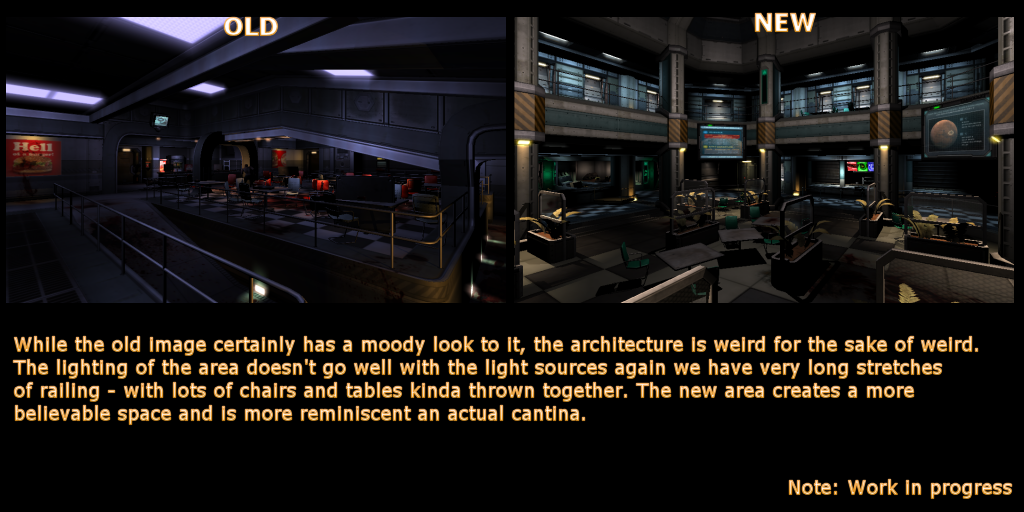 So does the mention of E1M4 mean we have finished 4 maps for the second phase? Sadly no. When determining the order of the levels in this second phase, it was an important point for us that we did not work on levels that had fatigue. This basically means levels we have almost just completed within a year and haven't had time to show its weaknesses. We need some time away from the levels for us to brew up great ideas and clear vision on their qualities. This meant we decided to start on E1M4, then take E1M3 and continue with E1M5. Long story short, we're doing them in the same order as with Phase 1.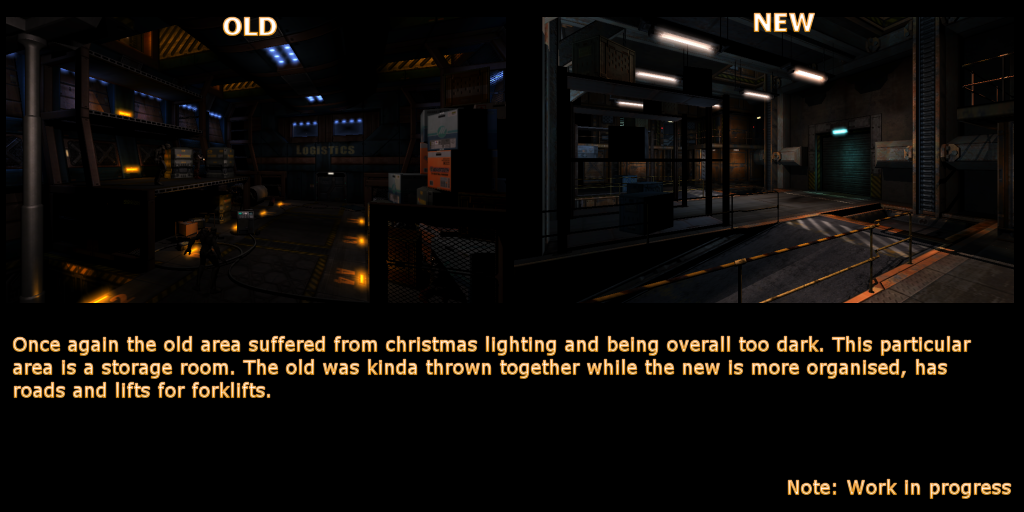 As of this devblog, we are in the finishing stages of E1M3, that soon makes it 2 levels in the 2nd Phase bank. It has taken a little longer than we wanted, but these two levels are the oldest and in most need of work, after all. We hope and intend that the process will speed up over the next levels, but it's important to say that at this point, 9 years after the release of Doom3, we don't really have any deadlines anymore. Our most important goal is to deliver an expansion pack that exceeds that of Resurrection of Evil and the Lost Missions. To elaborate on this, it has been a year since we played the fan-made mod/game Black Mesa. Anyone who has played this will recognize and appreciate the amazing work that went into creating it and the breathtaking quality that - in many places - are apparent. We were as inspired by this as any, but a year back while we were hammering away at rough roads, garages and caves for E1M2, this kind of quality seemed unreachable for a team our size. Now we can safely say that it's not entirely unrealistic that we will have the same level of quality in our work, if not greater yet. It certainly is our intention to try. In many ways we are attempting to have Doom 3 Phobos be to Doom what Black Mesa is to Half-Life. A solid, high quality product that further nuances an existing base game. The biggest difference is that the story and events in Phobos are all new.A part of the vision and the improvement of quality is also to differ from our base, Doom 3. While it was a good game, we feel there are lots of ways to improve. We are putting back a wider array of colors, we're brightening up the place, we are improving the sounds and the general action & interaction with enemies. We are deepening the story. Our levels are larger, less linear and more varied in style and theme. We're aiming for a less depressing audio side. We have more action. All monsters won't be grey. Betruger is taking a vacation in our mod (He won't be laughing at you, locking and unlocking doors). Progression and game events are based on your actions, not the current area's monster count or developers unlocking doors after a monologue. Great care and detail is put into the world around the player to make it feel like a real place you can interact with rather than a pretty backdrop with 6 ft. tall clip brushes.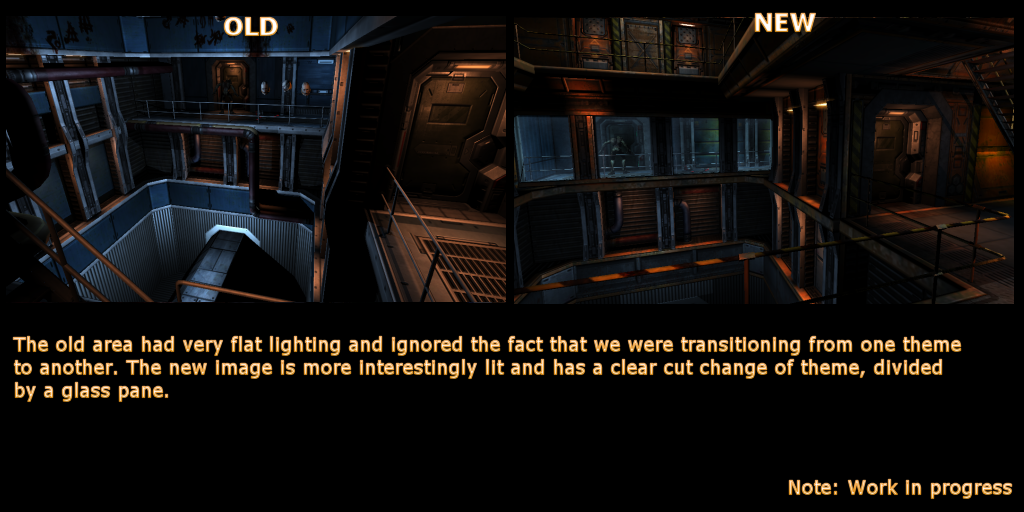 We don't have a lot of manpower for this vision though, as times are rough for Doom 3 modding in general and our team specifically. We are down to 3 active members as our long time level designer, DoomUK, decided to call it quits for personal reasons. We wish him the very best on his future endeavors and thank him for his wonderful contributions to the mod.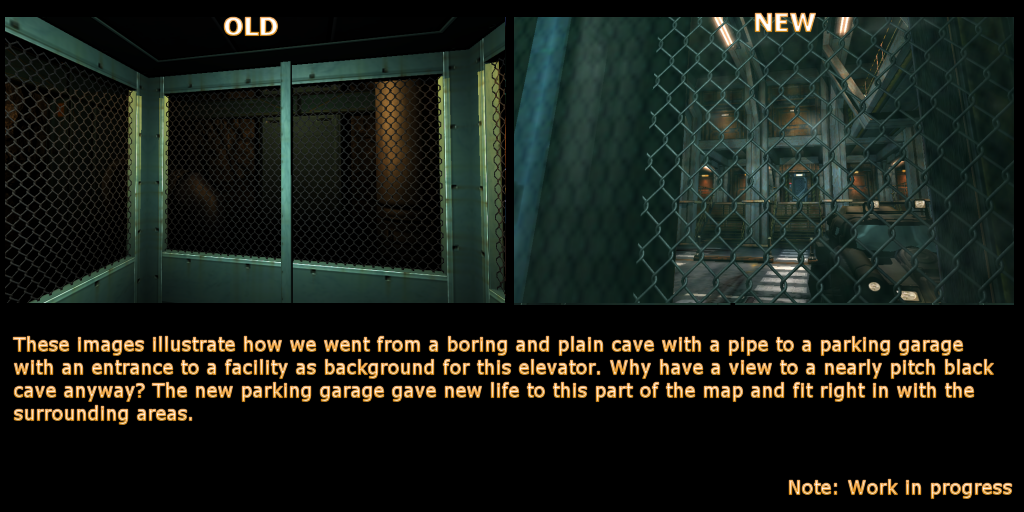 While we make progress every day and all-in-all our work rate is really good, we would benefit greatly from new talent. We are looking for practically anyone with a decent skill set and - almost more important - the will to work his or her ass off and the enthusiasm for getting better, improving the skill set and be willing to take on different assignments. It's a free mod, so we can't offer any monetary benefits, but you'll get the chance to work on something that will actually be completed and released. It's no longer a pipe dream with this project, it is reality. You'll be working on something with high, aiming for higher, quality. If you think you fit this description, don't hesitate to send us an email at infoteamfuture@gmail.com with your background, area of expertise and examples hereof.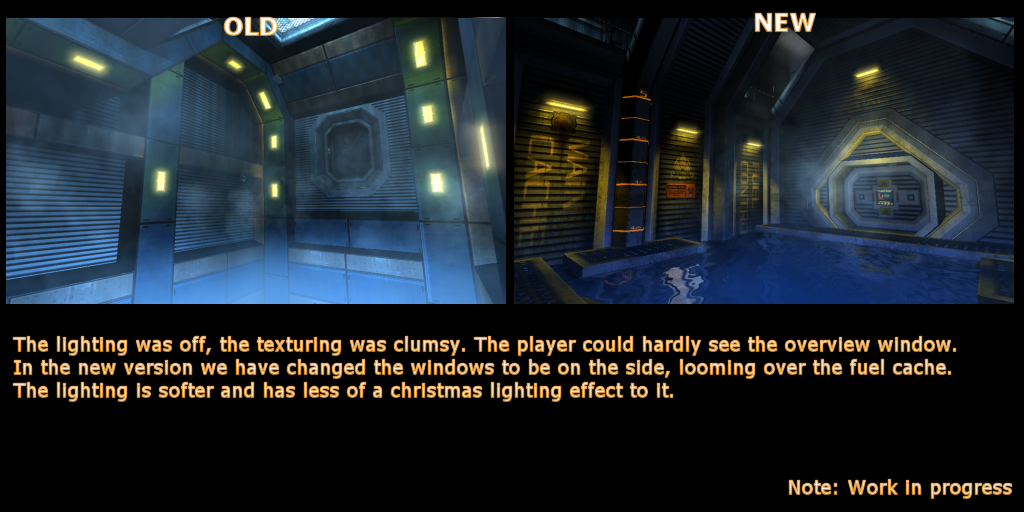 Furthermore, we would appreciate any help we get with the public aspect of this. Tell your friends about us, like us on facebook and follow us on twitter. There is something special in the works and we'd like to reach as many people as possible with it.

visit our homepage
Please join us here too: