As most of you know, we have just launched our initial Beta release! (Which you can get here: Moddb.com) Although not perfect we have had over 300 games played already, Word out to all the fans for that one! Anyway, lets get on with the update!
Coding:
I (Marcus) am still working stupidly hard trying to iron out all the bugs in the emplacements scripts, I can tell you this: I HATE THE BRITS. do you know, I have rewritten the emplacement scripts about 3 or 4 times, and still those pesky Brits elude me! And why is this? because relic decided to have them garrisoned in a bunker, you would still think that was easy... Just de crew it and place the new crew like in the other emplacements, but no! If you spawn the gun without a crew in the emplacement... it goes invisible! and then when i did manage to get some men to crew it this happened: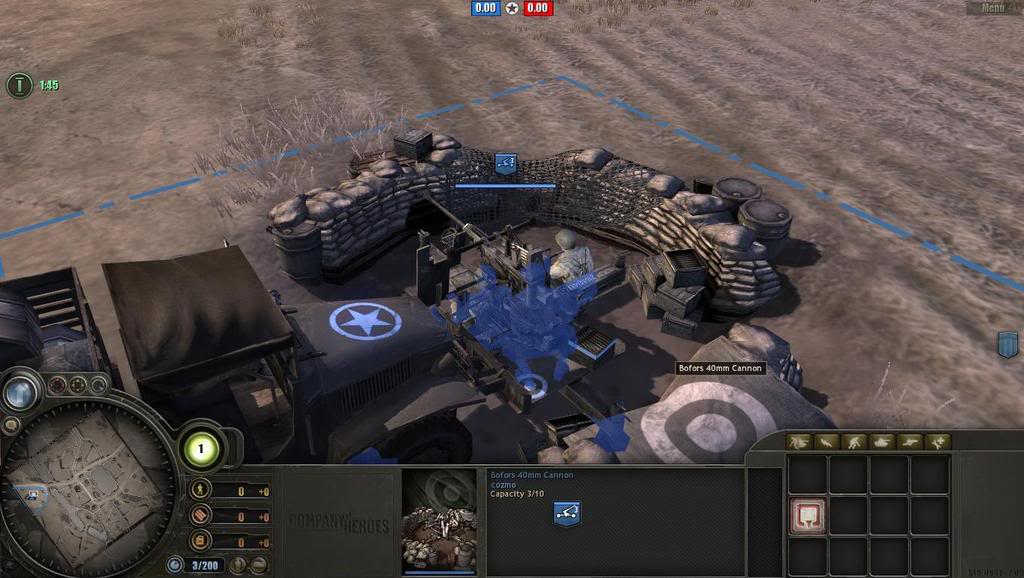 Yes the men are backwards osculated... Why the gun couldn't just be part of the emplacement I will never know... But other than that the other factions are building their emplacements fine, look here:
Wehr Flak

And PE Flak and Flakverling

Bonte
has had finals this week but even so, he is still fixing bugs at a steady rate, he is also toiling away at getting the vet bonus into the game.
This weeks big news:
DBsights is exceptionally close to getting the first version of the launcher finished, this one will include: Auto updating of the mod version and the exclusive OMG maps, real time chat, full battle lobby, to create, join and launch games. This will come as a great pain saver for the players as there will be no more mismatched mod versions or large downloads every time a new version is released.
Here are some preview images: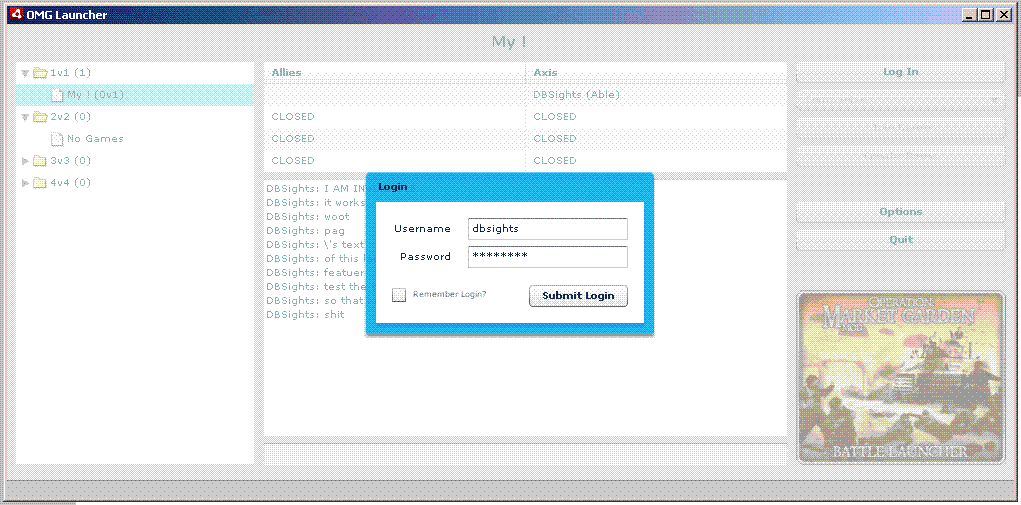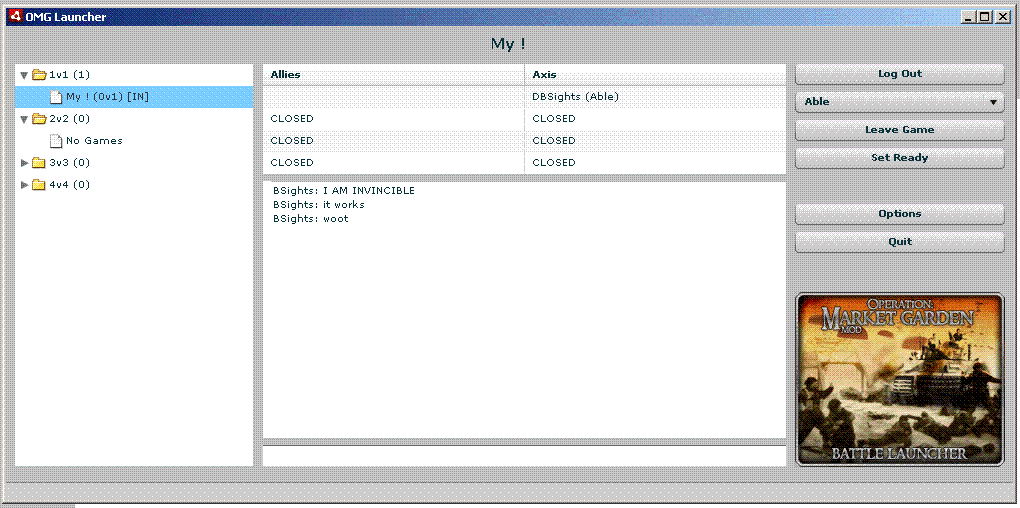 More High resolution images here: Omgmod.org
The Backend:
This week main project for the back end folks is trying to iron out any and all the bugs in the reporting, so you guys can play your matches and get your hard earned vet
, oh and your losses too
.
The Players:
You guys have been working very hard too... if call playing OMG working
. Thanks to you guys we are aware of pretty much all the bugs in our current build! So give your selves a big internet five! (You have to hit your monitor). Seriously though, for this first week we've had lots of games played but there have been a ton of bugs... If it were me I don't know if I'd stick around but the members of our community really seem to take it in stride - Well loyal players, I can tell you that the "Reporting" bug is like 99% fixed so if you have games that don't count PLEASE let us know because they really shouldn't! Ra Ra Fix!
The Crazy World of Balance®:
Again thanks to all the games played we have been able to find and address the few balance issues there were, but I am sure all that will go out the window once doctrine abilities kick in :P This week there have been several balance changes made, most of them seeking balance with the Panzer Elite forces which have turned out to be a bit on the underpowered side.... Many more price changes coming its thanks to ya'll! The feedback you provide is invaluable in knowing what does and doesn't work so keep it up!
MAPPING:
As Most of you know OMG now has some exclusive maps, so here is another little teaser to wet your appetite for the up an coming new version of Pavilion Square by Lolto:

Like that? Thought you might, not only does that look good it helps create a different battlefield every time you play. The Planes are randomized between 4 different entry positions and have a 1 in 5 chance of being shot down! The artillery also has a random offset of 5 from the position it is called at, so every battle will feature different destroyed buildings, and craters in different places for your men to hide in. You can expect to see more features like this in our current and upcoming exclusives, as this is a service we will be offering to mappers who make exclusive maps for OMG.
FINAL NOTE:
Remember to watch this space for all the cool things in the coming months, Doctrine abilities, launcher 2.0 and other systems such as ATS (more on this later).
Have fun and remember, if a gruff German guy asks you for a 1v1, say no!