It's time for a quick balance and bug fix update over at OMGmod.org which means it's also time to give away a load of reward units!
Reward Units
A summary of those receiving reward units this war are as follows:
Distinguished Sportsmanship Award (1 reward unit each)
Ashfall
Rawkfist
Attacktaco
Most Improved Player Award (1 reward unit)
TrapMaker
Teacher's Award (1 reward unit)
UKPowerMax dontated to Cyan_devil
Veteran Company (1 reward unit)
Amagand
Veteran Unit (1 reward unit)
UKPowerMax donated to stormtrout
Tactician's Award (2 reward units)
Ashfall find the guide here!
Lottery (1 reward unit)
LordCabbage
Replay of the war (1 reward unit)
here is the replay!
Wespx
Ray
OMGNiko
Style43
Robieman
IcelandicManiac
And of course as always the replay of the war has been shoutcasted by Apparition in his random cast:
To find out more about OMGmod exclusive reward units click here!
Mapping
We are proud to announce that we have added a new map, Arnhem created by one of our newest members Eagleonthesky has been added to the map list.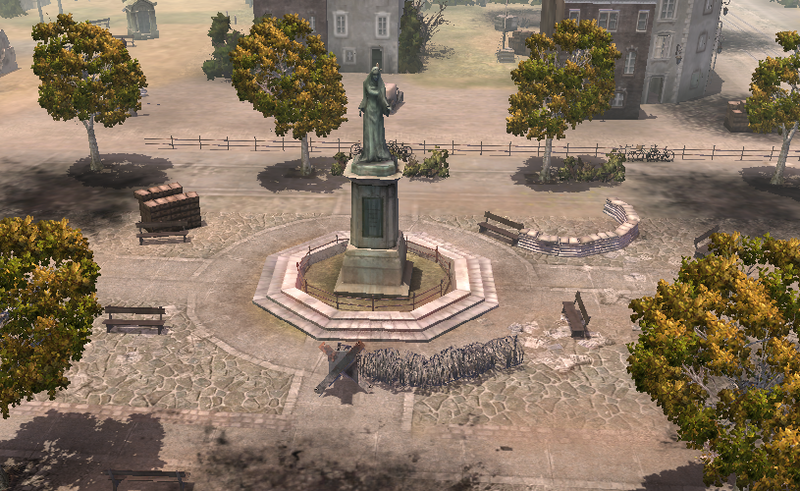 Arnhem is a tightly packed mix of urban buildings with refreshing open wooded areas, with action constantly spread all over the map it makes for some very exciting game-play, thanks Eagle!
For discussion of the changes and what to expect in this patch and head over to the forums or click this link!
Changelog:
Stat changes:
- Terror Howitzer fires 6 shells instead of 5 and cooldown reduced to 190 seconds.
- Blitz officer vet changed to 10% less received accuracy, 15% less received damage, +10 range to air strike.
- Advanced Warning 12.5 - > 10%
- Riflemen Grease Gun ranges changed to 35L, 17M, 8S (up from 30L, 10M, 5S)
- Perfectionism repair rate up to 1.1 from 1
- Baseball Toss; 15% - > 20% increase to Grenade and Satchel Range.
- Pineapple express replaced with Jeep mechanics. 2VP and gives all Jeeps self repair that's heals 140HP over 20 seconds.
- VP buildings take 250% longer to repair
Price changes:
- Recon section marksmen +10 MU
- Crab Flail down to 35 MU
- T17 Armored Car down to 80 FU
- PE Vet Sarge +10 MP
- Panzerfaust upgrade (all platforms) down to 35 MU
- Wher bunker reduced from 30MU to 20MU
- King tiger price down to 900MP and 900FU.
- Overdrive reduced to 15MU
Doctrinal upgrades & off-map price changes:
- Packing Heat Boys AT down to 20 MU
- Packing Heat PIAT down to 30 MU
- Packing Heat Bren Gun down to 20 MU
- Allied Mortar Flare round price reduced to 20 MU
- Bren Gun upgrade (no button) price reduced to 65 MU
- US Advanced Repair up to 35 MU
- Gren and volk assault nades down from 70MU to 65MU
- Karbines for defensive pios and support weapons is now 5MU
Doctrine Price changes:
- Heavy Support 4vp -> 3 VP
- Support Teams 4 -> 3 VP
- Mechanized Escorts 2 VP -> 1VP
- A valued cargo 2 VP -> 1VP
- General hospital 2VP -> 1VP
- Stuka Barrages 3VP -> 2VP
- Burning bombardment 3 -> 2Vp
- Dynamic cover 4VP -> 3VP
- Assault 3VP -> 2VP
- Got a Light 3VP -> 2VP
Bug fixes:
- Airborne MG and mortor pop bug should now be fixed
- Prepared LZ should now work again, and it also effects assault airborne now
- Baseball Toss now effects Assault airborne
- Several Emplacement Scar issues fixed