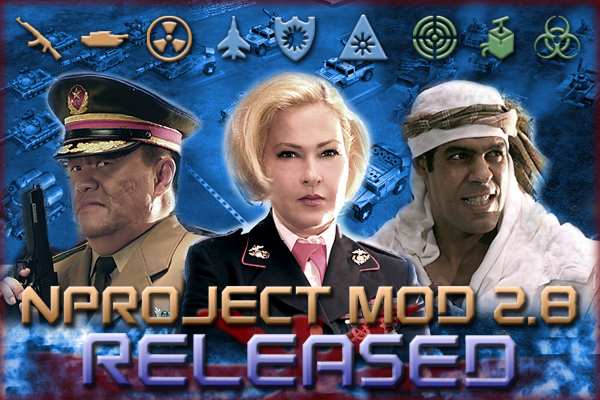 Generals, after one and half years worth of development time since the last update, the third installment of NProject Mod is ready for the release. This version titled 2.8 has made another achievement in that each of the generals has received all of their new toys, which means this version is the "complete" version of NProject Mod; a glorious achievement after five years of development.
This version features:
Almost perfect Zero:Hour. Tons of bugs and exploits were fixed, the balance has been improved and retoned and the AI has been improved sightly. NProject Mod is the best patch mod you can get for Zero:Hour.
Enabled Boss General to be played in skirmish and multiplayer with balance and playability added so it is not overpowered.
More than 35 new units, structures, upgrades, and special abilities. These new things were added to give each specific General more choices in tactics and preserve the balance among all factions.
More than 15 new maps for skirmish and multiplayer. All existing maps also have been improved with better pathfinding and less lag. The Generals Challenge missions also have been enhanced, including the new Demolition General mission.
One of the best mods for Zero:Hour, it is what Zero Hour should have been in the first time, keeping the game's original look while greatly improving its content and fixing all known bugs where possible.
Download NProject Mod v2.8:
ModDB: Download - No-Install Version
---
But wait! It doesn't mean the mod development will stop here.
A lot of things happened from the start of development of this mod. This mod was intended to be a pure patch mod, but the futher this mod was developed the futher it went drifting from its original aim. Some say that this mod lacks new stuff as a partial conversion mod, but some other also says it's adding too much for a patch mod. In order to prevent this issue, this mod will be separated into several mods:
The original NProject Mod final version (dubbed "NPM 2.Final") will be pretty much the same as this release but with more features enabled than was originally intended. It will have the complete campaign missions from both vanilla Generals and Zero Hour, including several new additional missions. It also gets additional maps with new tech structures that we have yet to add (such as Tech Radio Station and Tech Factory). Of course there also will be plenty of new props for WorldBuilder to be used in maps.
The Classic Mode will come with the final version above. In this mode, the additional stuff will be removed. Boss General will be not playable in this mode. The rosters will be reverted back to the original Zero Hour, yet all the fixes and balances of NProject Mod still exist. However, some new additions will still be kept if deemed required for the balance. This mode will be the new perfect build core of Zero Hour.
The last one is The N-Project aka the "NProject Mod 3.0". This project will include 12 brand new generals with sightly unique game mechanics, some are the returning ZH generals with completely revamped armies. No vanilla factions selectable (to give the mod different feel with my other mod Tidal Wars).