Hi everyone, its time for the March Update!
Mapping progress moves along in the Engineering/Power Gen facility. I dont have much new to show as its all still WIP, so you might browse the recently uploaded screenshots in the images area for a look at that. Im also doing some retexturing and rebuilding of structural elements, and will have some screenshots of that in the near future.
I have also been working on retexturing the entire Tech Facility, a monumental task to say the least. Ive also been working on the lighting, and I do have some screens of that. Have a look below!
Darker lighting lends to a more ominous, creepy feeling to the maps. I still have much to do as far as props/models go; I am reworking many of the older models to fit the theme better. Expect future design to be much more like models and props seen in the Laboratory maps!
Next is a small bit on the Menu. Its still WIP, and the panels that the ammo, health etc are displayed on are back to the drawing board, but I do have the color scheme finally worked out. I may change the font to be more legible as well. And I may yet keep the older HUD; no final decision has been made as if yet.
Mouse over options and active options turn the text green to make sure you know where you are pointing and what is active.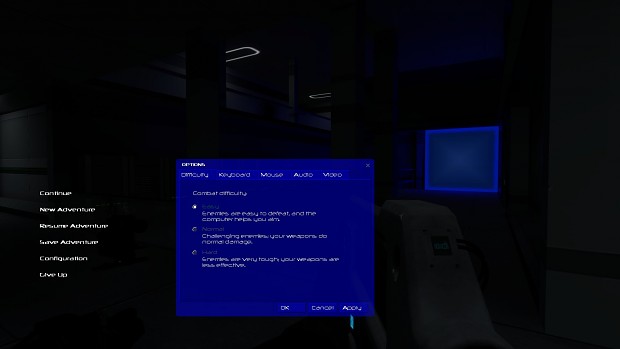 Ive also been working on completely rebuilding my old website, and hopefully I can finish that up within the next 2 weeks or so. Its a place you can find and follow all of the projects worked on by the NovaCor team, whether its an UberNerdGames project or not. There will be a distinction between our projects and projects led by other teams; but I think it would be nice to give projects the rest of the NovaCor team is working on some extra publicity as well.
We still have a long way to go, and I'd like to thank all of you for tracking this Mod so far. Updates may be few and far between sometimes, and I only plan on one monthly news post for the summer months as real-life work will probably keep me very busy.
We have some secret surprises for the future, and thats all I will say on the matter for now. Ill leave it to your imagination to figure it out - or just take wild guesses. Im staying tight-lipped on the matter, so dont expect me to indulge you even if you do guess correctly!
Stay tuned!