The New Republic Defense Fleet
The main New Republic fleet consists of (at Tech 0):
T-65 X-Wing
RZ1 A-Wing
S3 E-Wing
BTL-S8 K-Wing
Ranger-class Gunship
Majestic-class Cruiser
Endurance-class Fleet Carrier
Nebula-class Star Destroyer
These ships are buildable on all worlds (provided it has a high enough shipyard level) and are the 'core' tech. To access the core tech a special structure must be constructed: 'New Republic Membership'. In the GCs most if not all worlds will start with this structure.
The New Republic depends very heavily on its core tech, augmented by local units like the MC90, Bothan Assault Cruiser, Viscount-class Star Defender and many, many others constructed from their own worlds.
The indigenous units can be constructed without 'New Republic Membership': so for instance, the Mon Calamari do not have to be members to build their own Star Cruisers, but they do have to be members if you want to build units like Nebula-class Star Destroyers or E-Wings from Mon Calamari.
So, on Sullust, without the NR Membership, the build roster is rather limited.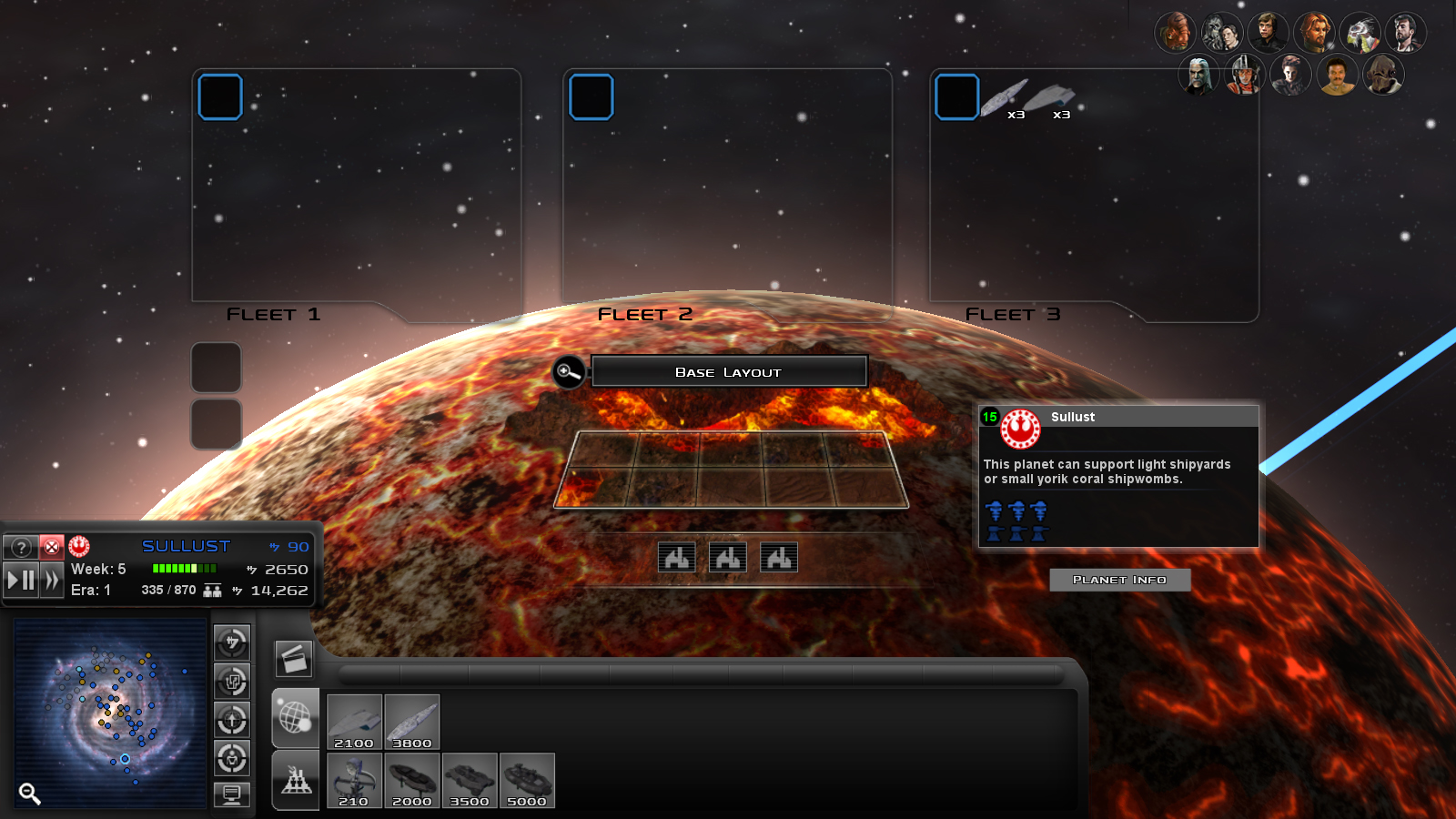 They can access the Quasar Fire-class Bulk Cruiser and the Dauntless-class Heavy Cruiser. (There will one or two others for Sullust as well, yet to be added).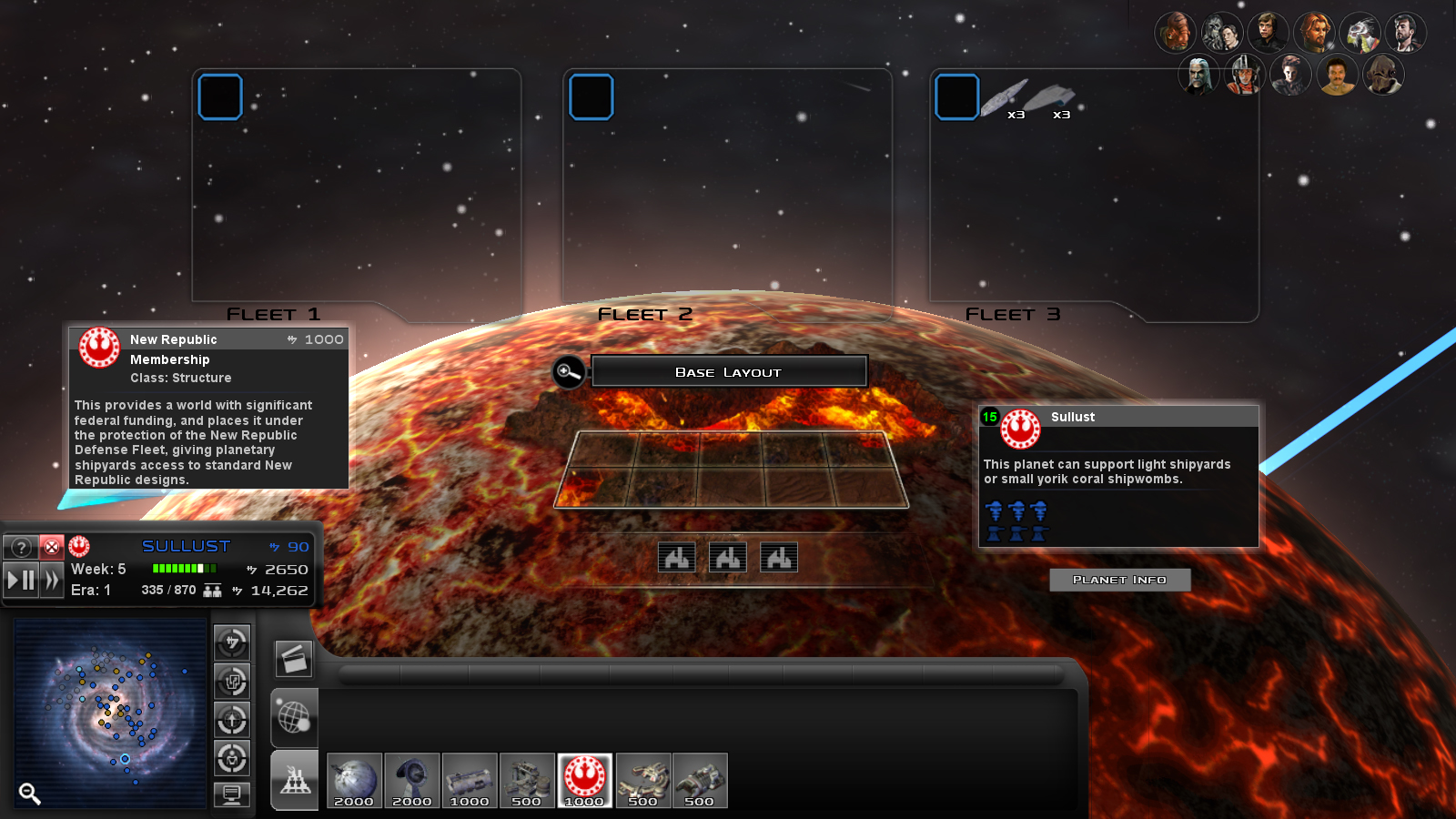 Then you can build the New Republic Membership structure, which unlocks...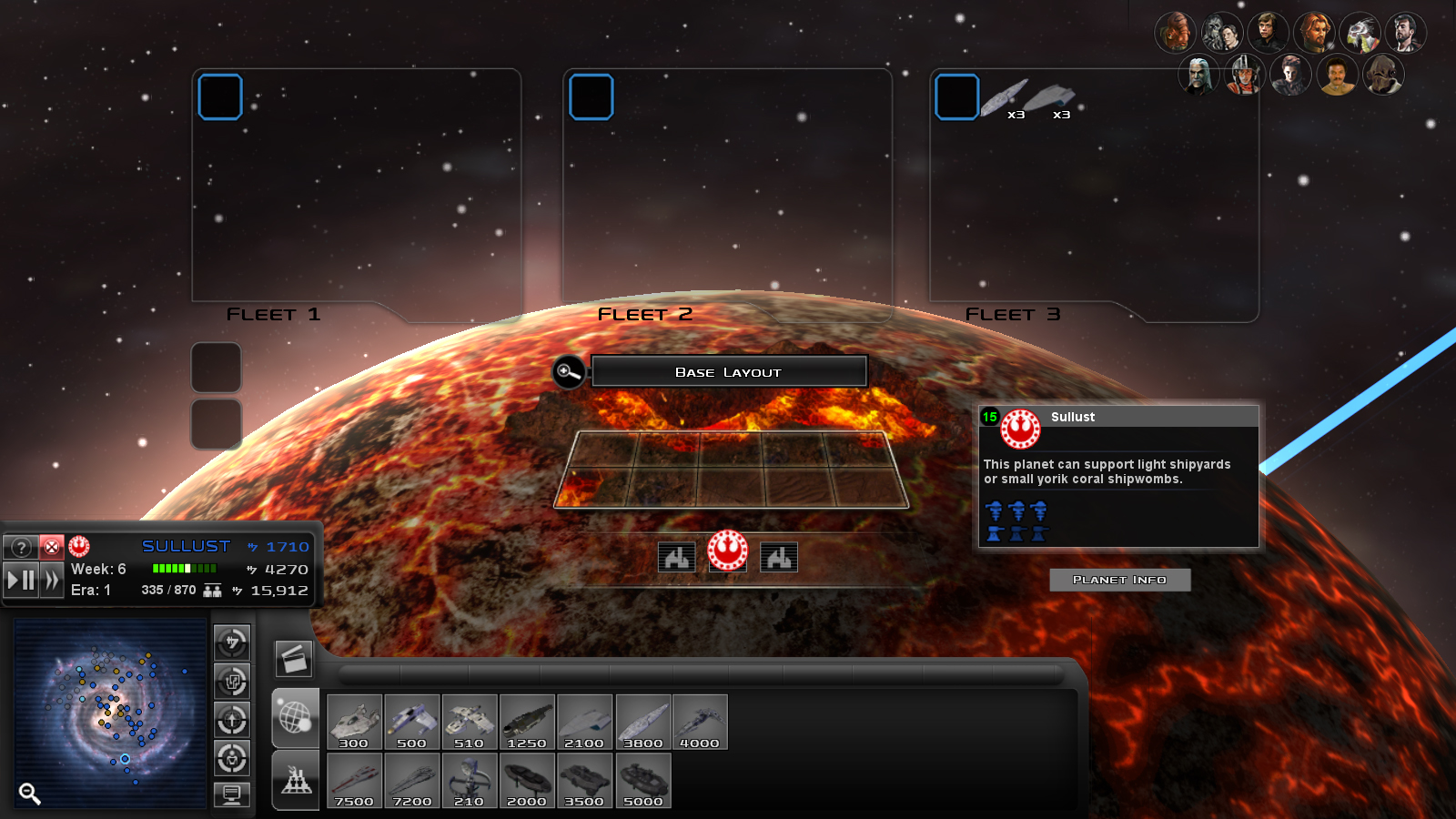 ... all of the New Republic's core, standardised designs.
So, with the NR Membership structure, the New Republic's core fleet units are unlocked, in addition to the Sullustan's own units.
I'm taking a contrasting approach to the Imperial Civil War mod. The core tech aside, if you want a Corellian Corvette or Corellian Frigate you have to go to Corellia, if you want a Bothan Assault Cruiser you have to go to Bothawui/Kothlis, and on Mon Calamari you have a vast collection of extra units including the B-Wing, MC30, MC40, MC80a, MC80 Liberty, MC80 Independence, M80b, MC90, Viscount. This will mean each theatre of the galaxy will have different fleets: you can have Sullustan fleets reinforcing Corellia, Mon Calamari fleets arriving at Fondor, Hapan ships assisting the Corellians.
The Galactic Alliance...
A similar mechanic will exist for the Galactic Alliance, but they will have an even more diverse indigenous unit pool with some generic, old designs (like the R-41 or the Bulk Cruiser) found on many different planets. And for the GA, in a fractured galaxy, building their 'Galactic Alliance Membership' structure will not be as straightforward: it will require Cal Omas to be in orbit, and he travels on the slow moving Super Star Destroyer Guardian, and many of the worlds are on the other side of the galaxy, forced to rely on their own limited assets and any New Republic ships they happen to start with, and totally cut-off from the GA capital on Mon Calamari. But when the GA Membership is built, these once cut-off worlds will have access to the standard GA designs.