Build 14 Beta 3.2 is now available from our Downloads Section. If you are upgrading from a previous Beta 3 version, you only need the "Part 1: Installation Wizard". If you are doing a brand new install, use the "Part 2: Contents Archive" as well.
NEW GAME REQUIRED!
Improved Role-Playing

Besides historical accuracy, we want this to remain an RPG too. So we have some new features included to specifically enhance this elements of the game.
When you start on your adventure you won't be able to get all the abilities right from the start. Some of them are now locked and each one has a separate way of unlocking. For example by buying and reading a relevant book or doing other relevant things. There will be hints regarding these actions on the lower difficulty levels.
The whole Caribbean itself is also made more dynamic. Events you read about in the Town News now have an noticeable impact. If a island is poor, less merchants will be sailing around this island on the worldmap. If an island has a large military, you will find more battles around.
The goods which an island import and export can change as well. Again, this will be noted in the Town News. And towns may need your help sometimes. If an island exhausts all of its resources on a certain project, you can go there to make a tidy profit!
Moon Phases
Yes, it is no longer "always full moon"! While not providing a major impact on the gameplay (yet!), it does vastly improve the realistic feeling while sailing at sea. The dates at which the moon phases occur are even historically correct!
New and Improved Ships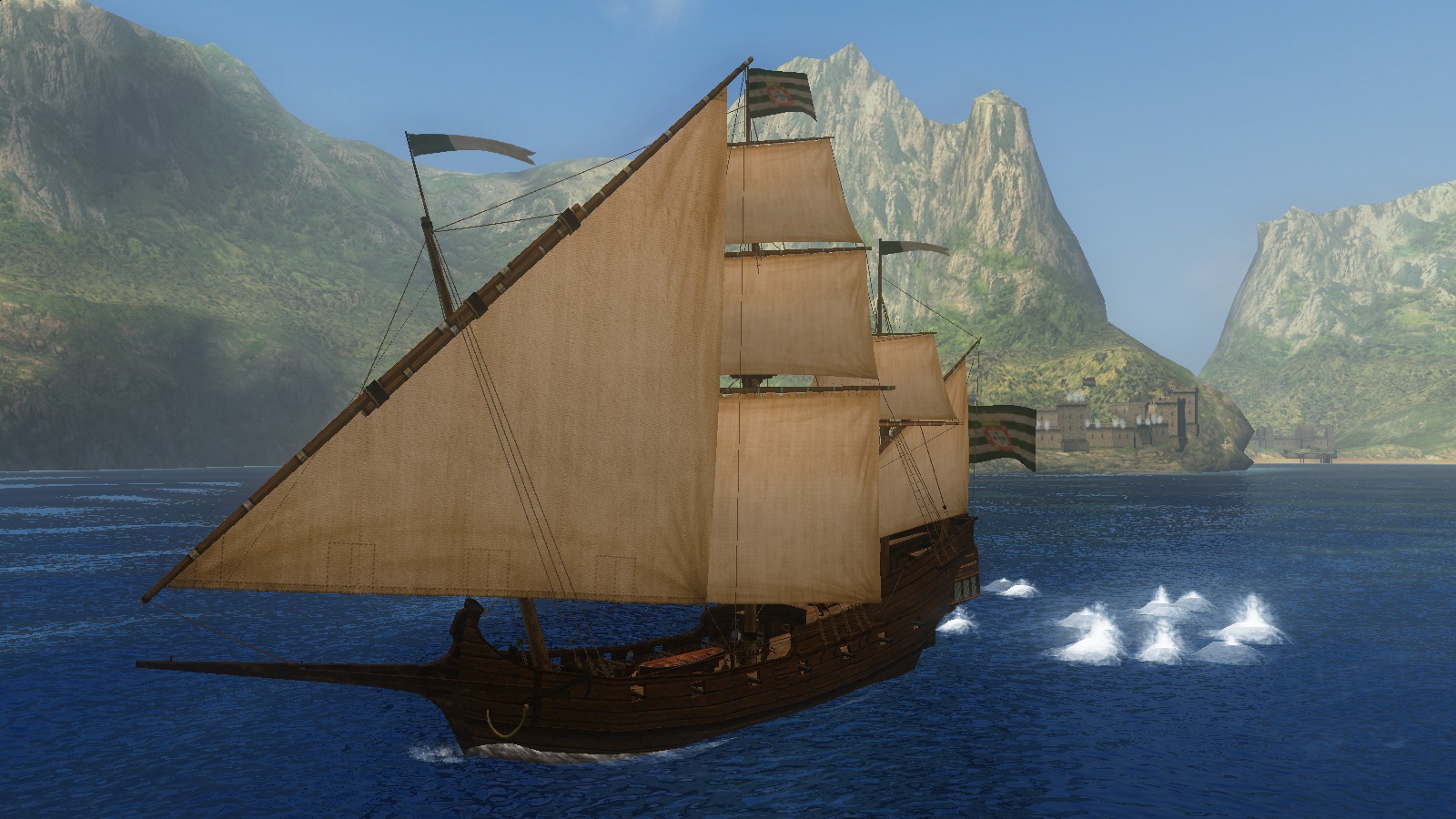 A curious ship indeed, the Polacca is not a regular sight in the Caribbean. But she has made the crossing from Southern Europe and can now be used for pirating or trading. A good all-round ship that should prove a lot of fun in the early game.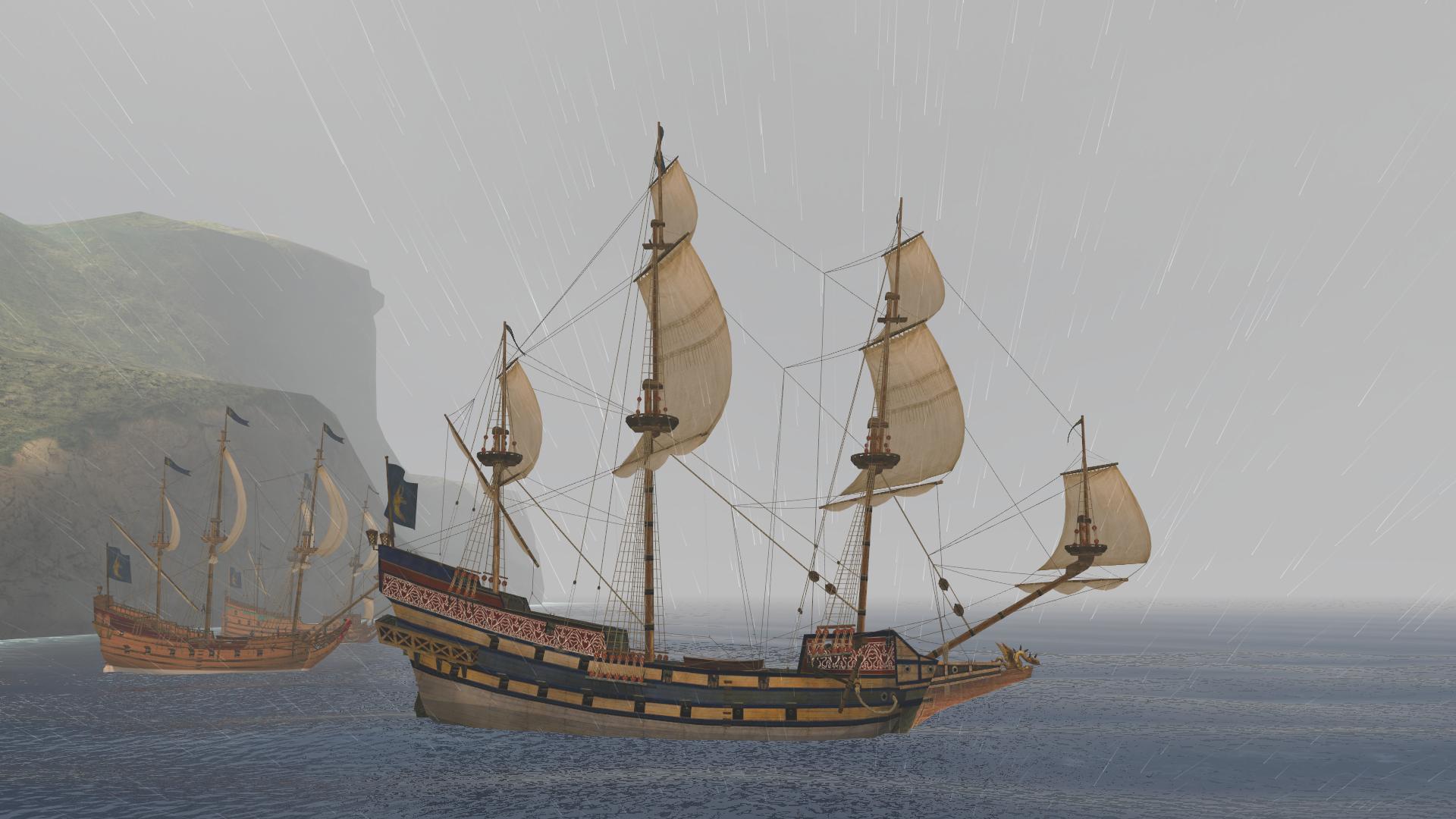 A lot of ships have been improved again, with redone rigging and new textures. But none more so than the Fast Galleons, which have had their models thoroughly improved. A great sight indeed!
Extended Storyline: Bartolomeu o Portugues
Our first-ever unique storyline gets extended once again! This time as a collaborative effort between two of our senior quest writers. With more content still in progress.
After stealing the golden throne at Havana, Bartolomeu's crew mutinies and leaves you marooned on a tiny islet. One lucky escape later and you find yourself once more in the employ of the Portuguese governor of Grenada. In fact, the famous Dutch mercenary, Johan Elting, will be helping you on this one. Good thing too, as infiltrating the city of Cartagena is not going to be easy.
Using a false identity of Spanish royal envoy to accomplish your task, you decide that the warship "San Martin" must be captured! But not before falling in love with the governor's daughter and getting into a tangle with her suitor and his men. Hidden tunnels, secret caves and a daring rescue await!
Future Quest: The Gold-Bug
While not yet finished, we want to give you a tease of what to expect in an upcoming update!
Based on the short story "The Gold-Bug" by Edgar Allen Poe, this brand new storyline contains many clever puzzles and interesting locations. Made by the same writer who created the Woodes Rogers story and with the same incredible attention to detail.
Over the Horizon
Is there anything after "New Horizons"? Well yes, of course there is! More "New Horizons", to be exact. Another update is always around the corner.
But do not forget about our completely free and independent Age of Sail game project: