Ten years of JKA

As you already know, Moviebattles is already over ten years old. Now JKA is 10 aswell! Exactly 10 years ago on September 17th 2003, the game was released. After all this time, people are still playing it. Here's hoping they will still be playing JKA in 10 years from now.
A few weeks ago we showed you some progress in a dev diary. Here's the second diary in what will hopefully be a long line of progress reports to the community. Please leave feedback and suggestions if you have any.
Clonetrooper

In order to make clonetrooper more versatile we've made some changes. You can purchase both ions and blobs. You're able to switch between them with the weaponmode key.

Ions have been tweaked aswell. The duration of ions has been doubled, but the amount of ions you can purchase has been lowered from 3/6/9 to 2/4/6.
Droideka
We're aware that droideka needs some balancing, so we've made some changes. For starters shield 3 has been lowered from 1000 to 800. Shield regeneration speed has been reduced a little and is now the same for every shield level.

We've also added a chatbubble for the droideka class: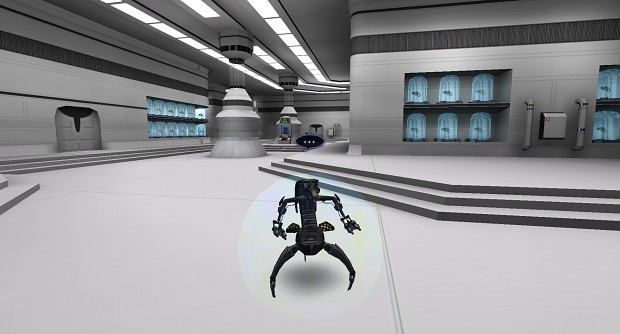 The maximum available ammo has been decreased too, to prevent deka's from holding down mouse1 for a long period of time. This should hopefully prevent deka's from being able to surpress corridors for a long time, and instead they'll be forced to pick their targets more carefully.
Classic Jedi Temple

The old Jedi Temple map will be a part of the next release as well. It is the rather large version of Jeditemple with some similarities with the current one. The following screenshots should freshen up your memory:

The current (public) Jeditemple map will remain as it is, and this map will be added in as mb2_jeditemple_classic - so both maps will be included in the next release.

Most of you have already seen (or used) these scopes before. Starushka has made these some time ago, and we feel they're good enough to be used in the official release.

You can get these scopes here.

That's all for now guys!