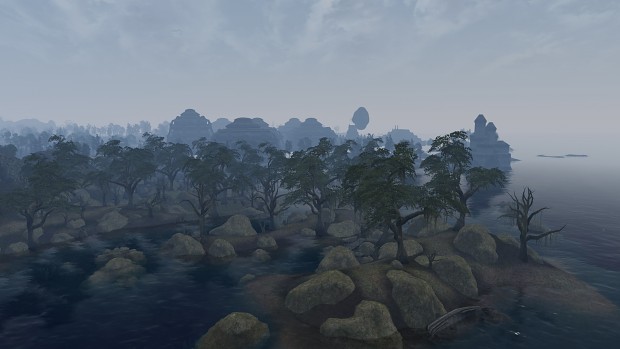 Hi guys! I hope you enjoy the latest update. I wanted to give you a heads up as I'm about to release a small hotfix, but also because I want some feedback from you guys about your experiences in 2.7. Are there any issues that I need to be aware of? Please let me know as soon as possible.
Here's what you can expect in 2.71:
Rebirth Fixes
* I have hopefully managed to solve an issue with the Pelagiad Mages Guild. In 2.6 and 2.7 the Mages Guild building would sometimes not render properly.
* Removed "Cinia Urtius" from Tel Fyr docks to prevent doubling; She had already been added to the game by the Morrowind Patch Project.
* Adjusted the Ai package for Renell, Seyda Neen. He will no longer walk into stuff in his shack.
* Removed "Thieves Guild Armor" from "Ivrosa Verethi"; She's a member of the "Comonna Tong".
* Hashir, the Inkeeper at Red Lantern, Seyda Neen, will no longer offer moon-sugar for sale.
* Made several visual improvements to the Ald'ruhn Temple Complex.
* Made several visual improvements in Ebonheart.
* Fixed an incorrect texture-path in the "Face of Kagrenac" mesh.
* The Nord inside "The Evil Mudcrab" is now less naked.
* Removed a duplicate door in Caldera, North Towers.
* Fixed several path-grid issues in Balmora.
* Fixed some interior issues.

Balancing
* The Hunger is no longer immune to frost/fire/shock (still immune to poison), although it will still have a pretty decent defence against these elements (50 % resistance). I hope this will make life easier for mages, who for obvious reasons had a very difficult time dealing with these creatures. Additionally I've given the Hunger a few more hitpoints to compensate for this change.
Graphical
* New improved mesh and texture for "Kwama Eggs". Thanks to Pherim.
* New textures for gravestones in Pelagiad.
* New improved icons for (Thanks to WH-Reaper):
- Falmer Shortsword
- Falmer Longsword
- Skull Shield
- Steel Dagger