Another update!
It's been one month since the last update, and one month is just 1/24 of two years, so we are doing pretty good when it comes to keeping everyone up to date on what's happening!
So here's the latest :
Mission Improbable (hereby referred to as MIMP) part 1 is done...ish! What that means is that Rick has created 95% of the assets needed, which will now be used in the other two maps as a base. We will still be creating new content, but now we have a solid base to pick from, and this will help us in getting a solid, consistent feel throughout the maps. Now that it's done, I can go in and do some scripting touch-ups, so that the gameplay is changed (hopefully) for the better.
Regarding the art, here's a screenshot that shows the improvements in graphics between the currently released version and what's in store :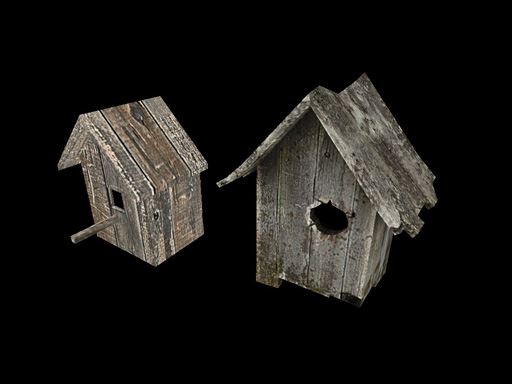 Who knew birdhouses could look so good?
I've also gone into MIMP2 and done some changes. We've cut some parts which were quite weak, and "streamlined" (read: cut) some parts which were confusing or obtuse. If MIMP2 is still fresh in your mind, then I can name some examples of what's been changed. The bridge scenario in the beginning has been completely cut, and the sequence of events at the gas station has been simplified. Rick is now giving MIMP2 an art overhaul, to get it up to the level of detail that MIMP1 is currently at. Once that's done, I will go in and do a script touch-up, same as with MIMP1.
And what about MIMP3? Well, it's going just superfluously terrific! It's been playtested several times now, with each session giving extremely valuable feedback as to what works or not, exposing weaknesses in the design and so on. It's almost at a level where the map is complete, and we can start polishing and tweaking the gameplay. It's also nearing the ever important milestone of "no dev-textures left in the map", which is great.
That's it for now. Hopefully the next update will bring with it some screenshots of things which are not birdhouses. Until next time!