THE ARMED ZONE 2.0 BETA
This is the Beta version of the mod, it will be converted to full version later after fixing any further game breaking issues.
ABOUT THE ARMED ZONE 2.0 BETA
TAZ 2.0 is a full weapons modification for MISERY 2.2.1. It took us four full years of continued and dedicated work to bring this project to this level of completion, and it is the best upgrade we have ever made to the mod.
Instead of making typical updates to old versions of TAZ, we went with a complete rework, building everything from the ground up.
All guns were remade using the best models, textures, and animations we could find.
Several animators worked on the mod to deliver unique animations for unique weapons, some textures were made from scratch to give their weapons the best possible S.T.A.L.K.E.R. feeling.
Every firearm has new sounds, completely custom made.
Many actor related sounds were replaced, footsteps, breathing, inventory, etc.
Some guns were modelled, textured, and animated uniquely for TAZ 2.0.
All vanilla weapons are reworked or replaced for the best possible results.
TAZ 2.0 delivers 700+ weapons in total "vanilla and new guns", varying between melee weapons, firearms, and launchers.
Ammunition overhaul: TAZ 2.0 brings in new ammunition for present and new weapons.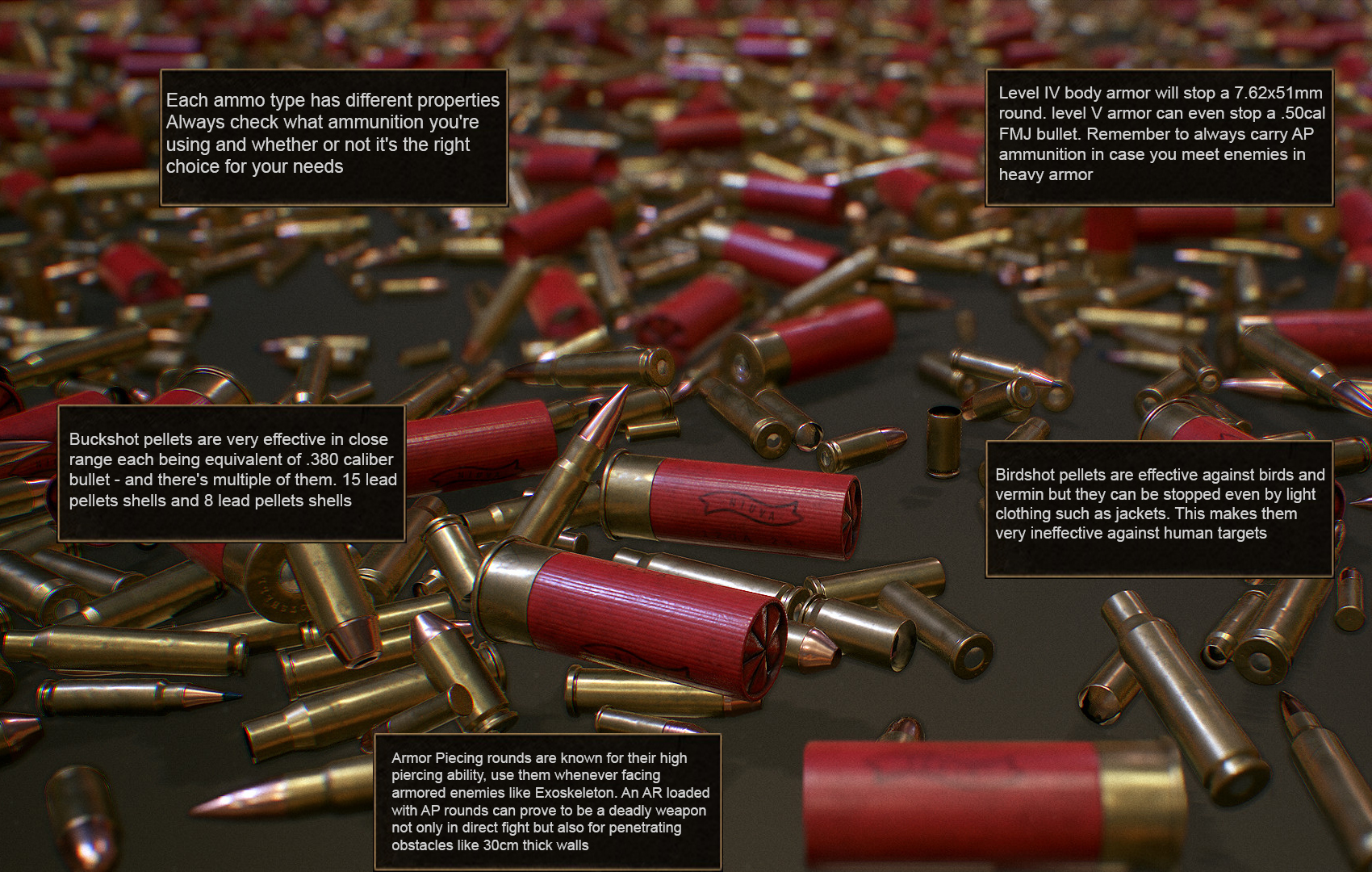 3D ammunition credit: Mikael Kivi
Vanilla ammunition like 5.56x45mm got more variants, Mk262 OTM, Soft Point, Tracer rounds, and more.
12ga shells are extended with extra variants, such as 12ga birdshots, 12ga Flechette, Buckshot with two types of shells: 15 lead pellets shells and 8 lead pellets shells.
Several weapons are rechambered to their proper calibre. For example, MP44 got rechambered for 7.92x33mm, which is the real-life calibre for this rifle. PPSh41 rechambered to 762x25mm Tokarev rounds which are used for TT-33 pistols as well.
All this new ammunition is here for the sake of realism, diversity, and for a better gameplay experience.
Penetration has been revised, with good accuracy you are able to take out multiple targets with one shot, especially with shotguns thanks to their shrapnel spreading pattern, and bolt action rifles with their powerful rounds. Shooting through walls is possible, a 30cm wall can be penetrated with almost any rifle if proper ammunition is loaded, hitting whatever on the other side. Armor Piercing rounds are the best for the matter as they can easily cut through armor and walls. An M249 loaded with AP rounds is a devastating weapon for any target.


Attachments: A complete rework for attachments as well as presenting new ones.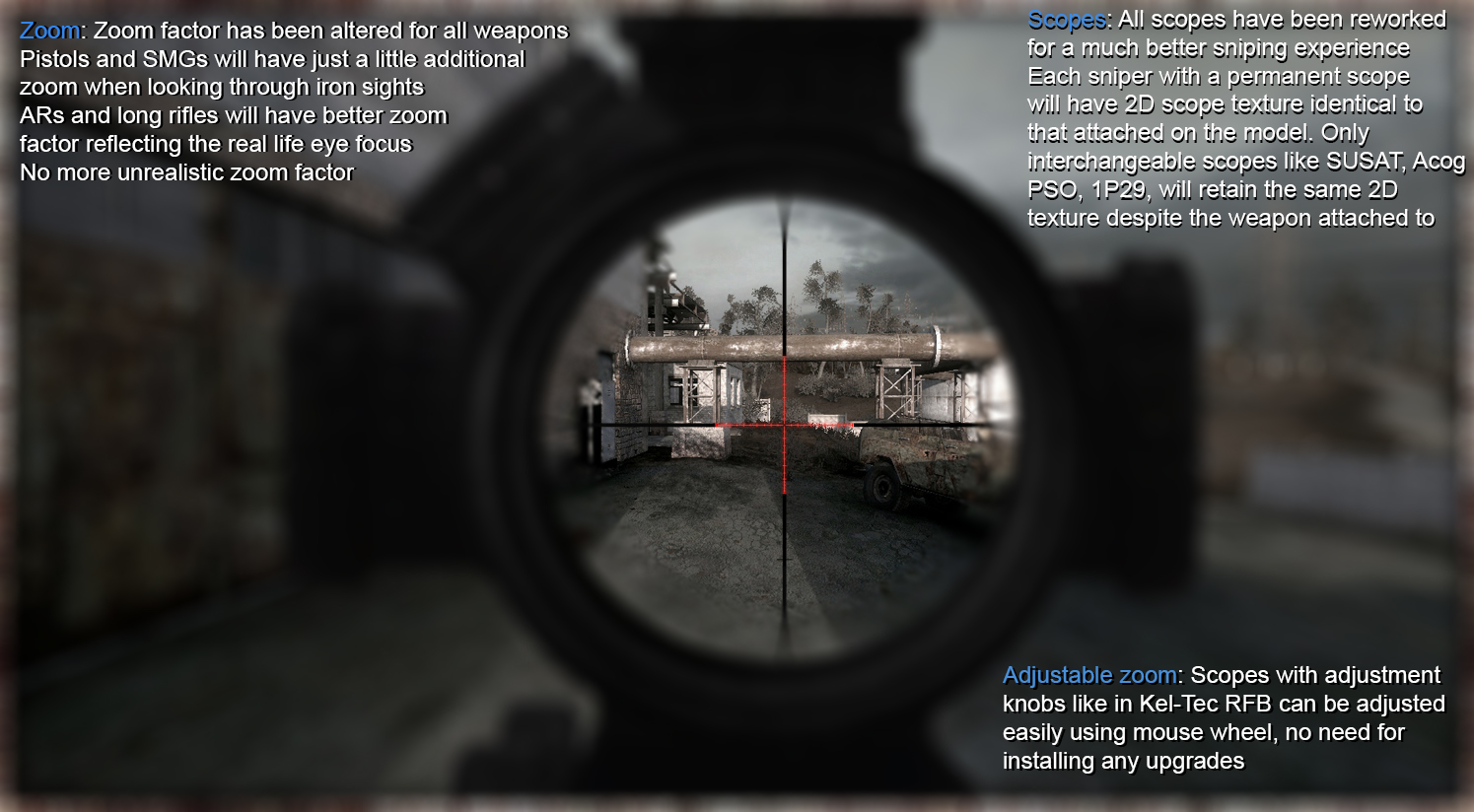 All vanilla scopes are reworked in terms of 2D scope reticle, zoom factor, availability on NPCs and traders.
Moist and broken scopes are not attachable to weapons anymore, only useful scopes are, but you can still loot and sell them.
New attachments are present: 1P29 scope, IWI Nimrod scope for Galil, Recce 5 Suppressor, Sten Mk II Silencer Kit, the famous MAC10/11 Suppressor, 5.7mm suppressor for FN57 and FN P90, and much more.
Weapon handling: All classes now share the same weapons configs, hence the same handling. Unlike in vanilla MISERY, classes won't suffer from the weapon's type. SMGs, Assault rifles, Sniper rifles, the three classes can handle these types of weapons and other types the same way. The main benefit from each class is their strength, endurance, running speed, carry weight capacity, hunting skills, sneaking skills, and other abilities. These perks are what differentiate one class from another, and these are the perks each player should keep in mind when selecting a class.
Weapon firepower: Damage has been reworked for all weapons. Any weapon you find has its benefits. Pistols are not as useless as they used to be, going against average NPCs does not require an AR or a powerful SMG, a SIG SAUER P226 can prove handy even if it's chambered for 9mm calibre. Shotguns are a hunter's weapon of choice against mutants, and with the extra shell types a hunter can go against almost any opponent given proper shells are loaded. Even the mighty chimera can be taken out using a pump action shotgun, such as a Winchester 1300, a Remington 870, a Maverick 88, or simply use the ultimate power of the AA12.
Weapon diversity and availability: Vanilla MISERY brings a bunch of weapons with single variants, such as TT-33, Saiga-12k, KAR98k, etc. TAZ 2.0 not only updates these weapons, but also brings more variants for better diversity and a richer gunplay style for the player. Exotic weapons like Beretta MX4, MG42, AA12, Barrett M82, are not easily found throughout the zone, you must either chase after NPCs for them or try your luck with a trader. Such weapons are quite hard to come by, and stalkers who acquired them are hard to come across too, only factions' veterans and Mercs would possess such high-end weaponry.
Extra features:
-Dynamic shooting effects: The smoke your gun creates when shooting is no more static, with the implementation of new smoke particles the effect is much more realistic now and easier on the eye.
-DirectX8 compatible optics: Static light "DX8" users can now use any 3D optic like EOTech, AimPoint, Kobra, C-More, Red dot, and similar optics just fine. The reticle will be illuminated just like in DX9 and higher options.
TAZ 2.0 is compatible ONLY with MISERY 2.2.1!
Download TAZ 2.0 BETA from Mega
Fresh installation of MISERY 2.2.1 is required
Start a new game using vanilla MISERY to ensure the game is running.
Extract TAZ 2.0 gamedata folder and drop it into your current STALKER COP folder, replacing all MISERY 2.2.1 files with those of TAZ 2.0.
Reselect your class if it is not Assaulter and reboot the game.
A new game is required.
Addons
-A set of addons is made for TAZ 2.0 and can be downloaded from here: Mega
-Check the Addons_readme.pdf file for what the addons feature.
_________________________
IMPORTANT NOTES

You need to download THIS PATCH in order to get repair and dismantle scripts running, as well as several fixes, tweaks, and changes were done.
Some weapons tend to be too shiny under high settings, the current solution for this is using Object dynamic lightening settings. Delete "shader_cash" folder from appdata folder and see if this helps.
TAZ 2.0 requires more resources than vanilla MISERY, if you experience CTDs with "out of memory" reports you will have to lower your switch distance and graphics settings. 200 switch distance is ideal for Assault and Recon classes as they are meant for mid-range and close quarter combat. 250 is good for Sniper class. Anything higher will rise the chances of memory shortage and crash. Spawning hundreds of weapons and dropping them on the ground can also cause crashes.
TAZ 2.0 was created using 83 FOV, all guns were aligned and positioned for this FOV. Using anything higher or lower will produce glitched hand positions, as well as weapons clipping through the screen, and an even hard to use line of sight.

Anyone is welcome to port and merge any or all TAZ 2.0 weapons to any other mod given we are credited. We do credit all mods, modellers, and sources for all TAZ 2.0 weapons, we only ask for the same.

TAZ Forums:
To report errors and bugs visit the following thread:
For questions about the mod visit the following thread:
For suggestions, visit the following thread:
GSC Game World, MDT, kyky, Comrade Bear, Swartz, [TZP] LoNer1, TWiST3D, r_populik, Plaargath, Odec3D, MAIBATSU, SAM61, Alexandr_I, Lance_W, lafugix, Sin!, Millenia, Heffy, Mr.Rifleman, BULL5H1T, GeeP85, _-RoKkO-_, kv0, amik, Twinke Masta, Seph, Drew, Sarvs, Adept1993, KingFriday, EdgeStylez, DICE, Tenoyl, Toasty Fresh, Bot, Nomadec, kouoaeha, Rafeil De Jongh, ImBrokeRU, Arby26, Kaplan.994, ElectroStalker, Tigg, Thanez, Corvalho, Mtindle, Kiory, GR3B3N, Naymit, Maxivz, Ruslanicus, Shoker, Mongol, Muller, SanekEd, Freefall, H.U.N.T.E.R_7.62, rOtzbua, Paul68Rageous, AfterBurner, Gaz1k, Blur NCFurious, Silvio Dante, WangChung, Crash, Aggressive Napkin, the_Tub, Kimono, Teh_snake, 828 studios, and many more!
Gasa Kinu, Kenny_yin, Jock Swan "Machete_Metal", Christoffer Olofsson, Connor Ray, Michael Merrifield, Дмитрий Бармин, CDIA, Kieran Cooper, Jonathan Seagoe, and anyone I forgot to mention
Mp5lng, Alex "TheTazDJ", Kuba Wasiak, Tank1092
Alpha tester: Nezdad Kajtazaj "Snow"


Thanks to all supportive fans!
Good hunting stalker!
Released on
June 2019