First in-game screenshots are finally coming with this update. Together with breathtaking new concept art and a preview of the main theme composed by our lead composer Kamil Orman Janowski. All this framed nicely with a lot of new information.
---
There are currently positions open for the following jobs:
• Sound Designer
• VFX Artist
• 3D Character Artist
• Concept Artist (Environment Art)
• Programmer
• 3D Organic Modeller
• Texture Artist
• 3D Hardsurface Modellers
• Graphic Designer (Company and Game Logo Design)
• Male Voice Actor
---

The official Game Logo!
Darin Walsh has developed this beautiful logo in the course of a few weeks of back and forth. It's our Graphic Designer and UI Artist, you can expect more great things from him in the future. We wanted to develop a logo that definitely shows something and the mind knows what the elements are, but it takes a while to fully identify and understand the logo completely.
Preview of the Main Theme!
Kamil Orman Jawowski has started working for Mindworld: Shattered Dreams again. This is a short version, which shows the direction we are going to go with one of the most important tracks for any game: the main theme. This does not show the final quality, as he is going to move into a new studio with updated equiptment. He is then going to finish the main theme with the new setup.
Katherine Evans - Re-designed!
Markus Lovadina is currently working on re-designing the old concept of Katherine Evans, the protoganist of the game. He is also working on her arms and hands, which are going to be visible in-game. There is a RLV (real life version) and DCV (dream creature version) for her, as the outward appearance changes when she enters the dream world.
The following content is alpha-material and does not represent the quality of the final product!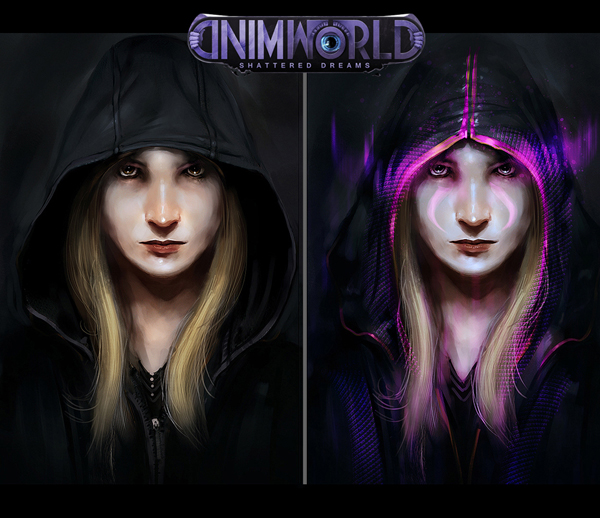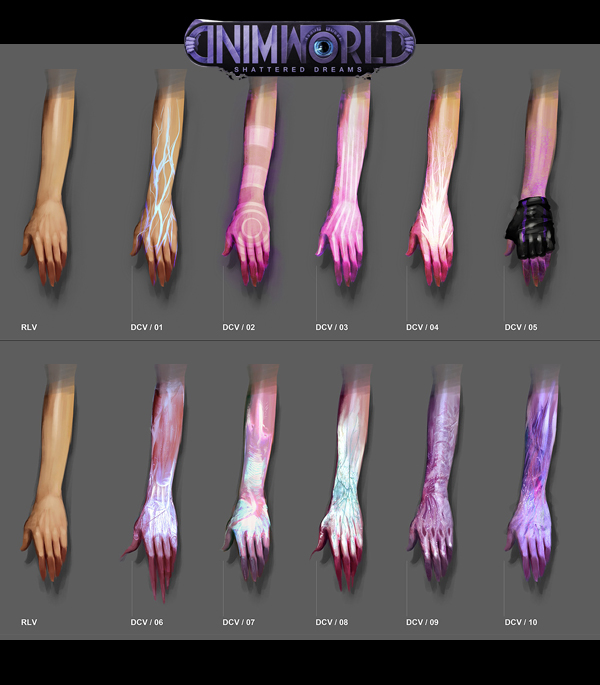 (we went with DCV 10)
First in-game material - wait no further!
You guys have been asking for in-game screenshots for a long time already and it's more than understandable that you want to see, whether we are actually working on a concept or a game production. Here's the first proof that I've not only just been talking in the latest updates.
The following content is alpha-material and does not represent the quality of the final product!
You might remember this room from the concept we have posted with the last media update. Well, here you can have a look at how well it was translated into level design: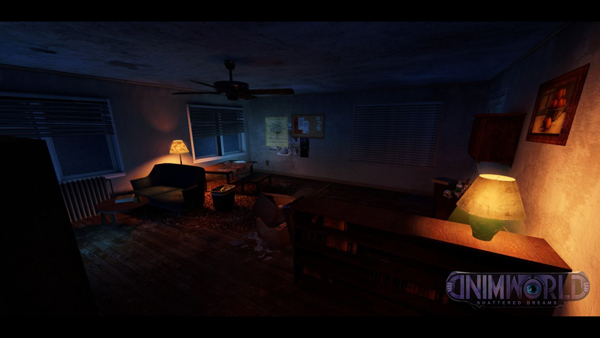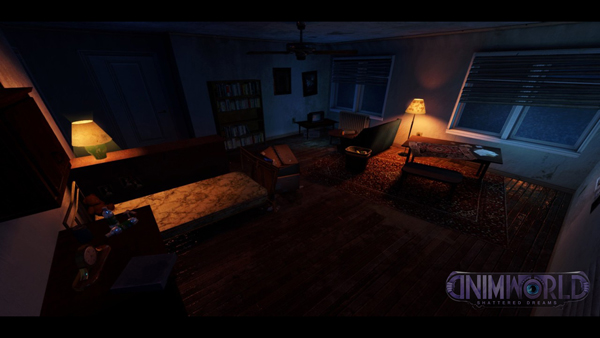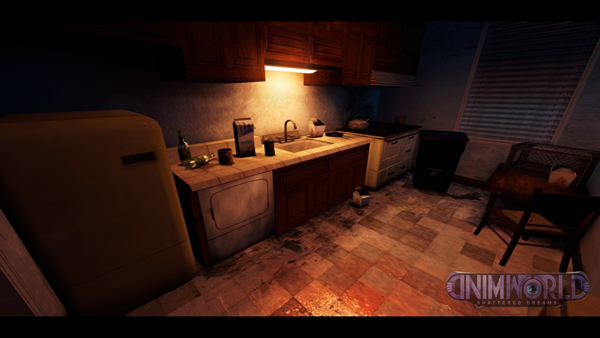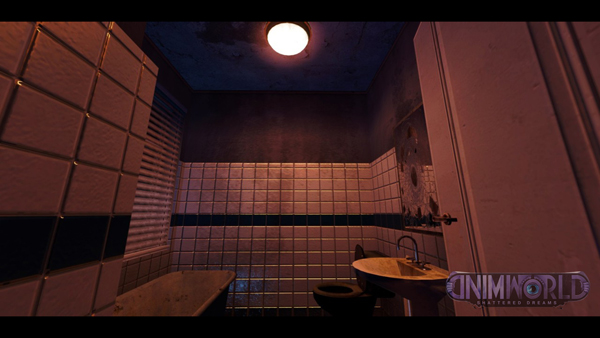 This is a little sneak peek at what the intro level is going to look like. The other half is not going to be shown, as it would spoil too much on what's going to happen in-game.
The Transition Level - Concept Art revealed!
The second level is going to introduce the player to some of the basics of Mindworld: Shattered Dreams and gives a first hint at the surreal dream-like atmosphere. We are currently in production, which means 3D modelling and level design. The pre-production, which means level planning and concept art phase has been completed.
There are two official concepts revealed, which show you the direction of where we are going with the level. The first one is made by Markus Lovadina and the second one by Adam Clark.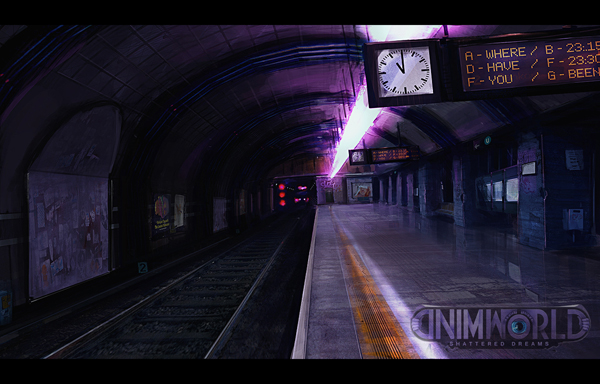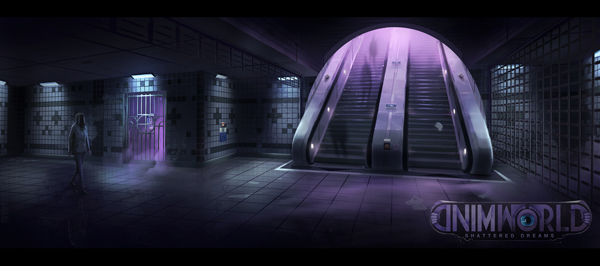 Life is a process - the new changes!
Unfortunately, we had to say good bye to one of our artists. The concept above was the last painting done by Adam Clark for us. He has managed to find a paid position, which might turn into a full position later on and we wish him the best of luck in the future.
It has been a blast working with such an aspiring artist. He pushed the quality of the project a lot and came up with fresh ideas. Furthermore, communication has been super easy with him and he was one of those artists a leader can just dream of. By finishing a complete level plan (Transition Level), he has contributed a great piece to the development. His open attitude towards new things and new people makes him incredibly simpatico.
---
We have been releasing a few job advertisements into the world and several people applied for the position. They're still in the stage of art tests and there is still room for more applicants.
But, if one thing ends, another one takes his first breath. There have been some very interesting applicants for the open position of programming and we have just found a guy, who is most likely going to take the position of lead programmer for the team. This finally means that we can impliment a few new features that we wanted to have and don't come with the original Half-Life 2.
Also, we might publish a few fine illustrations in the future, as we might have found an illustrator working at the professional quality standard level, but we can't promise that yet.
The future is going to be an exciting place! We are more than amped to see where we can go next.
---
A little sneak peek at the next update!
The next media update is going to show some in-game shots of the transition level and maybe even some new concepts for the area after that. It's a little early to give out promises here though, so things might change, don't take this as final information.
---
- Kjell 'iQew' Bunjes
(Team Leader and Art Director)