If you're anticipating MidEast Crisis 2, then you're at the right place. Currently we've got two new screenshots to share, information on what the team has been up to, and a couple opportunities to work with us on this awesome mod.
Also, if you put off signing up for beta in the first place or are brand new to this mod, you'll be able to sign up to a new phase of beta as we open it up for round three of applications. See below for details.
Screenshots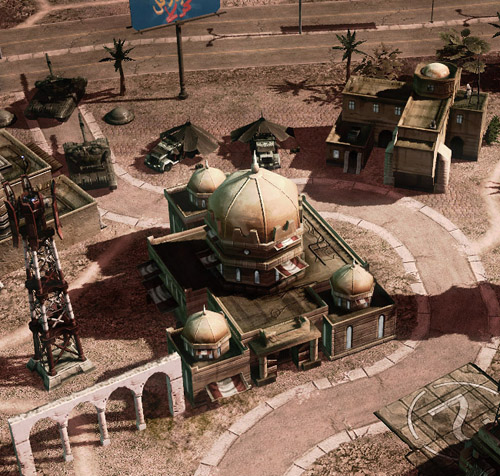 Above is the GOI base in the flesh. You're looking at the command center, warfactory, airfield, internet center, guerilla warfare center, and production building. The latter is a new building, which decreases build time of any factory its placed near by 10%.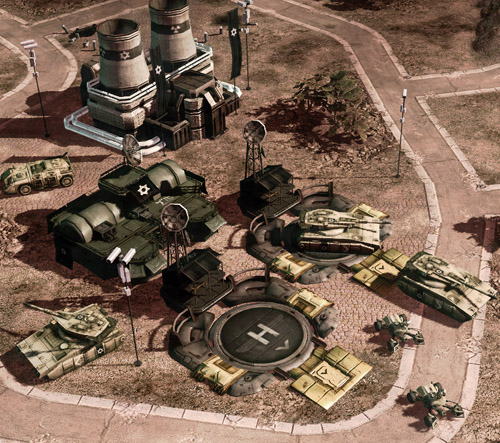 The IDF base pictured here relies heavily on skycranes. Almost everything can be moved at a moment's notice. The helipad shown can also be upgraded into an airfield, and functions as a warfactory.
ME2 News
We just released our latest internal build, this time including the IDF as a playable faction as well as including a brand new map called Temple Mount. Temple Mount is a 4 player map, with the Dome of the Rock in the center.
New Blood for Beta
Looking for beta applications? Well, it just so happens we have them. We've opened up beta applications once more as we begin testing the IDF. Click the banner below to head over to our application.

Help Wanted: Voice Actors
Lastly, MEC2 could use your help! If you have a beautiful voice, head to the forums for more information. We currently need voices for the IDF and GOI, plus a French Peacekeeper. If you're native to the area in question or can do a good impersonation, we want to hear from you--literally!