Continuing on the theme from last week (which was maps), let's expand a bit on some of the specific gameplay to each map.
The screen below shows the latest version of our "Temple Mount" map, we've tweaked the style of it from its old look into something a bit more ethereal. Most maps in MEC2 have a unique gameplay element though, this one's being crows. They fly around the center of the map, damaging any aircraft that fly near. However if you shoot them down, not only are you rewarded with a shower of blood and feathers but you free up the airspace.
The notable thing here is the augmented reality signs, which when the crows are alive will exist to warn you.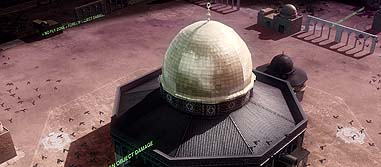 The next two screens showcase the "Highway of Death" map, and its unique gameplay element. When you load up the map it'll be full of civilian traffic, and will have signs warning players against driving tanks over the civilians. However, if you continue to do so peacekeepers will show up and patrol the road.
The weather/traffic sign doubles as the highway's hitpoint bar moving from "traffic: heavy" to "light," and then to "armed." Abrams and Humvee's are the current units which patrol. These are their map-only variants and no, we have no plans to add the Humvee to any of the factions.
ReleaseIt was a mistake to mention any release date on Battlecast.

It was a mistake to follow it up with a "maybe in August" mention.

We won't be making that mistake again. When we are certain we can make a date, we'll say it, but it likely won't be more than a week or two prior.

The fact is that nearly the entire team took a couple weeks off in July/Aug, which is compounded by the already slow summer progress. Don't take this the wrong way though, we're getting a lot done and the bulk of our work right now is in polishing and balancing.