State of the Mod: Post Alpha V.1
With our first release and getting some absolutely amazing feedback from you guys, we have begun filling those holes in the mod to really create that level of immersion that you (the fans) expect from us. In this State of the Mod, we will be covering new voice overs to rid ourselves of those pesky stock voices. As well as updated tangent models for our ships (to fix those shadow issues.) As well as give you guys a chance to ask the devs questions regard future development and help shape this project.
Let me be the first to welcome MEDiscovery to the DotR Team. With that being said we have some excellent audio taste tests to share with you guys. Now Cerberus right now is our main priority because they are the most complete. What I have done is uploaded a few audio/sfx clips to SoundCloud to share.
Voice Overs/SFX
Right now the four clips I have uploaded include an updated Mass Accelerator sound effect, Picket Cruiser(Female Voice), Heavy Cruiser (Male Voice), and Cruiser (Male Voice.) This is just a small taste of whats to come though. We plan to do some serious overhauling before our next alpha release so that you guys will have even more fun. For those interested I have included his Youtube channel below where he gives indepth tuts on how to recreate voice overs for almost every race in Mass Effect, some really awesome stuff.
Tangent Maps (Shadowing Fixes)
One of the unforeseen side effects of converting to rebellion was that we didn't anticipate having to do tangent maps. For those who don't know what tangent maps are, they are essentially something that gets attached to a model that dictates how the shadows fall on the model. Most of you noticed while playing the Alpha that shadows don't look quite right. Well we have begun to remedy the problem with some awesome help from Myfist0 of the Sacrifice of Angels 2 mod for Sins. Down below I have included a small example to show exactly how much a difference it makes in terms of appearance in game.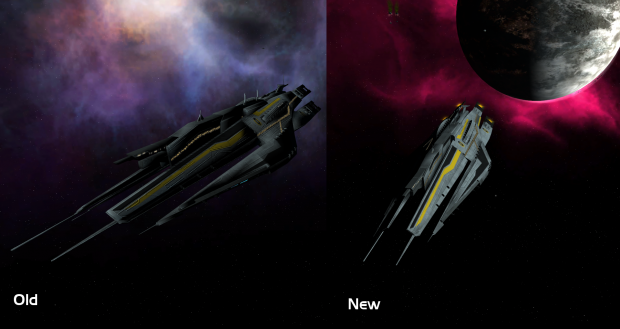 The Difference is night and day, we have been testing in game recently and can't get enough of how much better battles look with the right shadows. So a week out of our first release, we have seen nothing but positive feedback/criticisms. We hope with each successive release that you folks help us find all those little bugs we might miss in development.
Here is your chance guys, after playing our first official release what do you guys have to say? Got any good ideas? Post your questions and Lockerd, Skyline, and I will do our best to answer those questions and get back to you. With our first release that makes you all part of the team, help us to create a better mod and experience for you our loyal fans!
Your Fearless Leader
- Set