Dawn of the Reapers .4 Reprisal Release Information
Hey ladies and gentlemen, sorry for the delay on more information. I have been doing some crazy hours to cram for this next release. Now a lot of you had some great feedback about .3 Onslaught and we took it and ran with it. .4 Reprisal is a completely different beast, so much so that I feel the need to share with you a lot of what is going on.
- The user interface has been completely redone from the ground up to better reflect that immersive Mass Effect feel.
- Faction user interfaces have been completely redone to also more appropriately add to the immersion factor. Also they use a new ship portrait picture system.
- Tech trees for both Cerberus, and Council have been 99% completed.
- Stats for Cerberus, and Council ships have been rescaled to better reflect the play style of the mod.
- Faction AI difficulty is appropriately scaled. Easy, normal, hard, formidable, insane, and N7. Be warned N7 does not hold back, they are fierce beyond reason and will hurt you.
- All Factions have been unified, with a branching tech tree. In game you will chose your path, deciding your fleet options and several key bits of research suited to the play style.
- Minimum game resolution has been increased to 1366x768, This is simply to create an experience with better quality for you the user.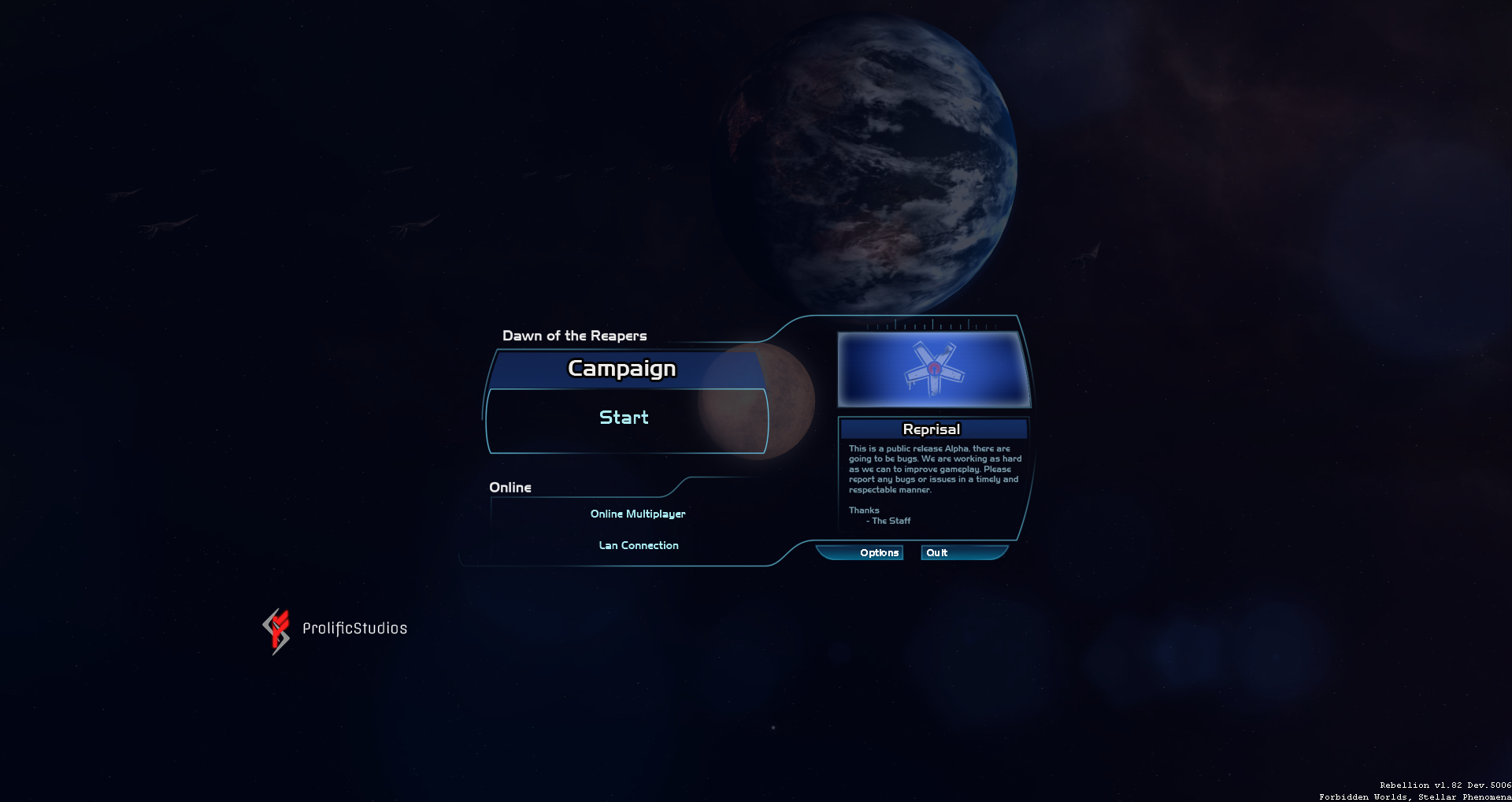 Save Earth, or don't. That's cool too.
Cerberus
- Cerberus roster is complete, All Cerberus units are in play.
- UI, Ship pictures, and build buttons have all been redone.
- Some Abilities added to ships!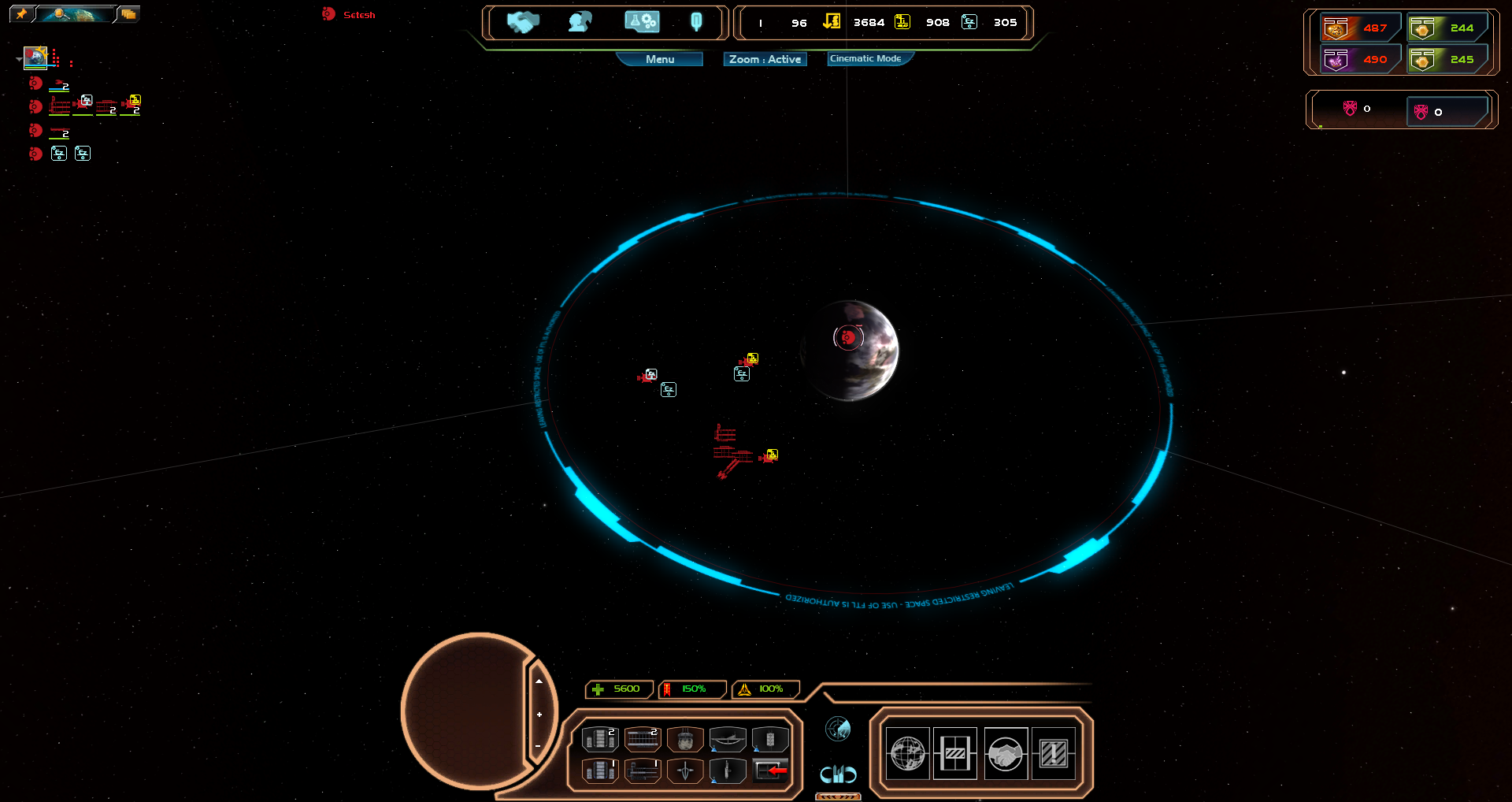 All the new elements of what you're using can be seen here, just a taste of whats to come.
- Council roster is almost complete, Salarians will be absent from this release version.
- UI, Ship pictures, and build buttons have all been redone.
- Node system helps generates revenue for Council, ITS NEEDED!
- Paragon/Renegade split allows you to chose your fleet selection and play style.
- Council Extranet Hub has passive fleet defense ability that will call in a small picket fleet if the gravity well in question comes under attack. Once the well is cleared of enemies, the fleet leaves until its need again.
Trade is a huge part of keeping Council alive, the generation of credits allows you to make up for slower than normal resource generation and afford all of your expensive ships in the fleet.
- The Reapers do not exist. Well they do, but for conversations sake they don't. They haven't been touched so lets leave it at that. Thanks.
At the end of this I want to throw out some special thanks to a number of people who have been MASSIVELY critical to getting the mod this far.
ZombieRus5 - Without him this mod wouldn't have gotten off the ground period.
Skyline5GTR - Who helped give life to Cerberus in the early days of the mod, and is a generous tutor who helped me pick up the skills to continue on my own.
Waseem - His music creates the perfect atmosphere for the mod, it simply wouldn't be the same without it.
DiscoverME - His voice over and effect work have put this mod in a category all its own, and helped to properly immerse anyone who plays it in that Mass Effect atmos we all loved so much.
ChaosChild - Her photoshop skills formed all the pretty particle effects that you will see while playing, and added another level of immersion to this mod. Also created the concept art being used to create a number of ships soon to be in game.
Malcontent - Who is helping with the Salarian designs that will be out either with .4.5 or .5.
Playtester Corp - There have been to many testers over the years to name them all, but all of them deserve a nod for helping me debug, test, and fix problems that would have otherwise gone unnoticed.
This mod represents almost half a decade of work by myself and many others. If you have enjoyed Dawn of the Reapers please vote for us in MOTY. Since we released .3, we have done A LOT of work to this mod. We hope upon release that you enjoy as much as we have.
Release Date
Saturday December 5th, 2015
We will be having a LiveStream Friday December 4th from 8pm - 1am EST
Please stop by and enjoy the pre-release teaser.
Thank you guys, and we hope you enjoy Dawn of the Reapers .4 Reprisal!