Cerberus Roster Preview Part One
Welcome back to my feature review series, where I talk about the many and varied unique elements of DotR. Today we will be continuing the focus on starships, in particular, those of Cerberus. Overall, Cerberus ships tend to be elite, expensive and versatile. They have a focus on armor and hull strength over kinetic barriers, making them more resilient in a single battle, but prone to attrition should you neglect repairs.
Frigates
Cerberus has an eclectic collection of frigates, with each one focused on fulfilling one particular role without becoming too over-specialised.
Tempest Survey Ship
Cerberus espionage was able to acquire blueprints for the Tempest before the Andromeda Initiative departed. While officially not allowed to operate in the Milky Way, Cerberus cares not for such minor legal foibles… And when you have a stealth ship this good, it's not as though anyone will catch you breaking the law anyway. As you might imagine, the Tempest is an excellent scout ship, boasting the most efficient stealth system in the game, as well as incredible speed and agility. It pays for these advantages by being relatively fragile and extremely slow and costly to construct.
Role: Stealth Scout
Armament:

Boston Light Frigate
This small and nimble vessel is Cerberus' only arguably expendable ship. Equipped with large engines and an impressive forward armament, the Boston's role as an attack frigate is clear. It is quite fragile for a Cerberus ship, but it typically has a small crew of low ranking Cerberus recruits, making its loss less painful. More cunning admirals will recognise this ship's true strength however: hunting carriers in packs. The combined salvo of Javelin Missiles from a group of Bostons will quickly destroy even large carriers, and with their speed they can also avoid reprisal from heavier ships easily.
Role: Fast Attack
Armament:
Paired forward Javelin Missile launchers

Quad Auxiliary Forward Mass Accelerators

Zenith Flak Frigate
A distinctly human way of describing an anti fighter frigate, the Zenith does not actually carry any form of flak weaponry. Instead, it is armed with powerful, precise GARDIAN laser batteries with which to shoot down fighters. Cerberus shipwrights favor the cheaper infra-red spectrum GARDIANs over the more expensive UV variant, believing that Javelin Missiles are a superior weapon for bypassing the kinetic barriers of larger ships. Like all Cerberus ships, the Zenith retains an effective secondary armament as well, making it an all around valuable ship for any battlegroup.
Role: Anti Fighter Escort
Armament:
Omni-directional GARDIAN laser suite

Quad Auxiliary Forward Mass Accelerators

Gaza Siege Frigate
The Gaza is a supremely versatile frigate. It is one of the smallest ships armed with an effective Spinal Mass Accelerator, allowing it to perform orbital bombardment. It is equipped with several other weapon systems, and has impressive defenses for a frigate. In addition, it can be upgraded to deploy Atlas Mechs directly to a planet's surface from low orbit. Its only major weakness is that it is on the slow side for a Frigate. Such is its versatility that many in the Cerberus admiralty have taken to calling this ship a 'pocket cruiser.'
Role: Sniper/Siege Frigate
Armament:
Spinal Mass Accelerator

Paired forward Javelin Missile launchers

Broadside Mass Accelerators, one a side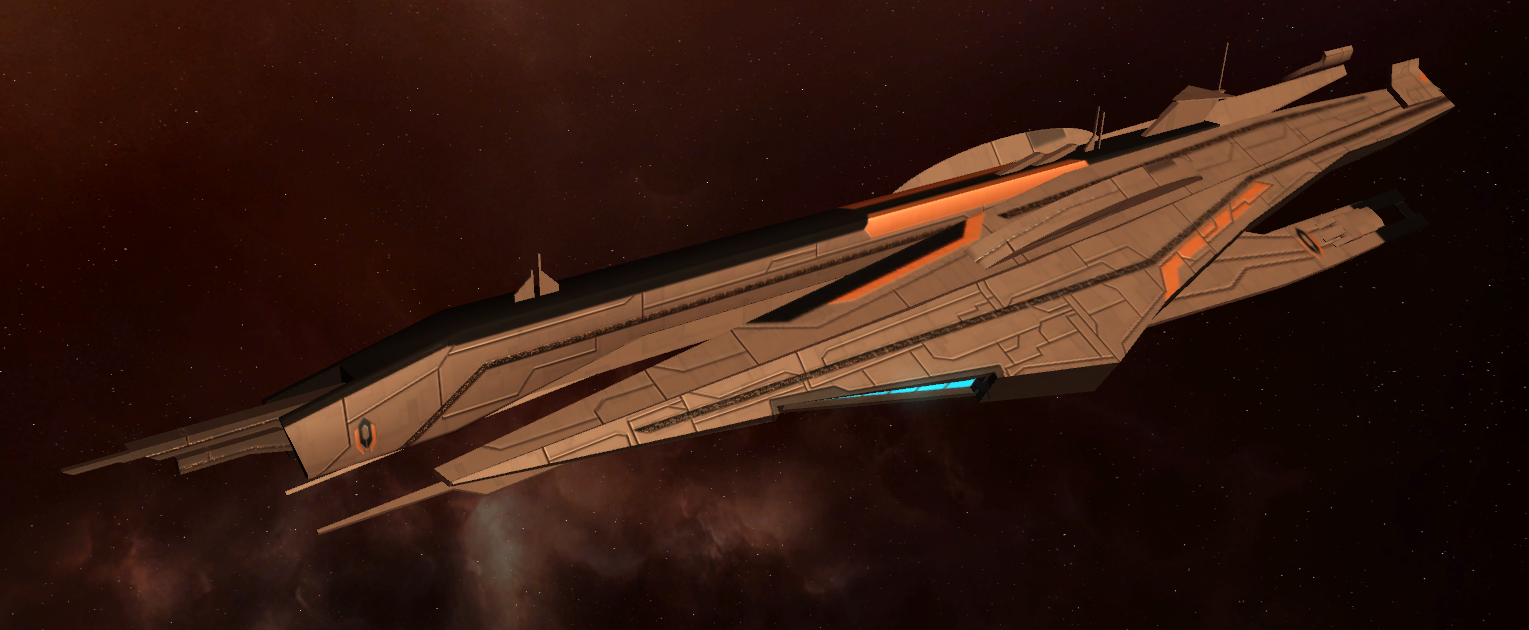 Normandy SR-2
The production version of the Normandy SR-2 stealth frigate is still in use as a Cerberus line vessel, despite Shepards refusal to return the prototype. Indeed, many of the upgrades Shepard made to his vessel have been made standard in the Cerberus fleet, ensuring this ship is a force to be reckoned with. It is the most well armed stealth frigate in the game, but also suffers from the least efficient stealth systems and an exorbitant price tag. Cerberus admirals will never be able to field this ship en mass, but even just a few Normandys slipping behind enemy lines can wreak absolute havoc with their Thanix Canons.
Role: Stealth Raider
Armament:
Thanix Canon

Paired forward Javelin Missile launchers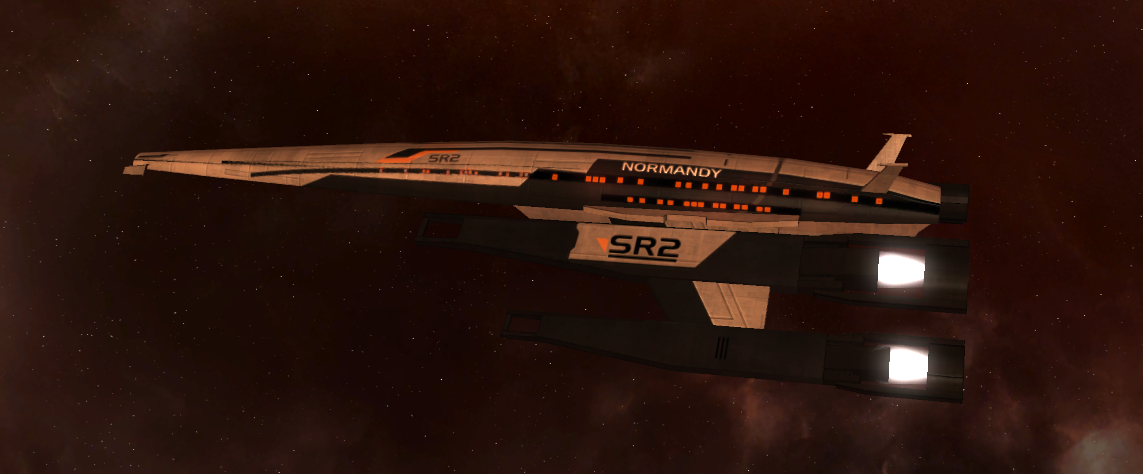 UT-47 Kodiak Shuttle
The humble Kodiak fulfills a vital role in the Cerberus fleet, transporting personnel of all kinds to their mission destinations on the surface of planets. Serving as a 'colony' ship of sorts, the Kodiak can set up a Cell on a planet very quickly. Alternatively the Kodiak can deploy Cerberus strike teams to the surface of a planet, where they will wreak havoc among enemy defenses and disrupt construction efforts.
Role: Coloniser/Troop Transport
Armament:
Cruisers
The true workhorses of the Cerberus fleet, each one is a powerful vessel in its own right, but when fielded with complimentary forces, these cruisers become a truly terrifying force on the battlefield.
Minerva Command Cruiser
The Minerva was one of Cerberus' first cruiser designs, being little more than an upgraded Alliance Geneva class. Yet, just because it is not a particularly innovative design does not mean it is in any way ineffective. The Minerva has been fitted with high quality armor and complex integrated command systems, allowing it to serve as a local command ship for smaller Cerberus fleets, while remaining an effective warship in its own right.
Role: Command Cruiser
Armament:
Spinal Mass Accelerator

Paired forward Javelin Missile launchers

Broadside Mass Accelerators, four a side
Squadrons:
Single Sudan class Fighter

Elbrus Cruiser
The iconic Cerberus starship, the Elbrus is a versatile and powerful cruiser that forms the core of the Cerberus navy. Heavily armed and armored, it is built from the ground up to destroy enemy warships of all size quickly and efficiently, at any range.
Role: Line Cruiser
Armament:
Spinal Mass Accelerator

Quad Auxiliary Forward Mass Accelerators

Broadside Mass Accelerators, five a side
Squadrons:
Single Sudan class Fighter

Arcadia Heavy Cruiser
The Arcadia is a very recent addition to the Cerberus fleet, designed to take on foes that even the Elbrus struggles against. With a much more resilient hull structure and even thicker armor than the Elbrus, the Arcadia can absorb an incredible amount of enemy fire before being destroyed. In addition, it has a large eezo core combined with a pair of high performance drives, giving it unprecedented speed for a ship of its size - a valuable attribute considering its primary armament of Javelin Missiles. Launched from next generation angled racks, the Arcadia is capable of simultaneously engaging opponents both ahead and on its flanks with large volleys of missiles.
Role: Heavy Cruiser
Armament:
Spinal Mass Accelerator

Dual Auxiliary Forward Mass Accelerators

Twelve angled Javelin Missile launchers

Ark Royal Light Carrier
The Ark Royal represents something a departure from normal carrier design. Rather than being a lightly armed FTL capable hangar, the Ark Royal is designed almost like a cruiser, incorporating a Spinal Mass Accelerator capable of dealing significant direct damage. This does not take away from its capability as a carrier however, and the Ark Royal still a pair of Fighter or Interceptor squadrons into battle. Unfortunately, in order to achieve this feat of hybridisation, Cerberus engineers had to strip away the internal compartmentalisation that would otherwise have kept the ship safe from internal missile detonations, leaving this carrier every bit as vulnerable to missile attack as a more traditional carrier.
Role: Light Carrier
Armament:
Spinal Mass Accelerator

Dual Auxiliary Forward Mass Accelerators

Broadside Mass Accelerators, two a side
Squadrons:
Sudan class Fighters

Cerberus Interceptors