SEPTEMBER PRESS RELEASE
The September Tunis Telegraph is now here!
In this months issue we have screenshots of our skinned 1928 Thompson and PIAT models. The map highlight features what we can expect on Daschewy's map "Fort Capuzzo". We also introduce a new feature this month, the 'Developer Spotlight'. Each month we will be talking to a different developer asking how they started modding and what they have been working on for Mare Nostrum.
Along with this months issue we have decided to reward all the MN fans with a Fan Pack. Inside the fan pack you can now have all the materials to make your very own signatures. There is a step by step tutorial to run you through how to make the perfect signature along with all the needed templates.Along with that we have included 6 wallpapers, each in 800x600, 1024x768 and 1280x960 resolution!
However that's not all! We have also released a PR Pack. Inside you can find Banners, Logos, Information, Media and the Tunis Telegraph Issues. This should allow any webadmins out there to include MN news should they wish to.
These downloads are of course available from our website.
[modimg48437 NOT FOUND]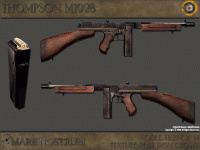 Have a nice weekend everyone :D