Welcome, once again, to Map Labs! "Recently," we ran a competition that was the unofficial and totally unauthorized sequel to a certain RTSL competition with a similar name. Let's see how it turned out:
---
Small competition, huge logo, huh? Running from the 22nd of June to the 28th, 1,000,000,000 Units imposed a fairly simple restriction: Make maps in under a billion cubic units. This wasn't a hard limit, but any maps that went over would have a score reduction based on how far they did so. And thankfully, not that many maps went over! In this competition we received 12 main entries and 1 bonus entry.
Third place goes to "Mine Outpost" by Skorly. In this compressed take on the mines from Episode Two, now with combine soldiers instead of antlions, the level has players zigzagging through hallways and rooms in their complex journey to turn an elevator on. One of the great things about this map is how well it reused areas - something not many other maps did.
In second place is "Incurable" by Steven Cabbage. This map pits the player against feral, zombie-like rebels as they run through a run-down underground level to clear out the infection. It's punishing, it's dark, it's creative, and it's fun. It's all around a solid map.
First place is taken by ThatsRidonkulous and his entry "Mousetrap". This map got around the competition's size limit in an incredibly unique way: making the player really small. Step into the metaphorical mouse shoes of a mouse, escaping from a zombie insurrection. With a genuinely terrifying atmosphere and memorable chase segment with fun interactions, this map absolutely swept judging.
Below is a full score sheet for 1,000,000,000 Units. If you'd like a text review of every entry, or would even like to share your own reviews, you can join us on Discord, where we have a channel dedicated to reviews!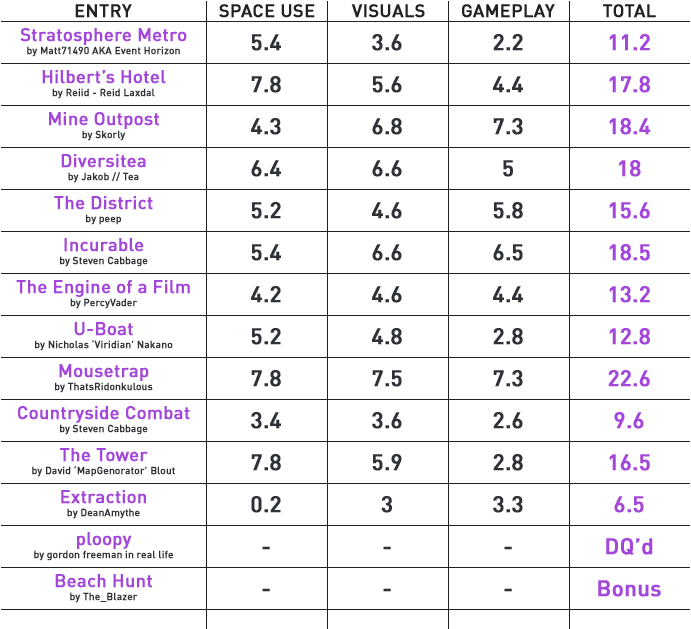 ---
As always, we're blown away by this competition. As a heads-up, our next competition will begin on the 13th, and will be in partnership with LambdaGeneration. This will be the final "big" competition in year one of Map Labs, so definitely watch us on Twitter and Discord if you're interested in joining. Thanks for reading, see you later.
Chris Marshall
Co-Founder of Map Labs