Another month, another Map Labs competition. This one tasked mappers to compress an entire chapter of Half-Life down into a single map. Here are the results.
---

In partnership with the fellas over at LambdaGeneration, we threw together this competition with a very Half-Life-centric theme. The idea was to take any chapter from any Half-Life title and then smush it and all its memorable bits down into a single map. That might sound like a challenge, but the outcome was astonishing. Not only did we smash all of our previous records, but we beat out every RTSL "Ville" competition for number of entries. Seriously. 22 entries and 3 bonus maps, totalling 25 maps and hours of gameplay.
Starting off, we have our first ever Honorable Mention, which goes "Day of Red Letter" by Salamancer. This map just barely makes it into the competition's theme, managing to get by because it technically does have a memorable moment. But it manages to make that memorable moment really funny and became a clear highlight of the competition. For that, we feel it's worth putting in this article.
In third place, "HWY 17" by ThatsRidonkulous. This map abridges an entire chapter into a single segment from that chapter, the bridge. It's abridged on a bridge. If that wasn't cool enough, the second half of the map gets absolutely bonkers and abstract, making it a stunningly unique map across all of Map Labs.
"Anomalous Materials" by iiboharz and Jackathan steals second place with what is definitely the funniest map of the bunch. With custom voice acting and a myriad of comedic moments, as well as a number of easter eggs and endings, this map is golden and absolutely worth a jaunt.
First place is "Intrasslad" by Salamancer - who managed to get two maps in this article. This map is perfect for people who look at Nova Prospekt and think, "wow, this would be cool if it was a sprawling furniture store where I can purchase flat-packed goods." It's weird, it's creative, it's loaded with custom assets, and Alyx Vance is a lamp. This became one of the highest-rated maps in all of Map Labs.
Below is the full score sheet for Half-Life: Abridged. If you'd like to read or share reviews of every entry, join us on our Discord where we have a dedicated channel for it!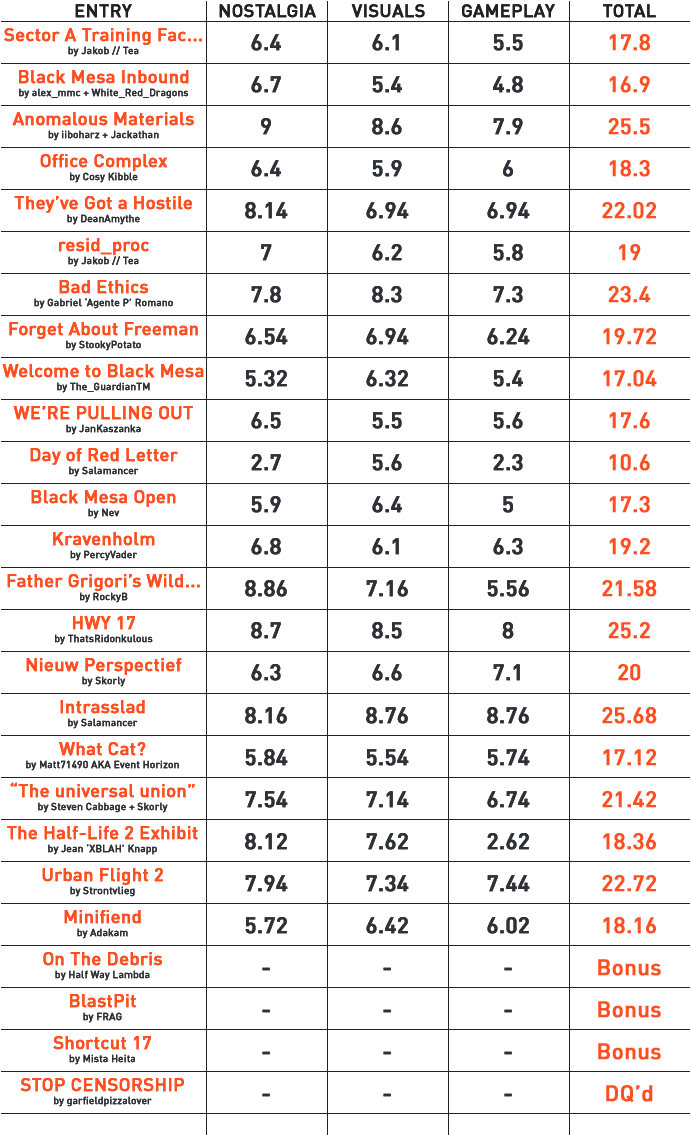 Wow that's big.
---
Once again our expectations were blown away by the outcome of this competition. Our next competition will be another 24-hour Atom, but later this month we'll host our fifth Test Tube challenge. This will be the end of "season one" of Map Labs, with season two starting in October. Follow us on Twitter and join us on Discord, especially if you want to participate! Thanks for reading, see you next time.

Chris Marshall
Co-Founder of Map Labs