New Version Numbering
Basically, I screwed up. I started the releases at 1.x when I should've started at 0. The reason this is a mistake is that 1.x in software / games is typically used for finished releases which Mako Dawn is currently not. Henceforth the format 0.x.x will be used until the mod is fully completed. All previous releases will be renamed; that is, 1.0 will become 0.0, 1.1 will become 0.1, and so on. I apologize for any confusion, but I think it's best to rectify this earlier rather than later (or never). Now, onto the fun stuff!
Testing Ideas & Planning for New Plates
The current plates are obviously not finished. The buildings are too big and the color scheme isn't right. Here's an image of a little test I did experimenting which much smaller buildings and a different lighting approach: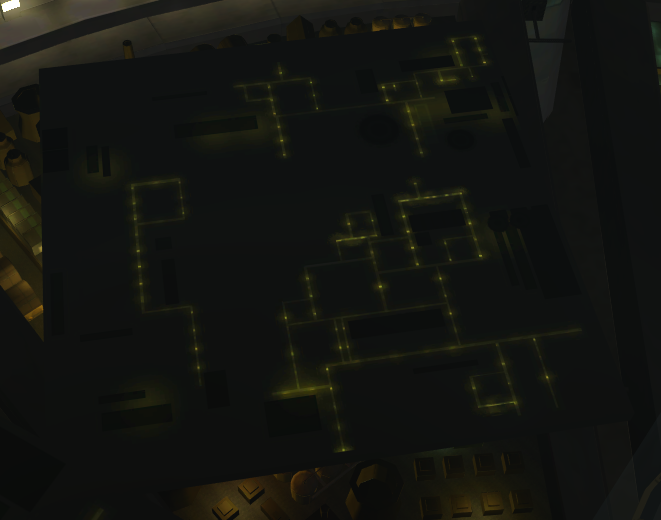 It's just floating above the current plates which is why it looks odd :P IT'S ONLY A TEST CALM DOWN. It's not indicative of the final quality, I just wanted to get an idea of how big the buildings should be. Ultimately the scale of the buildings on the plate determines how 'big' Midgar is - the smaller they are, the bigger the city is.
Anyhow, here's a layout of a plate sector I created: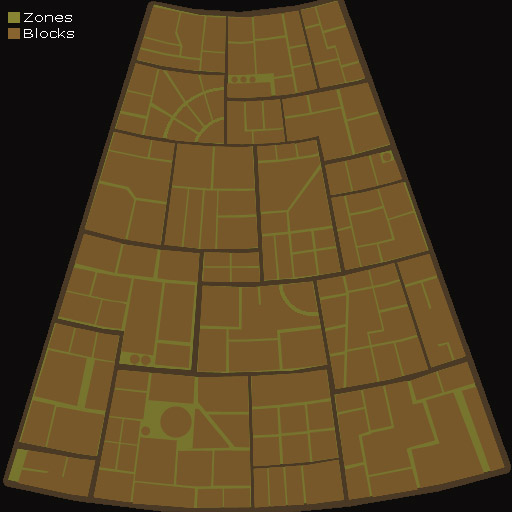 Remember the orange parts are blocks, the buildings haven't been plotted yet. The gaps between are roads/streets, there's also exposed rail which isn't marked, but... I know where it'll be, haha. You have to use your imagination a little to picture what it will all look like. Hopefully it'll work out nice. The photoshop file is arranged so that I can switch zones on/off to create different configurations for each plate if I choose to in the future.
Additionally, there's now new outer plates: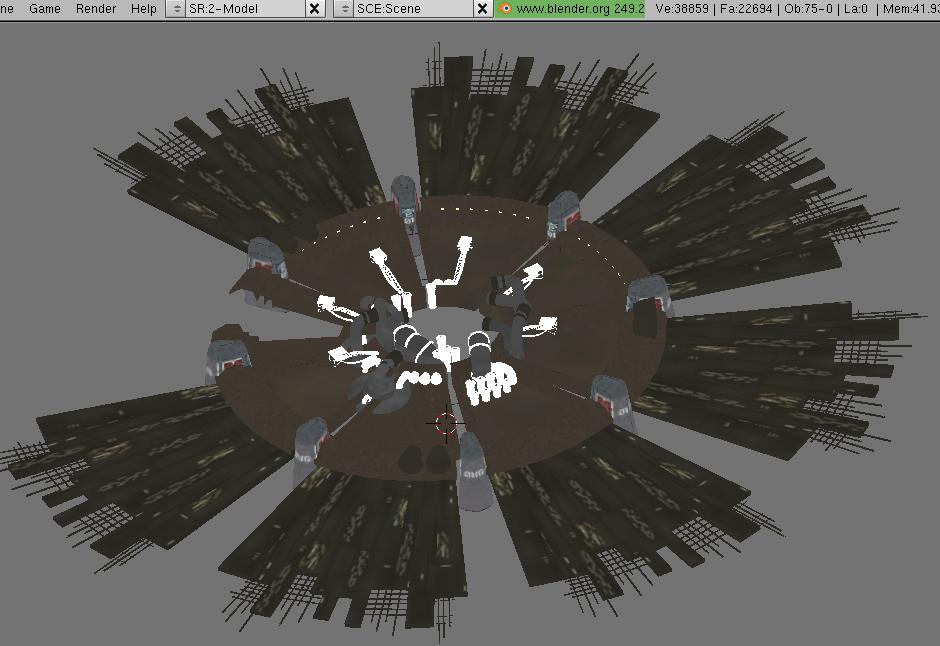 They're roughly 300 less polys than the original outer plates, but they're more detailed. Currently it's only one form duplicated; they'll all be original on the final product. The screenshot is from in Blender, I have some layers turned off which is why the Shinra Building is absent.
Parallax and Environment Mapping
During the first week of March a lot of my modding time was spent on learning how to use these two techniques. For those unfamiliar with them:
Environment mapping simulates reflections based off of a texture map you point it to - this texture acts as the 'environment' around it.
Parallax mapping creates an illusion of depth on a flat surface similar to normal mapping. It uses a grayscale height map for its calculations.
My conclusion for environment mapping is that I don't like it :D I dislike making those maps; they make my brain hurt. Still, I'll probably get used to them and eventually use them for something. I didn't take any screens because my tests looked very ugly, haha.
As for parallax mapping, I do like it and find it easy enough to use, although it seems unlikely I'll need to use it much since that sort of depth isn't really needed many places. Fallout 3 apparently only uses it for bullet holes. I was initially going to use it for faking buildings on the plate, but it didn't seem suitable for that after some testing. Here's a screenshot of a test wall I created using normal and parallaxing mapping together on a flat surface: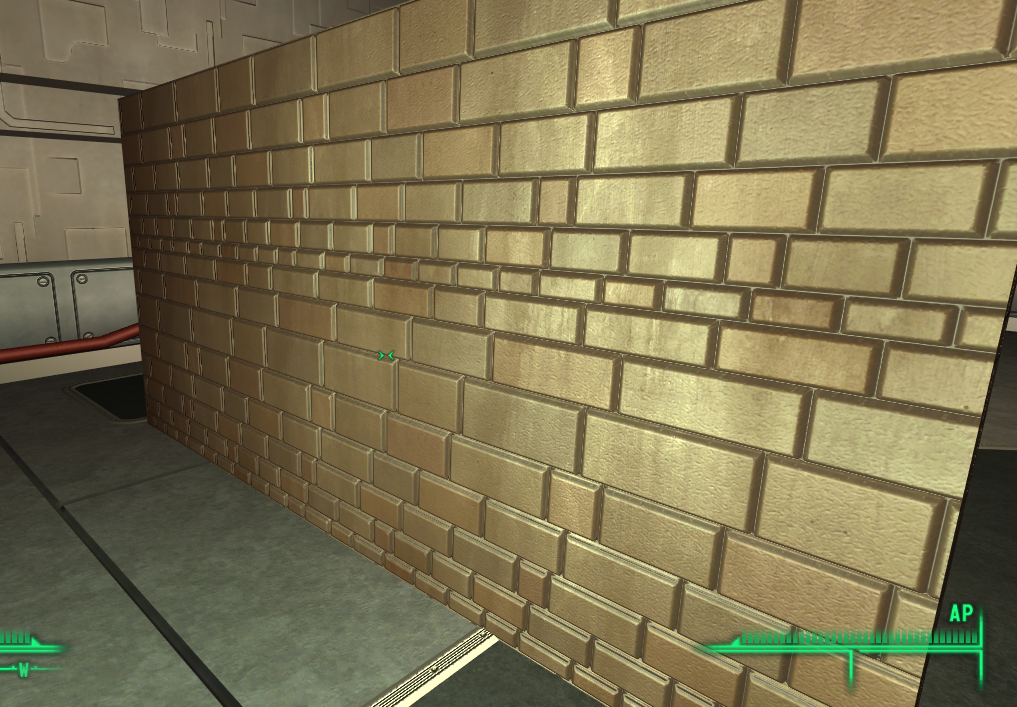 For those interested, here's the parallax mapping by itself and the normal mapping by itself.
New Musical Arrangement
I've created a new arrangement of FFVII's 'Prelude'. It also contains parts of 'Opening - Bombing Mission' and 'Holding My Thoughts in my Heart'.You can download it here.
It's not the final quality, only the arrangement is finished. There's a short snippet of an FFIX melody in there too, see if you can identify it ;)
New Moddb Profile Design!
Lastly, there's been a profile design update to our moddb page! It's also a bit more informative now. I have ideas for a better design, but I feel it's best to wait until there's prettier screenshots to use.
Oh, and the download now available (v0.2.1) has only minor changes (a few test objects, minor texture changes), so don't download unless you're happy with only minor updates since last time :)