Hello to you all again! A WIP model of Midgar is now available from the downloads page. I included it in .blend and .obj format for you all to look at if you want to ;) Parts of the model were made by industrialpolygons and parts by me.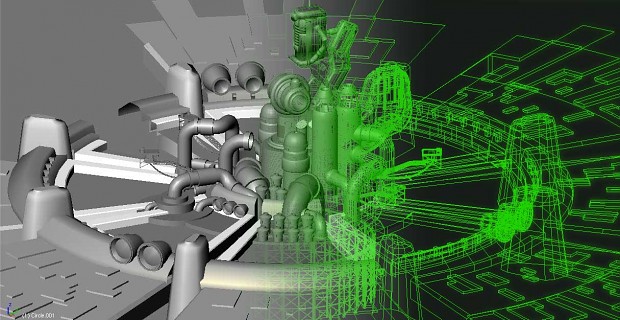 I've pretty much been working on this model the past two weeks or so and there's been such little work on the actual plugin that it didn't seem worthwhile releasing. Having made the commitment to do a release every two weeks it seemed important to show you I'm not just sitting on my hands. Also, I feel that hoarding the files until some big final release is silly - at least for a fan project. I mean, if this project were to die and nothing were released then anyone planning to do a similar project in the future would have to start from scratch... Anyway, large parts of the model are placeholders, like the upper tower part which is way back from the old Oblivion version, I think - maybe even Morrowind!
Will you be making the rest of Midgar?
I know some of you have been wondering 'is the whole of Midgar going to be a playable area?' The answer is no. Why the hell am I modeling the Shinra Building if you'll never see it then? Because I plan on using it during a brief exposition at the start of the mod ;) Floors 59 - 70 of the Shinra Building will be fully accessible to the player and possibly at some stage floors 1-3. The reason for the limited area is mainly a time consideration. Even with a big team it's not necessarily easy and many hands do not always make light work; if the many hands are not skilled they make a mess. I learned this the hard way and it's why there's stricter requirements for applications now. It must be remembered that these areas don't just need to be modeled and textured; they need to be mapped well, perform decently, be populated with people (who need to have dialogue) and generally add gameplay to the mod (quests etc) all of which need to be created. Really I have a quality over quantity approach for the project. I think it'd be unwise to create more work for myself when there's already so much to do. Plus, once complete it can always be added on to or continued by other developers.
Thank you.
The public response to the second release was pretty amazing! I was surprised the mod made the front page rotator which garnered it a lot of attention. Nearly fourteen thousand hits and one hundred new watchers since this time in January. Thanks for your interest - I hope the mod can live up to your expectations. Happy Valentines to you all :D