I start off with apologizing deeply for overestimating the LS3D engine's capabilities and therefore giving false footage to all you people.
I thought it would be possible to animate Titanic's collissions for the sinking script as I saw the bridge ingame that sometimes opens and closes that used the same principle as Titanic's sinking.
ASM gave me a clear explanation of how the game sort of works. The bridges are programmed into the game's data instead of scripted using mafiascript, therefore meaning that it's practically impossible to animate such complex collission model such as Titanic's.
That leaves me 2 choices:
1. don't create a sinking scene at all and book a flight to an unknown location on earth to hide for the rest of my life.
2. find a diffrent solution.
Well i decided to stuck with the last decision ;). The new trick will be a bit diffrent, but should have it's advantages. It will be some kind of optical illusion. An simple model such as the ocean is no problem at all to collide and animate. So as you can guess it, the ship will remain static, and the ocean around it will be animated.
Now the first thing you'll think is "yeah right, this will look ugly.. all npc's will be standing straight up on the deck while the deck is at 45 degree angle". I dealt with that problem, there will be around 5 or 6 loading screens to reposition the entire scene, put the ocean back horizontal, and place the Titanic under the angle it's sinking at on that moment. When it's all reset, the ocean will start moving again untill it's angle is too obvious again to notice. This image explains more: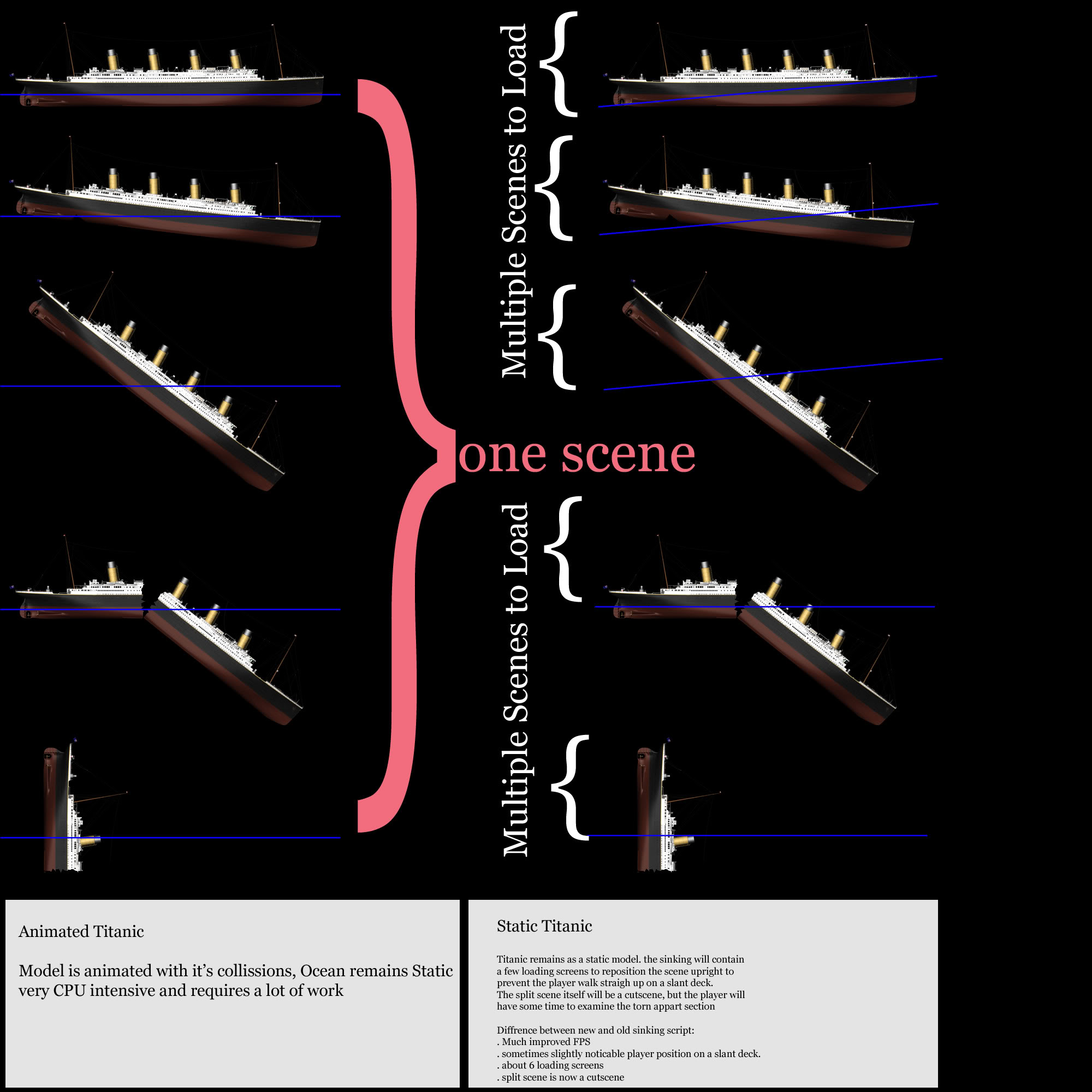 click here to enlarge:
Media.moddb.com
As you can see, on the left side is the single scene with the animated ship, as shown in the 2 video's.
This is not possible to script after all. On the right you'll see the static positioning of the ship and the ocean that will rotate around it in seperate scenes.
The split will become a cutscene then, as it would be impossible anyway to walk around decently when that happens. don't worry, after the split you'll have some time to examine the catastrophe the split has caused.
Good news is, if i would stick to the animated collissions of Titanic, the sinking would run at an average of 3FPS or a game crash. now it's garanteed to preserve a lot of FPS depending on your system. Also less work on the mod is required to peform this task. Plus making certain events on the ship will now be much easier to script.
I hope this explained it pretty well, and I hope you all might forgive me for this stupid mistake I made.
I should have researched this earlier, I know.