***UPDATED*** 2nd July 2014.
V.0.3 FULL is now available. Download, changelogs and updated instructions to install below!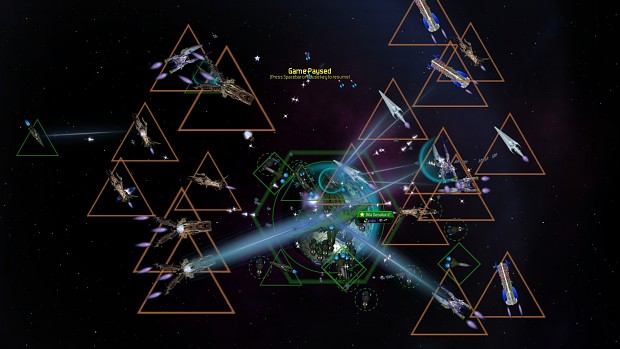 ::Changelog::
(v.0.3.alpha full release) The show goes on and more fixes, more art
+New race/faction: REF: Robotech Expeditonary Force (Shadow Chronicles)similar stats as UNSpacy for now, some new characters, some basic shipset/bases...more to flesh over upcoming patches.
+Adding missing blinking lights to Vajra Explorer ship.
+Added Das' Blue Chrome UI (cursors, some icons and some flagset).
+Added Custom Pirate race images. Balanced, smuggler etc.
+Added New Government Matriarchy for Meltrandi only. Rough stats but they are slow at reproducing but made up with other stats. Probably needs tweak.
+Removed Way of Ancients government from UN Spacy's start game. Wasn't intended to have it.
+Sound fix: Heavy_Railgun sfx duration too long... shortened to 1 second.
+Added 3 new characters for Vajra race.
+New Ranka image for race leader.
+New genericbase for Vajra. Old one becomes trooptransport.
+New smallspaceport sprite for Meltrandi+New mediumspaceport sprite for Zentraedi, old one now is genericbase sprite.
+New Meltrandi and Zentraedi race images. Adjusted the others.
+cleaned up Vajra mediumspaceport edges.+New Meltrandi Queadluun-Rau sprites replaces older ones for fighter and bombers.
+New refuel icon (didn't like Das' 'water drop version)
+New diplomacy message pictures. Color coded some vanilla ones. Green for tick, red for X etc.
+New explosions by Jon Micheelsen
+Changed up UNS shipset abit. New passenger and explorer. Reused old carrier as the new resupply. Switched Medium and large spaceports.
+Some New UI buttons edited for Das' and some new creations.
+Added additional music tracks
+Added some Tyrador ships and bases to REF as placeholder.
+Updated some files to match the official v.1.9.5.5 patch
(v.0.2 patch)
+Added some crude character job icons for now. :)
+cleaned up Vajra Escort and Contructionship outline. Escort looks cleaner and slimmer now. Also changed quite abit of ships around, added a couple new ones like ARMD-R carrier, NUNS Stealth Destroyer. Old unused stuff moved to ALT folder.
+Moved Vajra faction's Guamtamano Carrier, and Northampton frigate over to UNS faction to replace the older designs I used up to now.
+enhanced/enlarged thrusters on Vajra (SMS) Frigate, Gasmining/Miningships.
+SMS mediumspaceport is now SMS largespaceport, new medium vajra spaceport added.
+Color coded some Vajra faction ships/bases, i.e; largespaceport now looks more uniform.
+Added blinking lights to all faction's ships/bases.
+Added some new Meltrandi ship sprites as I felt they had the most lackluster shipset. Its starting to come together.
(v.0.1.alpha full release)
+Ported over to Distant Worlds Universe.
+New experimental race... the "Vajra"/SMS (basically a Macross Frontier inspired combined faction).
+New shipsets across all races, some changes, some polishing/fixes. These are ongoing.
+New characters/agents, new portraits for all races.
+Slight changes to some race stats. These are also ongoing. Everything is probably way out of balance still. I need suggestions with these as I'm terrible with numbers! :D
+Added some music to suit the epic gameplay.
+Probably a few other things I forgot.
::Future stuff::
I am now in the process of taking a look at Universe's new modding capabilities and that will be where my next focus will be in future versions.
::Bugs & support::
If there are any bugs/issues with v.0.3.Alpha, please let me know, and I will try to fix it ASAP.
::Install Instructions::
0. Download v.0.3.alpha.
1. Open the file with Winrar or Winzip.
2. Drop the "macross wars universe" folder into the customization folder (it is in your distant worlds universe folder).
3. Start the game, hit change theme and select "Macross Wars Universe" in the game menu.
4. Play!