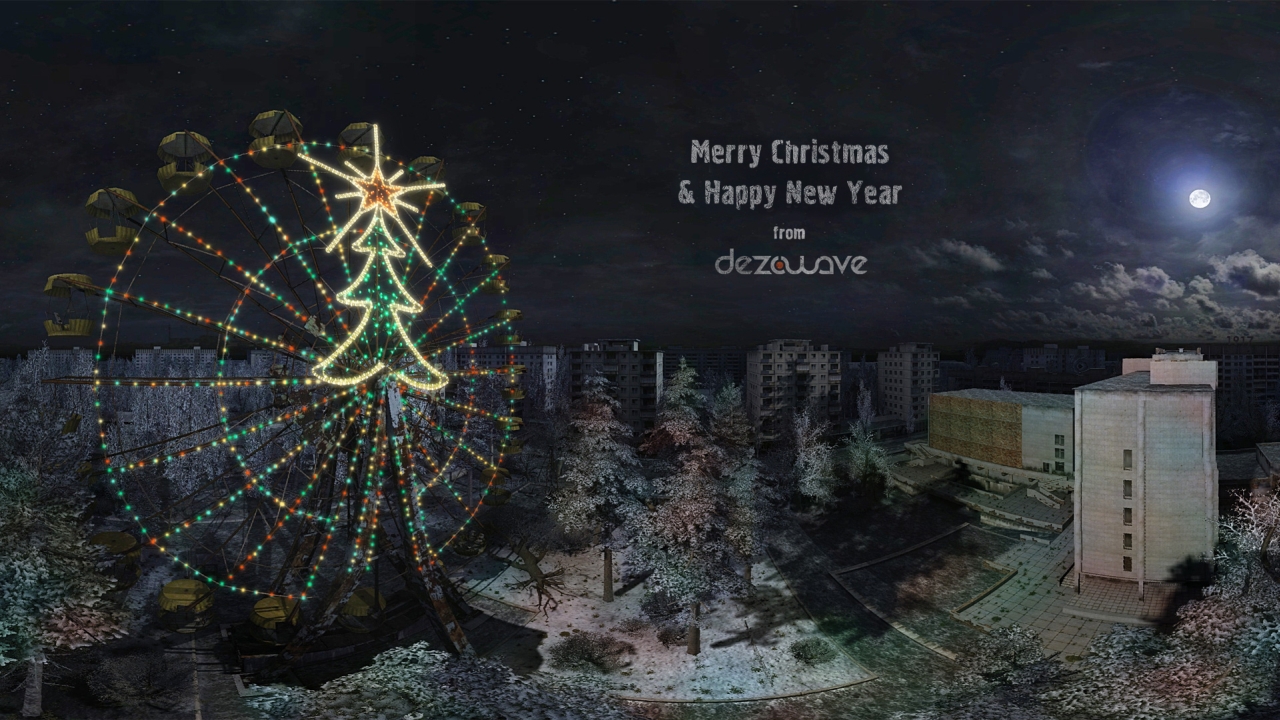 It's Christmas again, chestnuts roasting on open fires and Jack Frost nipping at our nose, and all that. Time is running fast I have to say, however with every minute passing by, the game looks more and more ready to be released. It's no secret that the game has pretty much been finished for a while, but it wasn't good enough to be released to the public. We always wanted to make something unique, which people will remember for a long time, but creating a game is nowhere near the same as modifying an existing game, and adding some stuff. We chose the 1st route, maybe we were not prepared enough for this long journey, but seeing the light at the end of the tunnel always makes us calm, and happy, because we know it was worth the time.
I still remember the summer of 2008, when I had this crazy idea to remake some old levels and attach them to Shadow of Chernobyl, and everyone would've been happy. After a while creating maps and joining them to an existing game became boring, and wasn't interesting enough for us, we did not see enough challenge in it. As I wrote above, we wanted to make something unique, so we made a decision, which led us here, where we are now. We created something, which I always dreamed of. I'm glad I met some cool guys on forums back in 2008, which had similar dreams. Some of them are still with us, we became very good friends, and I'm sure if I would (and why wouldn't I?) start another project after Lost Alpha is finished, these guys would be on my list to ask to join me in another crazy journey.
Let's talk about the game a little bit, and let's see what we achieved this year. 2013 seemed to be a long year, maybe because we had several impossible-to-solve bugs in the engine, and many of our important members weren't active enough due to personal reason, but I can't sue anyone, it's a non-paid job, I can't really tell anyone to work, work, because the fans are ripping us apart.
In early 2013 we decided to implement the dx10 render, and moved many features back to the engine, such as the PDA, with its new features, like the chat, and games. We created a new GUI, new inventory, and almost all panels were changed or exchanged to a new one. But we did not like the idea to cut things, so we actually allow the player to change GUI on the fly in game, either from the main menu options, or from console with commands.
The new render was actually really important; others would say the old one was good enough. Maybe it was good, but was terribly bugged, and slow, compared to the new one. I'm not really talking about the eye candy features, anyone can turn them off in options, but even without them, the game looks much smoother, and plays faster than anything before. And this is important, since we have 2x, or sometimes 3-4x bigger maps, than SoC's old engine could handle. Of course porting a new render doesn't mean we can keep the core engine intact, we had to change it a lot in order for it to cooperate with us, and our crazy ideas :)
Meanwhile we were waiting for the new engine, we decided to shape up the levels, new graphics needs better models, and instead of waiting for months with doing nothing, we decided to exchange the whole vegetation on all the levels, and remake some odd looking objects, like to fit the visual style of today's standards. While we were doing this, the game designers were filling the maps with interesting events, more alife (mainly monsters, and bad guys so the player won't get bored), more loot (to make every building interesting to explore, not just for the fun, but also for the treasures, if we can call some beer, or vodka a treasure :)). Also we filled the game with tons of new stories, and dialogs, so now it's fun to play.
Finally, just a few weeks ago we decided to implement a custom version of Atmosfear blowout to the game, which looks hundred times better than the one we had previously. Unfortunately the testers had to wait till we finished these things; we did not want to send heavy updates every 2nd day. So I have to say, it was a challenging, and long year.
We recently sent out a new build to GSC and to our testers, one which is much more stable than the last they got in summer. We have squashed some major bugs, and discovered a few new ones, which aren't as serious as they were a year ago. It seems that with time, the severity of the bugs diminished. Feedback from the testers so far has only produced minor bugs such as missing text or incorrect task or npc icons etc. which is encouraging.
Properly made and high quality sounds are a very important part of our game, so let's talk about that too!
- Dez
It has been a long road and the voice overs for LA are finally complete! There is still some tweaking that remains, but everything is recorded and in game! I would like to thank everyone involved in the voice over recording process; we had 14 people volunteer their time over the last couple years. Throughout the entire process we had well over 70+ auditions come in as well.
I was a fan of LA just as much as anyone else, but when I saw Dez post on moddb that he was looking for some voice actors back in 2011, I thought I could help. In 2011, I was working for an advertising agency, in their voice over department, but have been producing music and playing with audio since 2001. I thought a lot of voice over's in mods could be more professional sounding and had the experience to help. I decided to email Dez and ask if he could use some assistance with managing/editing and recording the voice overs.
He wrote back and said they could use my help! I was so happy to be given this opportunity. Little did I know how much work it was going to be haha! At first, the process was challenging until we got into a rhythm. I did not have a build of the game for a long time either, so had to visualize certain things myself. It took a month or two, but I mentioned to Dez that we needed to make things more organized so this can go flow easier. I remember he said, "we will get more pro," which means we will only get better :)
We did get better and the scripts started flowing in like crazy. At the peak of working on LA, I was working 20-30 hours a week outside of my regular job. I was editing scripts, writing lines, sending out lines to the VA's, voicing lines myself, editing recordings from the VA's, posting VO openings on numerous boards, going through auditions, sending out pickup lines, requesting reworks, and running around like a Snork with its head cut off!
The most challenging aspect of the editing process, was trying to make the voice overs "sound" consistent. Everyone has a different recording environment, since they are recording from home. They all have different medium to high end mics, their rooms are different sizes etc... The larger the room, the more reverb will appear in the recording space. It was challenging dealing with all this, since there is no real method to totally remove reverb from the front end of a recording yet. Overall, I am very happy with the end result and hope all of the fans will enjoy the voice overs as much as we do.
Taking on a project such as this really becomes part of your life and I don't think most people understand the commitment you have to put in, because I did not. This project is a true labor of love and I could not be more proud to be involved with it.
Now that I see everything coming together, Lost Alpha is not just a game anymore. It is an entirely new platform, bringing the SoC engine up to CoP engine standards and beyond. I hope Lost Alpha will bring a new generation of modders into the S.T.A.L.K.E.R. universe. It will also allow the community's tight group of experts to continue pushing out new mods for years and years to come.
- LiquidBronze
We also wanted to thank and acknowledge everyone that voted for us in the MOTY, as we received an honorable mention this year. From all the members of Dezowave, we wish everyone a happy and safe holiday season!!
May 2014 be your best year yet!!