Great news for all you dedicated Lethal*Agents fans and followers! Around two weeks ago our commitments were fulfilled on other projects and we have started back on Lethal*Agents in full-force. Along the way, we picked up a few new members whom are just as excited as we are about getting this ball dusted off and rolling.
We had lots of time over the past year to refine our mod into something we think the whole community will enjoy. Our code is moving along very well, but we're not going to give you any time frames on its completion just yet. I will only say that we are offering game modes no other HL2 mod is offering. We have both single and multiplayer modes and... well, the rest you will just have to wait and see...
Thanks for following our mod and being patient with us. We will have some eye candy to show you very soon, so I will keep you posted on the updates as they happen. Until then, here is a concept that was done by one of our newest members. Expect to see lots more from him in the very near future. You wont be disappointed.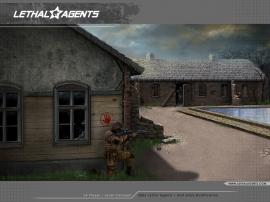 ;)
JohnnyQwest