Around this time a year ago, I unveiled version 5.0.2 of the mod which addressed a lot of issues, and added additional content. A lot of this content became non accessible due to the messy state of the mod. Since 5.0.2, I've been meaning to create article after article detailing the update cycle, and the version 5.0.3, which I meant to release months ago. Unfortunately, I'm a perfectionist, and I can never seem to put enough into each update. It wouldn't be such a problem to update in smaller chunks, but it usually means fresh installing the entire mod each time, which I fear is a nuisance for most players. However, there is a lot of news to cover about the upcoming patch, so let's not waste any more time!
If you're an active member of the LOME Discord (Link to which can be found in the mod's header), you'll know that I've recently announced the fixing of LOME's AI. After some three or four years, LOME is finally playable to some degree!
With the AI back in place, players may now engage in full on wars as any of the available factions, but this comes with its own set of challenges! First to note, the AI will only work if the player sets the AI type to "Aggressive" in the "Customize Opponents" tab. Furthermore, the AI has trouble playing as Nienna (Hobbits), and Mandos (Lossoth). Apart from that, the AI works quite well, and even has the ability to beat even myself on higher difficulties. I will be uploading a file soon with the AI assets, usable for the most recent patch (5.0.2).
Now that the announcement of playable AI has been given, the next thing to do is balance the game! I've been doing re-balances since day 1, and you can read all about them in the patch notes; however, this does not mean the game is perfect. I am asking anybody who playtests the AI to give feedback about their experiences either here, or in the LOME official Discord. After this article goes live, I will add people who go out of their way to offer useful feedback as credible playtesters, and place them in the credits of the mod. It's not exactly a "reward", but I hope it shows that I appreciate all the feedback I'm given about the mod.
---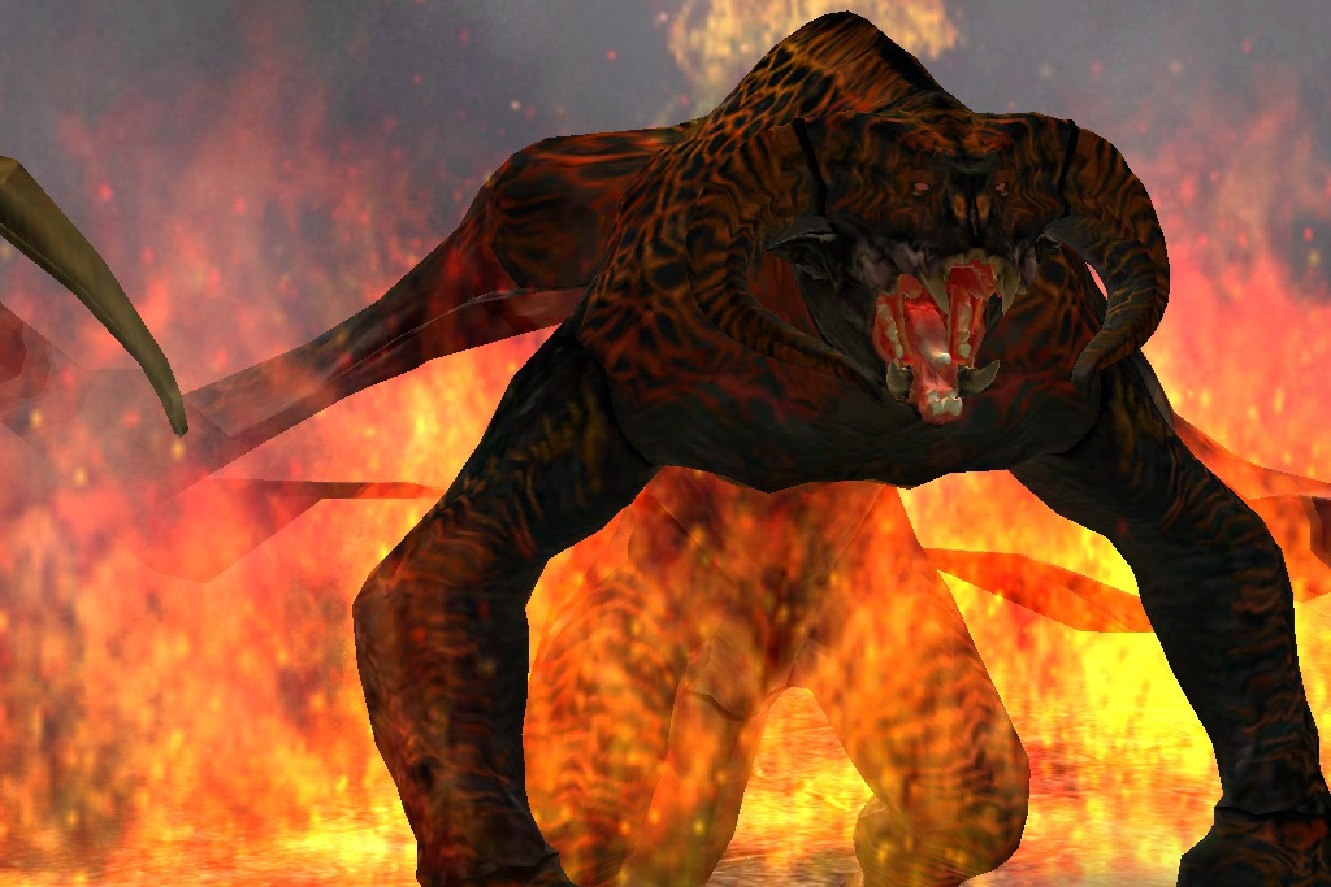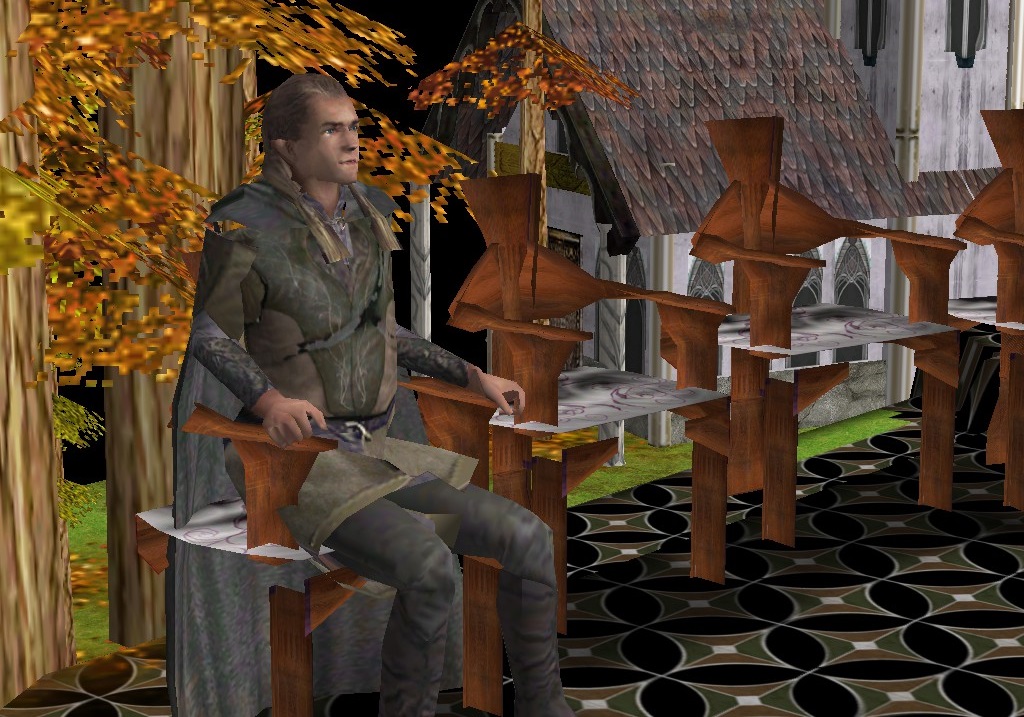 It's no secret I've been working night and day on the campaigns the last few months; but what exactly am I planning? Since roughly April, I've been doubling down on remaking many of the existing LOME campaigns based from the LOTR trilogy. Earlier this year I posted scenarios of most of the "Return of the King" campaign in the official Discord. My plan is to remake the original LOME scenarios from scratch, and use these high poly models to recreate scenes from the films, using the movie's voiceovers. An earlier version of this idea can be seen from the Helm's Deep video, where parts of the film sounds over, or is recreated in some way. All these new high poly models are rigged, support mouth movements, and fully usable weapons. This means I can animate a high degree of actions, and lip sync entire scenes. There should a video coming soon to demonstrate it. As of writing this update, all of the current animations I've made for the "Fellowship of the Ring" campaign adds up to roughly 21 minutes of animation.
While I am directly discusiing LoTR's campaigns, I should mention right now that I have no plans for a campaign based on "The Hobbit". However, I am still working on my own original campaign, "The New Shadow", which I have talked about in several articles.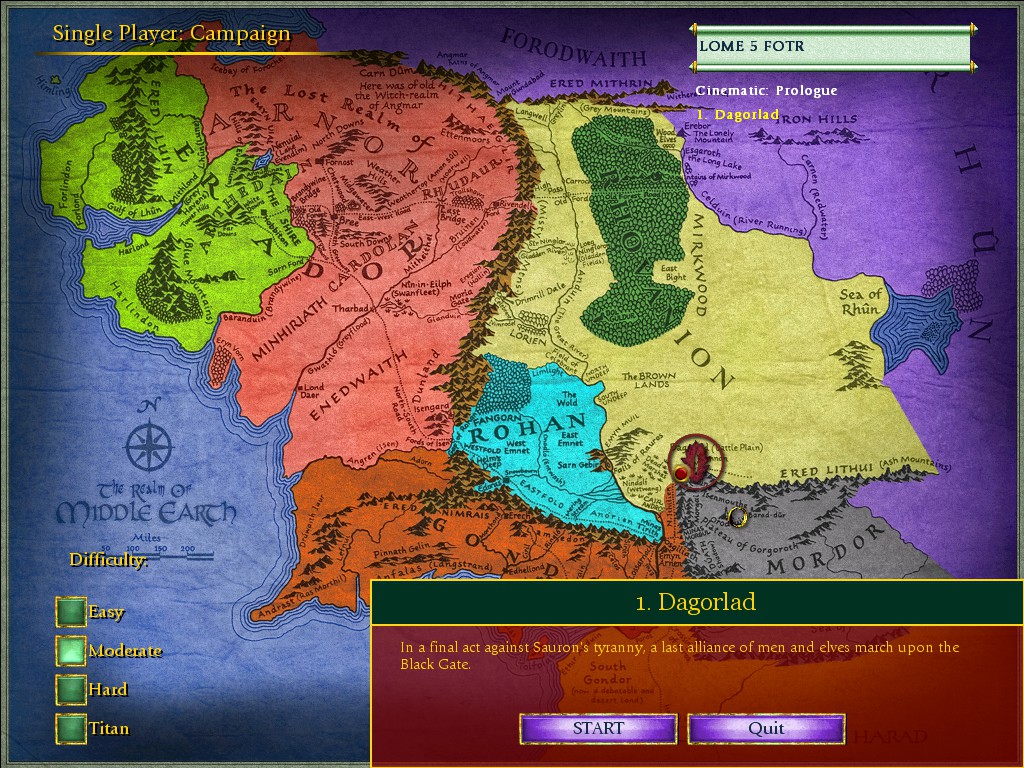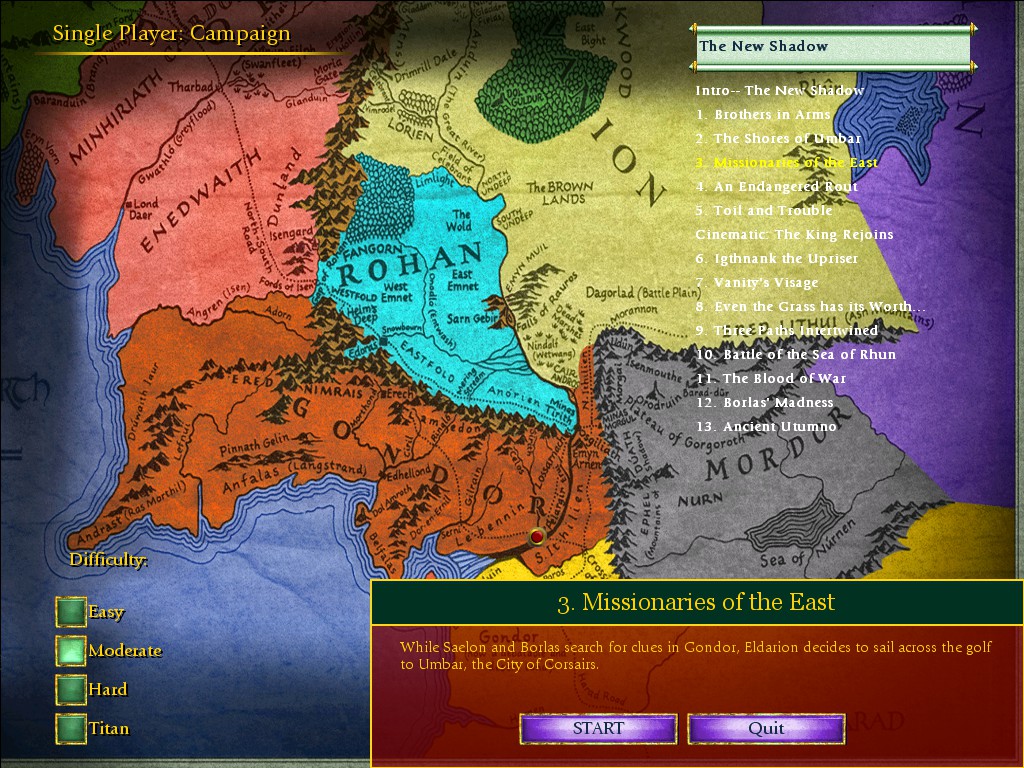 Screenshot of the new campaign menu.
the Middle-Earth map has been recoloured to show more country borders
While on the topic of the campaigns, there's also the original campaign, The New Shadow, which I've been working on for some time. This campaign features original voice acting, score, animation, and everything needed to craft a dramatic story set after the events of the LOTR trilogy.
The New Shadow is still being heavily developed along side the LOTR trilogy remake, but as such, is taking a lot longer to go through. Earlier in the year a video was posted showing a cutscene from one of the levels; this video is already outdated, as that entire cutscenes has been reanimated, and some models and setpieces have been completely remodeled. Rest assured that when the time comes, this campaign will blow you away with the amount of effort and detail in the maps, voice acting, and cutscenes, The only drawback is that I am uncertain of when I will be able to release any of these campaigns. If you are a scenario designer for AoM and interested in level designing for any of these campaigns, feel free to comment on the mod's page, or join the Discord and let me know! I need all the help I can get!
---
Overhauls/Revamped Features
As if the news above wasn't enough of an "overhaul", I wanted to leave an entire portion of this article specifically to mention the amount of other changes to LOME.
Rohan Rework:
In the upcoming patch, Rohan's military will be largely reworked. Before, Rohan played most like any other civ, which is generally a balance between a themed unit, and a mix of whatever you need to win a battle (e.g. Infantry to beat cavalry). The Rohan change will seek to make the Rohirrim almost soley dependent on their cavalry.
The Rohirrim cavalry corp will now feature upgrades for the "Scout" unit, turning them into "Support Cavalry". These cavalry are still fast and have high pierce armour, with a bonus mostly against Ranged units. they are far cheaper and maneuverable than their backbone counter-part: the Rohirrim Horseman. Heavier, and stronger, these horseback killers can stand up to nearly any unit in the game, but are still not invincible, as they have lost a bit of their speed in exchange for power. This is where the bond between Support Cavalry and Horsemen comes well into play.
The "Rohan Archer" unit has also been removed entirely from play. From this point on, the Rohirrim only make use of Horseback Cavalry, which existed previously, but now sport a few unique upgrades. I hope everyone will find fantastic new strategies to play with after I release the patch!
Unit Remodels:
Apart from the mention that many heroes in the campaign now have their own high poly cinematic models, I thought it was far passed the time to see to the standard models. While many of LOME's building models are original, most of the units borrow from AOM's existing library. After a while, it becomes easy to notice that a lot of animations are heavily recycled. As such, I've set out to re-model/animate more than a handful of units.
Many buildings have also seen a visual redesign and touch-ups. After spending some time playtesting the Dwarves against the AI. There has been a special amount of attention towards delivering unique new models to the Elves, Gondor, and Dwarves, however, there are many new building models across all civs!
In personal news, I (the sole developer) will be moving southwest around mid-October. I will be moving to a vacant family residence where I will be spending a lot of my time working, and fixing up the old place. This does not leave me much time to mod work. I do not know whether or not I will feel confident enough to release the mega patch by that time; but I probably will since the AI at the very least works. I tend to stay very active on the Discord, where small bits of news, and especially art screenshots get posted far more frequently. Once I am gone, I anticipate being MIA until at least January at the earliest. I hope you guys are excited for this new chapter in the mod's history! I never thought I'd see the day where I'd be able to share such exploits with you all!
I'm also beginning to write an FAQ which I will probably publish here, as well as my Discord, let me know what questions you guys have about the mod which I can answer! Speaking of questions, I also recently answered an interview with the "Tolkien Modding Community", which is a great hub to find mods for LOTR in all different kinds of games. If you're interested, you can read it here.
And finally! Always remember that the mod could always use more help! If you are interested in joining the mod team for any skill you have to offer, don't hesitate to reach out to me on any platform!