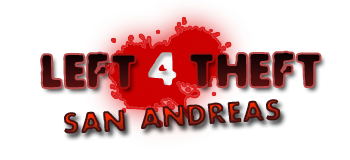 As you may have encountered, version 2.0 had some minor bugs and a lot of crashes in San Fierro. But fear not, I have a made the needed bug- and crashfixes which will make Left 4 Theft playable... for good. The past week I have been testing like crazy and trying to find the cause of the crashes and I've finally found it, and fixed it. I have also made some other small bugfixes. That's why It's not 2.0 anymore, but 2.1 now.
Version 2.1 will have some minor changes and additions, here's a small list:
Fixed the (random) crashes in San Fierro and the Offensive #2.
Fixed some other bugs I came across.
Added two extra models including one for the upcoming mission packs.
New loadscreens.
Hopefully this will give a much smoother playing experience for all of you without any crashes or problems. To download version 2.1, click the button below:

If you still encounter any crashes or bugs, please report them to us by posting a comment on this article or send me a message here on ModDB. Also make sure to start a new game, version 2.0 save games are not compatible with version 2.1.
Thanks for all your patience and the bug reports, keep tracking to stay updated for upcoming mission packs/DLC!