You probably have noticed that Half-Life 2: Wars is now called Lambda Wars and we launched on Steam Greenlight about two weeks ago. We also have a brand new website and community forum skin to go with the rebranding! But we have two big things to talk to you about this week: Steam Greenlight and MOTY 2013.
These are the final 48 hours of the voting period for ModDB's Mod of the Year 2013 Player's Choice Vote, and we're a finalist! We were 9th in 2010 and 10th in 2008 and we ask that you support us again in what we feel is our most successful year ever by voting for Lambda Wars for Mod of the Year!
Also, if you haven't voted for Lambda Wars on Steam Greenlight yet, we'd love it if you'd do that as well! Everyone here on the Lambda Wars team thanks all of you for showing your support on Greenlight so far!
Just to give a quick overview on our Greenlight statistics so far: after 17 days on Steam Greenlight, Lambda Wars is currently ranked #2 of 1,485 titles with a whopping 17,434 Yes votes and 1,249 followers. We never imagined the response would be so positive and we appreciate the wonderful support that all of you out there in the community have given us both during our Steam Greenlight campaign and throughout the six years of development on Half-Life 2: Wars and now Lambda Wars. Here's a more detailed look: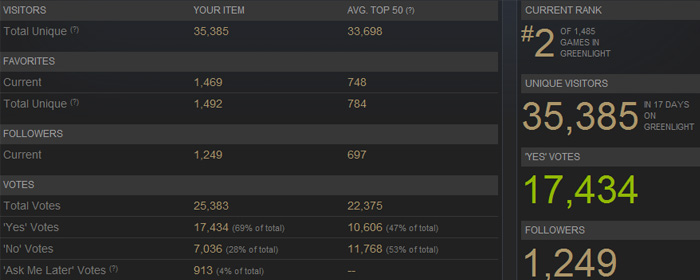 As always, you can give us feedback, suggestions and bug reports on our community discussion forums. Your support, feedback and suggestions are invaluable to us as we work to improve the mod's gameplay, interface and graphics.
Tomorrow we will be officially releasing Lambda Wars Beta 2.3.1 featuring difficulty levels for CPU opponents, new maps hlw_aurora and hlw_slumdolls and several important bugfixes and changes, although you can already download the 2.3.1 build if you can't wait.