There has been a new updater....have you felt it? (WINDOWS ONLY)
DOWNLOAD LINK: Moddb.com
If you answered yes to this question, continue to read, if you answered no....keep reading anyway.
Today, we launch our new updater and patching system, coded by some weirdo with no social life and who has never made a launcher before (me).
WHAT IS THIS LAUNCHER?
This launcher will provide players, both new and current, with an easier, more accessible way to download, install, and update their game. As we all know, most modern games provide patches and updates after release, and we want to provide players with updates as well, instead of forcing you to download an 8GB file every month.
Keep in mind, this launcher can only be used by players running on Windows. But we will have something in store for Mac and Linux users as well.
HOW DOES IT WORK?
Simply start the launcher, and a new window will open up. You'll see 7 buttons, as well as a website.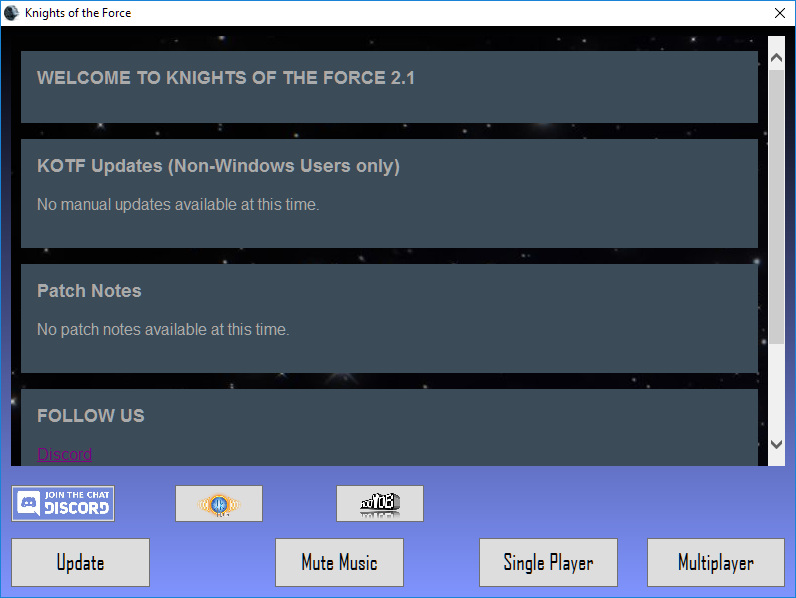 Single Player: Start Single Player
Multiplayer: Start Multiplayer
Mute/Play Music: Mute or Play the music (currently it's Rey's theme, however you can change it if you desire)
Update: Start the updater.
The final 3 buttons at the top will take you to our 3 social media websites: JKHub, Discord, and Moddb.
USING THE UPDATER
To use the Updater, simply click on the "Update" button, OR, start the KotF-Updater.exe file. It will take a while for the updater to do its thing so be patient. Once the updater has finished, the updater will close, and the launcher will start up again. The website will be updated with patch notes as we release, as well as posted here on JKHub, Moddb, and Discord.
HOW TO CHANGE THE MUSIC?
The music can be located in the KotF-Launcher folder. If you wish to change the music, simple drag any .mp3 file into the folder and name it "music.mp3". If you want to remove the music, simply delete the music.mp3. The music will never be touched via the updater, it's entirely your choice.
HOW OFTEN WILL WE UPDATE?
We won't release updates too frequently, a majority of updates we release will mostly be bug fixes. At worst, we will release more serious updates at least once per month.
FOR LINUX AND MAC USERS
We never forgot about you. So how will you receive updates?
While it would be very unfair for us to release bug fixes at the same frequency, it would be rude of us to not give you all the same updates and fixes as everyone else.
Alongside any major releases, we will also zip together all files that have been updated up until that point and release them via the website. Once every few months, we will upload the full mod to google drive and update our download links for you all.
Link to website: Linken233.github.io
WHAT ABOUT PROGRESS REPORTS?
Progress Reports will still be made, but now we will also make "Patch Note" articles here on Moddb whenever we release an update. A direct link to the website and update will be provided for all users in each Progress Report and Patch Note article.
Thank you for following the development of Knights of the Force 2.1, and may the Force be with you.