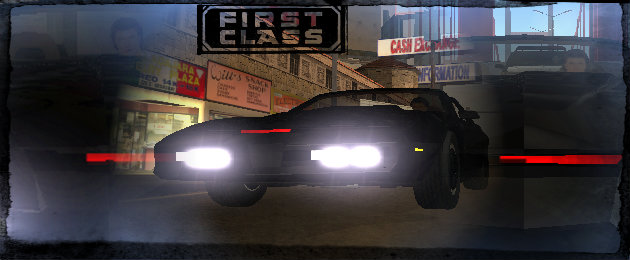 Finally it's here, the first release! We've been working hard and are happy to release it for the public!
one Year Of Working Hard We Has Finish The First Version of Knight Rider Back To School .
Start : You Will Start From The Flag House With April And Devon And At The Garage You Will Find Bonnie With KITT
Included : in this mod is KITT (Seasons 1 and 4 as well as the Pilot episode version), KARR (Seasons 1 and 3), SPM KITT, GMC General (FLAG Semi Cab), FLAG Semi Trailer, Goliath, Goliath's Trailer, Michael Long's Pontiac Firebird Trans Am, and the Ram from the Episode 'Knight of the Juggernaut' . This Mod Too Was Include The Knight Rider Characters , Michael Knight , Devon Miles , April Curtis , Bonnie Barstow .
Features : Call Goliath Center - Flag Semi Drive On The City - Put Camera On Flag Semi - Goliath Fire Extinguisher - Goliath Flame Thrower - Goliath Missile Launcher - Call KITT - Call KARR - Keys Help - Turn On / Off Lights - KITT Follow Silent Mode - Traction Spike - Pursuit Mode - Ski Mode Left - Ski Mode Right - Eject Seat - Turbo Boost - Laser Shot - Microjam - Transform KITT To Convertible - Transform KITT To Spm Mode - Parachute - Auto Cruise - Booster - Flame Thrower - Smoke Screen - KITT Give You Money - Oxygen - KITT Police Frequency Hack - Rear Rocket - Grappling Hook - Oil Slick - Fire Extinguisher
Hydroplane - Doors Ignition .

Dll Fix :
GameFront.Com