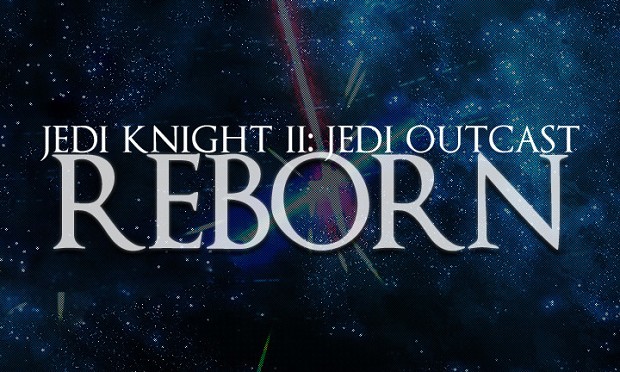 like to take a few minutes to answer some of your questions. In addition I got a few things to say concerning my work and the remake itself.
Recently my work has been featured on Reddit and as a result this mod has got quite some attention from many Jedi Knight enthusiasts from all over the world. Over the past 4 weeks, I got hundreds of emails from the USA, France, Belgium, Italy, Germany and the UK. Many Jedi Knight fans voiced themselves, wished me luck and apparently are looking forward to a fast release. Some of the emails contained criticism, a few were slightly depressive. With so many emails to read, it takes a few days for me to get back to each one of you as I am trying to answer all of your questions.
Today I would like to sum a few things up and make clear what my objective with this remake is.
First off, I would like to thank Will F. for suggesting a proper name for this project. It shall now be called: Jedi Knight 2: Reborn, inspired by the foes Kyle Katarn faces off in the game.
I would also like to thank Jon Highsmith for contributing an awesome new logo for Jedi Knight 2: Outcast Reborn!

Which leads me to my first point. Everyone is invited to help, either via ModDB or Gaming-Nexus.net
Question 1: Why are you doing this? (JK2 does not need a remake!)
Answer: When Raven released the Source Code last year it triggered something in me, something that said: Give it a try and see how far you can get with it. I am not going for internet fame as some seem to believe. I never understood why the original Jedi Knight games never got an official remake or a sequel in all those years so I am actually trying to gather some attention towards those games. All of the Jedi Knight games have been great games, even now they are still playable and lots of fun. I agree with you, Jedi Knight 2: Outcast does not need a remake, but nonetheless I would love to see the series return with a fresh look & feel (ultimately by Raven itself).
Question 2: Disney got Star Wars, EA got Star Wars games, Raven got Jedi Knight rights, what are you going to do?
Answer (honest): Idk. If I get a cease and desist letter, be it. If I get contacted by any of these parties, I will try to talk with them and see where things go. Until then I will keep going.
Question 3: Are you serious?
Answer: No. If I was, I would be doomed to fail. I am not a one man army, and you can't create a game like JK2 without a dedicated team. I am working on this in my spare time, mostly on sundays. I appreciate all the help and support I get, but I am not working on this 24/7 and I am not rushing things.
Question 4: Quake Arena Engine? Unreal 4 Engine? Cry Engine?
Answer: Unity Engine
Question 5: Why Unity?!?
Answer: Because I know how to use it and because it streamlines many processes so you can actually tackle a rather mid-sized project like this, without a team of 25 dedicated developers.
Question 6: Would have looked better in Unreal/CryEngine though!
Answer: It's not the game engine, it's the art. I won't dive in this discussion. But for those who think they can do better, I got a sweet deal for you: Given that I ever manage to finish anything of this and given the project does not get shut down, I will release all the source files I created, so you can assemble them in your engine of choice.
Question 7: So what's the plan?
Answer: Finish the first level, then proceed to the next one.
Question 8: When will you release it?
Answer: When it's done. To be honest I would compare this to the Black Mesa project, takes some time but in the end it will be there.
Question 9: Platforms?
Answer: Windows, Linux and Mac.
Question 10: Localization?
Answer: Currently english only.
Question 11: Multiplayer?
Answer: After the sp.
Question 12: Carbon Copy?
Answer: No. As some areas will be tweaked and enhanced, I wouldn't dare call it a carbon copy.
That's it for now I guess, I appreciate your support and I am happy to hear your feedback so leave a comment below, write an email or join the forums!
May the force be with you!