We love listening to our community, and we're always watching what they're up to, so when Nyght, one of our most loyal fans, released a custom map for Jailbreak: Source and claimed that he'd made a whole new gamemode out of it, we paid attention. The whole team got together and had a play, and that evening we decided that Nyght's map, jbo_pong HAD to be adapted into the new gamemode for Jailbreak: Source 0.5.
So, we took his concept, created a whole new map, fiddled with a few things here and there, and today we announce... DEATHBALL! Check out the trailer and pictures below to see what it's all about!
The concept of Deathball is simple, when the ball is in the goal, the enemy jail is locked. So keep the ball in the goal, and kill off the enemy team! If the ball is out of the goal, the enemy can let themselves straight out! And if the ball is in your goal, you best get it out quick, otherwise you're going to very rapidly find yourself on your own, or vapourised!
The best bit is, the more you get killed, the more points you get, as you're always escaping! So by round two, most players have Level 3 perks and everyone's Stealth/Double Jumping all over the pitch!
ModDB Awards:
We really, really want to get into the Top 100 of the ModDB Awards this year! So if you haven't already (and thank you, we love you to all those who have!), then please vote for us by clicking this fancy trophy below!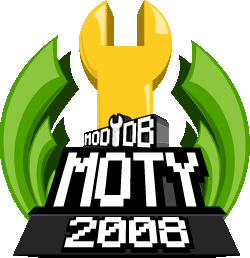 If you want more things Jailbreak, get on over to our website at www.jailbreaksource.com and be sure to add yourself to our Mod Watch if you haven't already!