We are pleased to announce that a new teaser video for Insurgency: Modern Infantry Combat Beta 2 has just been released. Please take your time to watch it, as it shows some of the most important features included in this new release -including some of the new weapons, improved areas on the maps, the new Ins_Samawah, Commander options, changes to the HUD and objective markers, player customization and and weapons selection screen.
You can download the new teaser from the Insurgency files section at ModDB.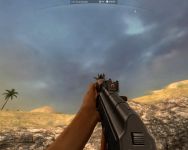 We would like also to update you on several important questions regarding the final release date of Insurgency Beta 2 server and client files:
We know there is quite some expectation regarding this new release, so we want to let you know exactly how things are going: there are still 17 open tickets in our development tracking list, and they are the subject of all our attention. The recent beta tests helped us identify quite a few of them, and while some issues are related to the overall look and feel of the game (mainly map tweaks, lighting and sound issues), and do not compromise gameplay (although we want to have the game polished before release), others are gameplay-affecting bugs that have to be addressed before we can release Beta 2.
We know you will not like to hear that Insurgency Beta 2 will be delayed. As this month comes to an end, we can no longer guarantee an October release date, but we are working hard so that it won't stretch too far into November.
The downtime of our website and forums we experienced in mid-October has played its part on the delays in the testing and bug-fixing process. However, most of the delay is being caused by the sheer amount of content included in Beta 2 and the need for adequate (read: huge amounts of) testing. We are sure that the result will be worth the wait. We cannot yet give you an exact release date, but you can be sure we will update you on this as soon as possible.