Dang, it's only been around seven months since ITOG was released? Feels like a lot longer.
Regardless of how long it's been, ITOG is getting a sequel--but not as a mod for Homeworld 2.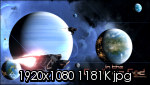 In the Orbit of God: Thiiei's Ascendency will be a total conversion for the indie game Starfarer (Fractalsoftworks.com).
Because the game is 2D, you can expect a lot more content than its Homeworld 2 counterpart (Because, you know, I'm actually competent when working with only 2 dimensions). Like was originally planned, there WILL be three full races to play as. Creating Thiiei on Homeworld 2's engine was a massive pain, but Starfarer's engine is about a hundred times more pleasant to work with, and sprites are *considerably* easier to make than fully (or poorly, in my case) textured 3D models.
Without further delay:
As you can see, the Esk Coalition has two units currently ingame--two more than they ever had ingame in vanilla ITOG. And it's also obvious to see that the gameplay will be nothing like the original either, which might be a good or bad thing, depending on whether you like real-time strategy or top-down space shooters with strategic elements.
At the current rate of development (Which is rather fast, thankfully), a demo should be released sometime before the end of February. However, this will be the last post about ITOG:TA I make on this page, so if you're interested, be sure to follow the thread on Starfarer's forums.
Project thread (with lots of pictures--I promise): Fractalsoftworks.com
And seriously, Starfarer is an awesome game, and for the $10 it costs, it's more than worth it. So buy it.