Welcome mod fans and readers to another new IDF:FFI update,
The FN MAG is a general purpose machine gun which was first introduced
in the late 50's, and is still in use in many of its variants as a hand
held machine gun, a coaxial machine gun and mounted on many vehicles.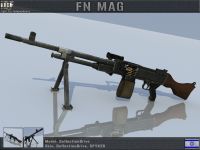 But we got more!
We show you another toy for the egyptians. It's the T55
tank, which was developed from the US-Intervention team and improved by
SPYKER.