Hello everyone, firstly i'd like to apologize for the change of theme in our southern map. While prepping work for another map which i'll go into some detail after the preview for ICFTW: Blackfyre Rebellion, we came to the conclusion that the plan for The Winds of Winter in it's 3 formats / maps can be completed with one single map and mod.
With that in mind, with the southern map essentially complete and Peaman now joining our development team, that Blackfyre Rebellion was the most suitable scenario for the southern map.
The mod is very close to Beta ready release, which i'm confident of release within 3 weeks, i won't announce an official release date until closer to completion in case of any unforeseen delays which may disappoint anyone.
Below is a glimpse into House Targaryen and House Blackfyre, in the next week i will have all the houses previewed in a future article, when the character portraits for those houses are more complete.
---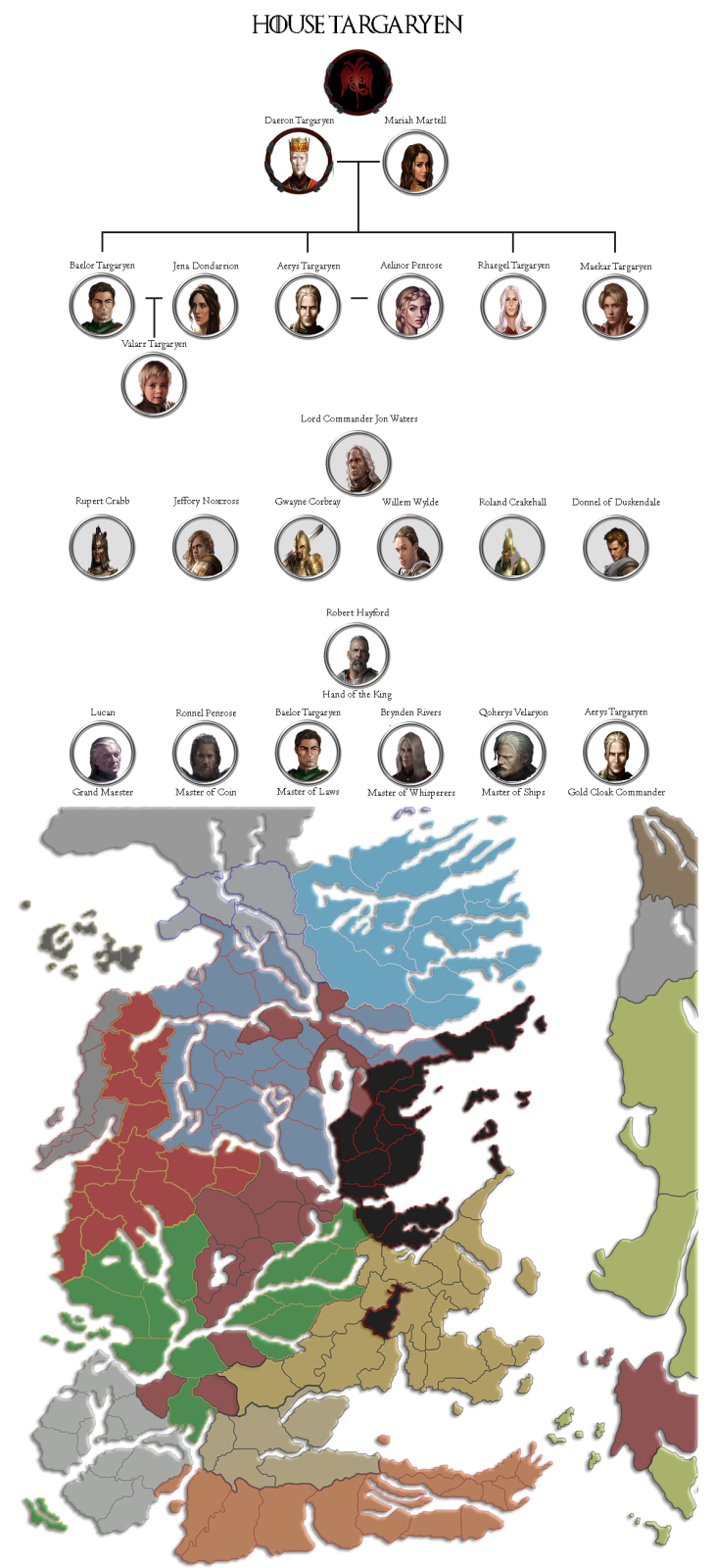 ---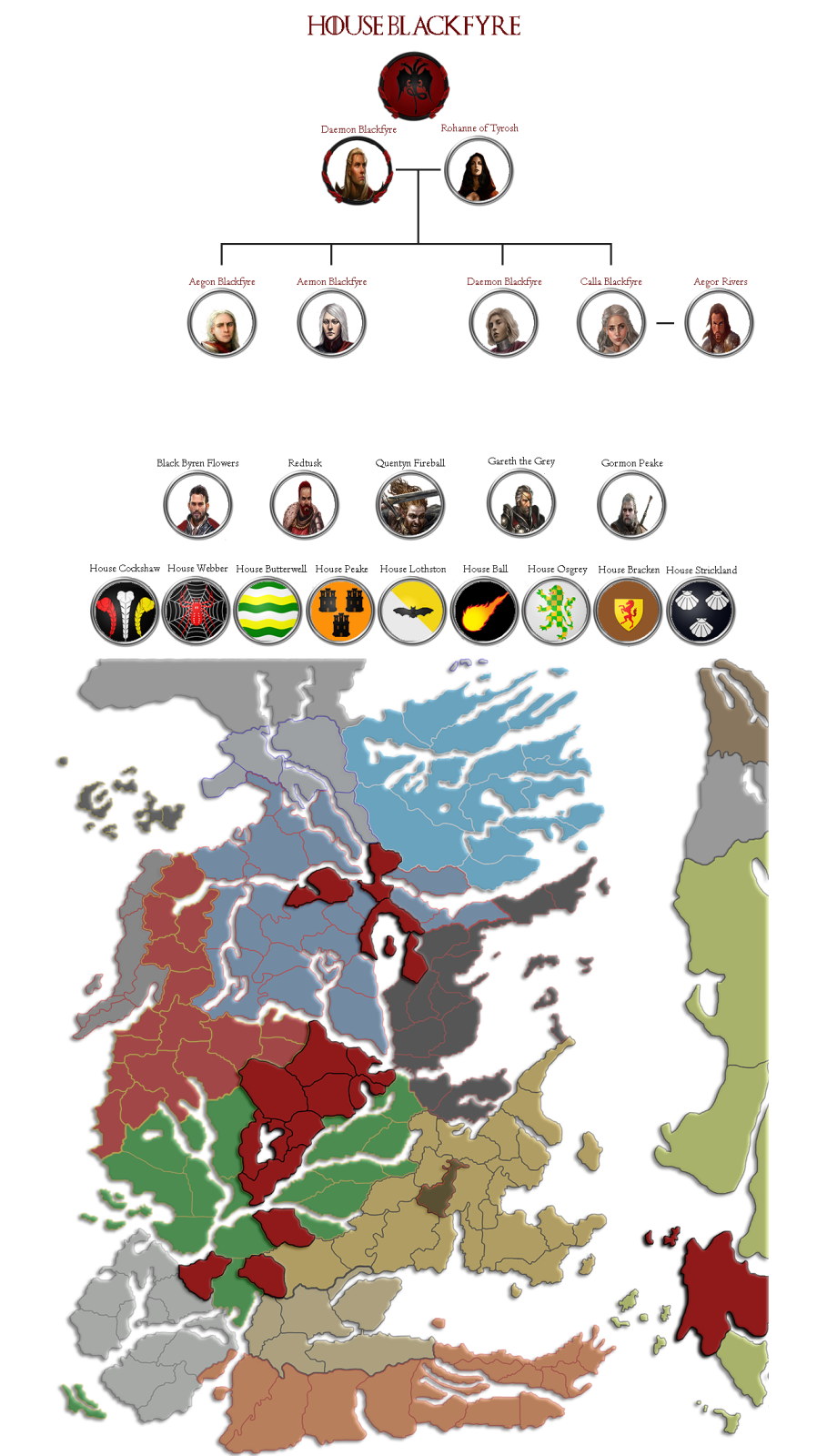 Quick responses to the regular questions.
- Unit's are of VltimaRatio's which are based on the show, commonly known from A Game of Thrones: Enhanced.
- We do not have custom battle maps for settlements as of yet.
- Permissions for submods are given on individual requests, if asked, we're more than likely to give them, just ask!
- Hotseats will be hosted on the mod's discord by experienced previous players from the TWC hotseating community.
- If you're interested in joining the development team just give us a poke on Discord.
- Discord link will be at the bottom of the post.

Any other questions, please post below and we'll respond as soon as we see it.
---

Now a little bit of detail to what's at the top of the post, we found while mapping that we could create a world that could go from Beyond the Wall to Dorne and The Lonely Light all the way to Slavers Bay. My concern was the map would feel squished or that we could not flesh our regions due to the hard coded cap with Medieval 2. However, we're rather confident we can provide a map on this scale with enough settlements for you to conquer, either in Westeros or Essos.
So after us starting up the Moddb, the influx of interest in continuation of A Dream of Spring has been rather moving. With the map in the works, i'm very happy to announce that IFTW: A Dream of Spring (1.0) will be the project developed with the map.

I am aware that ADOS was only ever released in the 0.1 patch, however with the introduction of all the new features, i'm rather confident it being the 1.0 release, which will obviously be patched and updated after release. It is being built for the framework of being suitable for other scenario's that creators can use to create their own submods. I'll list off new features that we're bringing to Ice and Fire Total War: A Dream of Spring and provide a couple of screenshots of early day mapping. (It's about 2 weeks of work, so don't judge to harshly)
1. New map
2. New factions
3. New units - Big thanks to CrimsonScorpio and Kalla from Warhammer: Botnet
4. New Ancillaries and traits (With the triggers working this time)
5. Thanks to Call of Warhammer: Beginning of the End Times, new animations, unique units (Dragons is definitely a possibility)
6. An updated UI, including portraits and ancillaries.
7. More unique settlement strat models on the campaign map. Inarus, who created the well known Westeros ones is currently working on some new ones.
8. An additional map in the files with the Valyrian Freehold, The Rhoyne and Andalos populated and non-destroyed. I will personally start work on an Andal Invasion / King's of Rivers and Hill's style mod once this is out.
There will be more to come and announce while we continue our work, i'd like to thank everyone that has shown interest and support in the project and the range of modders from outside projects that have insured our confidence of providing this content to those who enjoy the world of George RR Martin.

You can contact, discuss or just lurk in our discord to see the progression of all our projects here - Discord.gg