Hello, here's just a little update for everyone to see on our mod from Vectorgaming, Hypersonic Source Raceway
We have a brand new model for everyone to see it's a 1998 Toyota Supra, completely ready to be drivin around! It can perfect handling and a boss sound system in the back.
Anyway here's a little shot of it for you: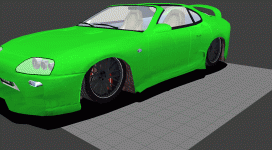 Hope you enjoy our little update, check back with us tonight for some more updates of our upcoming new level and our 30 somewhat cars we'll be using in this mod.
Any questions or concerns please address them to VGWebmaster
Or speak to the manager directly at Neo over MSN or e-mail
Thank you!