We update this month with a progress report of where the team is currently at. After giving away a few games through our Steam group and officially cutting our final attachments to Doom 3(ARB Shaders) in the last few months, the team talked a bit about our best path for our next release. We had some discussion, posted some pros/cons and ultimately came up with getting a release out sooner rather than later.
The next release was penned as all of the cleric's episode(3 hubs, 12 levels) and we've been working towards that since our previous release. It was a little too spread out, perhaps, to get such a larger release together in a suitable time frame. So with that we've decided to refocus a bit and push a next release of Hub 1 and 2(8 levels total) for our next release, effectively getting new content to everyone much sooner. Then of course pushing for the full episode release shortly after(especially since we have the Hub already under development currently).
We'll have more news on that in the near future. For now a little concept some of you may have already seen for the cleric player model we are currently working on: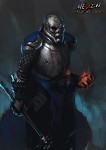 Finally, we are actively looking for a texture artist to join our team. Level textures and assets provided by a modeler are the main duties of this position. Just send us a message if interested! (Level designers too are always welcome!)
Happy gaming!
IRC Network: irc.gamesurge.net
IRC Channel: #edgeofchaos
IRC Web: Hexenmod.net
Twitter(team): Twitter.com
Steam Group: Steamcommunity.com
Email: hexen.team@gmail.com