Welcome all to our next installment of new developer interviews! This week we introduce to you TomJ. A Level designer who has been working on H2M1. Enjoy!

---
Q: What do you do for a living; Can you tell us something about yourself?
I am currently a student following Information Management & Multimedia. I like to make maps for games especially on id Tech and I also tend to play with some DAW ( Digital Audio Workstation ) to create some experimental songs. I am using a cheap midiman ( now m-audio ) midi keyboard.
Q: Have you worked on other mods before Hexen: Edge of Chaos?
Before Hexen EoC I was working on a maps for Mind , x-MASS ( Doom 3 ) and also a mod Eastern Front for Wolfenstein: Enemy Territory. Sadly both of these mods stopped and I moved on to Hexen. Also I had my own mod Gangs4Life ( ET:QW ) in the works but I didn't have enough people on my team.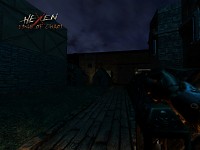 Q: When did you join the team?
I joined the mod in Summer 2009, during that time the team was looking for more level designers.
Q: What is your role in the team?
I am one of the bunch of level designers we have on the team.
Q: Which part of EoC are you currently working on?
I am currently working on the first map of hub 2, which is H2M1. This map will make an important role for traveling between the other hub maps.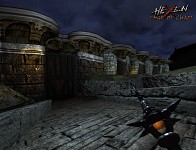 Q: When did you hear first of EoC, and how?
I heard of EoC quite a long time ago, I think around 2006 / 07. Saw images of the mod on doom3world. It looked impressive even back then.
Q: What style of developer are you? Do you rush into things, or do you plan a lot in advance?
I try to plan my time so I have enough time to do work on the map. I like to have parts of the map finished before a certain deadline. I try to think about multiple things at first when starting the creation of a map . If you run in to problems later on when you rush things, I would possibly need to recreate everything I worked on.
Q: What was your first experience with the Hexen/Heretic series, and how did it impact your view on computer games?
I played a lot of MS-DOS games years ago. It first started with playing Wolf 3D , Catacomband then later on some other Apogee published games like Hocus Pocus, Wacky Wheels and of course, Commander Keen were lots of fun. Other fun games were Blood, Redneck Rampage and Duke Nukem 3D. Then I moved on to id's titles such as Catacomb 3D and Heretic and Hexen. Hexen was much more of a challenge due to the puzzles, they were much harder then puzzles found in other games.
Q: Are you working on any other mods or projects right now?
I'm also making a map for a mod called Desolated ( Doom 3 ). It is a map for a new special mode.
Q: What do you like best about the Doom3 engine? What would you improve?
I like that it still can do pretty amazing indoor scenery while the models aren't that high-poly compared to modern games. It can still do pretty awesome environments while it's a game from 2004. The only thing that doom 3 could do better is huge outdoor environments. The frame rate drops quite fast when you have outdoor environments.
Q: What's been your worst experience so far with making EoC?
Not really any bad experience has happened.
Q: What's been your best experience so far with making EoC?
The feedback and help from other team members about my level.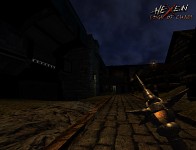 Q: Which is your favorite character in the game?
The hellwasp. They are so scary when you see them coming at you.
Q: Which aspects do you consider to be crucial in keeping the original Hexen feeling going in this project?
I would love to see the stalker and centaur in-game again. It was an enemy which you saw a lot in the original game.
Q: What is the hardest part about working on Hexen:Edge of Chaos?
Making the map run smooth all the time is the hardest thing to do as you need to make sure the map will run smooth for everyone.
Q: Which game are you currently playing?
Currently playing Grand Theft Auto Episodes From Liberty City Stories / Saint's Row and also I am trying to finish STALKER series as they take a lot of time to complete.

---
IRC Network: irc.gamesurge.net
IRC Channel: #edgeofchaos
IRC Web: Hexenmod.net
Twitter(team): Twitter.com
Email: hexen.team@gmail.com