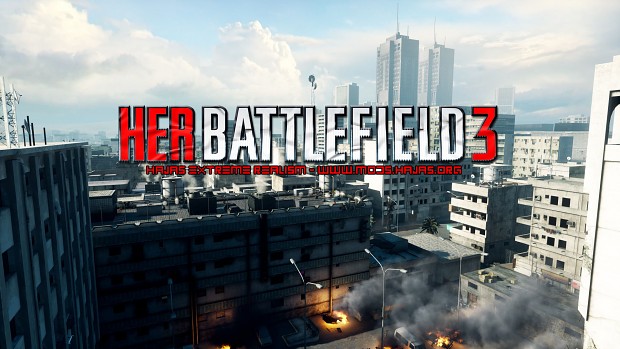 Maybe this may come as surprise to everyone since we don't have modtools for BF3 yet. But remember that HER Airborne and the first version of HER Battlefield 2 were done in the same way, without any mod tools.
HER brings a new and very realistic balance to the game, and once played with HER, you will never care much again for the original game. HER was created for Hardcore players only, which want to be challenged with hard missions to complete, to in the end succeed with honor.
Since there's no official mods for BF3, you can't search for HER servers selecting just the mod like you did before, so we are adding the setence ":::HER:::" to all our servers, so to find our servers, it's just search for :::HER::: in the name to find them.
So your first task as a HER Soldier for now, it's rename your Origin login adding the sentence "_HER" at the end, so for exemple, my nick it's Hajas, so my Origin now will be Hajas_HER. Don't worry, you set your clan tags in the Battlelog. And if you created a Platoon to play HER, add the sentence [HER] to the name.
HER BF3 Requests
HER Soldiers Should use his Origin ID as Nick_HER format
HER Platoons Should add [HER] to Platoon's name
HER Servers Should add :::HER::: to Server's name
But why every HER Soldier should do that? Well, first we will be able to find each other on the servers or in the Origin, just searching for _HER which will be very easy, and great to let us call some soldiers to play with us, or be called by them. Second, if you set a HER Platoon, all HER Soldiers without home will be able to find your Platoon and request to join.
And third, when we release the mod to the public we will request to the server's admins to add :::HER::: on their server's names to let the HER Soldiers find them, without doing that, will be impossible to people find the server as a HER Server. So add as requested it's the best way. Of course you will not be forced to do anything, but your server will lost several players to the servers with the name changed.
For now you can already test HER BF3 at the server above. Soon more servers available close to you.
More news soon @ www.mods.hajas.org