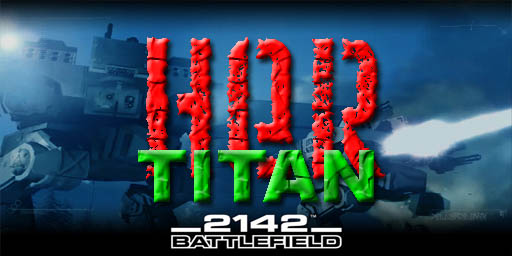 My wife simply love to play this game in LAN and we are so tired of the default maps, so got some mods to unlock all the weapons and all the maps to be played on LAN in SP or COOP. So I found Titan Lite II created by Jalaw which worked great merged with HER, then HER Titan was born.
Well, since I already received many requests to unlock the weapons and maps, I decided to release this version also to the public to make everyone happy.
Download HER Titan Battlefield 2142
To this version work, you need to install Titan Lite II first at your BF2142, then unzip HER Titan into the same dir you installed Titan Lite II saying to overwrite all the files. Then you gonna play in all maps, with all weapons and with realism.
Titan Lite II don't let you play Titan gametype with bots, this unfortunatelly is not possible with ANY mod because the bots didn't work inside the Titans. But you will be able to play in all Titan maps the Conquest gametype with bots, and now also with HER.
If you don't have the Titan Lite II mod, here the link for download:
Download - Titan Lite II by Jalaw Titan Lite II
And below you also gonna find an update that will turn your HER Titan into a light version with less bots to you be able to play HER Titan in slower machines. Unzip inside where you installed the Titan Lite II only if you are having lag during the gameplay.
Download - For Slow Machines Only
HER Titan Battlefield 2142 - For 16 Bots Only